Bryan Moxon is a rising star in the Canadian comedy scene. He quickly found success on stage in Calgary and established himself as an act in high demand. His unique combination of quirky material, dynamic physicality and overall silliness will leave you in stitches. You may recognize him from his role in the short film 'Berlin Castro' which premiered at the Calgary International Film Festival in 2020. He has performed for Yuk Yuks and Craft Island Comedy, was a finalist in the 2019 FunnyFest comedy competition and is a Lethbridge Roast Battle Champion.
Prepare to be delighted by Bryan Moxon and join his comedic quest to fill the void in his soul with laughter!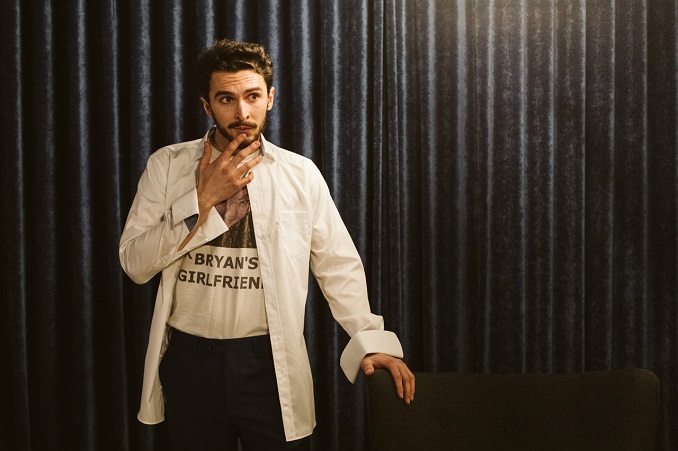 How would you describe your comedy style?
My comedic style is somewhat absurd, with a bit of physicality and facial expressiveness in the mix. I try to compose bits of multiple single-joke sentences. When interacting with the crowd I enjoy light roasting and always strive to be silly.
Who are some of your influences?
Louis CK, Bill Burr, Dave Chappelle and Dave Attell are a few names that come to mind. On the local scene, I'm influenced by Dale Ward, Steve Taddei, Juan Forno and Jeremy Furlong among others. Their impact extends beyond comedic style to the business of stand-up and life in general. But my main influence is definitely my wife, whom I love dearly, is one of the funniest people I've ever met and had the final say on what's in this article.
Who was your favourite comedian growing up?
Jerry Seinfeld. When I was in junior high (grade 9 I think) I performed some Seinfeld-Esque material at an assembly in front of the entire school. Bits included: Why do airplane windows not line up with the seats? Why is it so difficult to open a 12-pack of juice boxes? Looking back I was too naive to understand how poorly it could have gone, but fortunately, I got away with that one.
Who is your favourite comedian now?
Louis CK. I find his storytelling style incredibly engaging and his honesty admirable, especially when dealing with the uncomfortable subject matter.
What is your pre-show ritual?
I write out my set list, making specific notes of new jokes and tags that I'm going to try. I'll rehearse as much as I can, then right before going on stage I'll look at the floor and take one or two deep breaths to calm myself.
What is your favourite place you have performed? Why?
The Comedy Cave is my personal favourite because they've given me so many opportunities, including my first headlining week. However, the best set I've ever had was at ArtsPlace in Canmore, which is a beautiful theatre with great audiences.
What is your favourite bit you have written and why were you proud of it?
Probably the Dictator bit I have. I won't give away what it is, but I feel proud of it because it makes people laugh, it's fun to perform and also touches on the psychology of crowds without preaching a particular point of view or lesson.
What is your favourite medium for listening or finding new comics/comedians?
I like to find new comics on Spotify because it allows me to listen to them while doing other things. I don't usually have a ton of spare time to sit down to watch a special.
Tell us a joke about your city.
Forest Lawn is a tough part of town. You can tell it's tough because as you're driving in on the 17th the traffic lights have an advanced u-turn signal. That's nowhere else in Calgary. Even the lights are like "Go home!"
Do you have anything to promote right now?
Follow me on Instagram!
Where can we follow you?
PAY IT FORWARD: Who is another local comic/comedian we should know about?
I'll mention Steve Taddy and Anton Matushyn because I was performing most recently with them and they're good guys.