Calgary musician Georgie Lyons is not your average singer/songwriter. Completing a Bachelor of Music Degree in classical guitar and working as a Music Specialist with the Calgary Board of Education, her musical influence has been far-reaching.
As a singer/songwriter, she wrote her highly- acclaimed debut album Since You Came Along, which was recorded in Nashville, Tennessee. Georgie has also received international attention for co-writing and producing the title track for the award-winning documentary For the Love of Children. The film debuted in 2013, winning Best Documentary and the Angel Award at the Monaco International Film Festival. Bringing the voice of her students to the world stage, Georgie directed a group of children from the Calgary Arts Academy, to sing as the choir on the title track Let it Burn.
As an educator, she has shared her passion for writing and performing with her students hoping to encourage and inspire them to express their own creativity. However, it was her students' repeated question: "Why aren't your songs on the radio, Ms. Lyons?", that motivated her to take her music to the next level, and prove that anything was possible.
Not shying away from digging deep into her most vulnerable emotions, the Canadian songstress crafted the beautiful single Run. Writing and co-producing the track, Georgie released her first single to radio across Canada. Georgie's emotional and haunting delivery on Run, demonstrated her versatility as a vocalist, while her and smooth and intricate guitar playing, reveals her background in classical training.
In April 2021, Georgie used her experience in composing and producing, to showcase her students once again by releasing her latest single Shine On. Partnering with For the love of Children's Society, Georgie wrote Shine on, to connect a community of a remote village outside of Nairobi, Kenya, with a community in Calgary Alberta. She later turned the song into a children's book to raise money for a new classroom for the students living in the village. Georgie co-wrote, produced and directed the choir on the recording and recently received a nomination in the children's recording category at the YYC Music Awards.
Whether performing, writing or teaching, Georgie Lyons brings real songs about real life, presented with heartfelt sincerity that crosses many genres.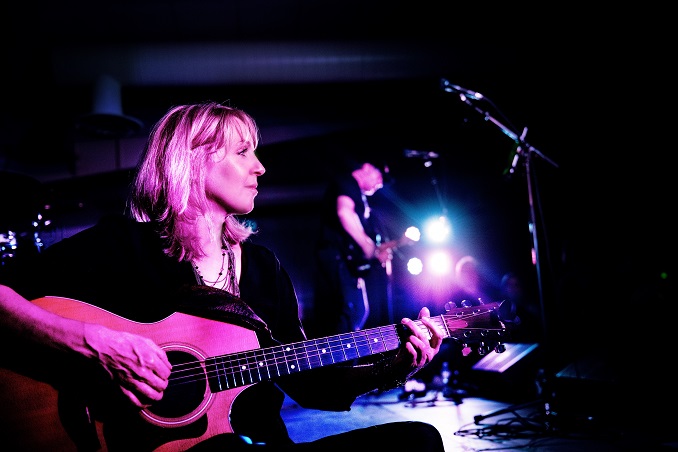 Name:
Georgie Lyons
Genre:
Alt-Country/Singer-songwriter
Founded:
At 17 years old I was the vocalist for my high school jazz band. After performing in Vancouver, B.C. at the National Jazz Competition, I knew music was the only career option for me.
# of Albums:
1
Latest Album:
Since You Came Along
Latest Single:
Run
Latest Video:
Favourite musician growing up:
It's hard to pick one and it's an odd combination, but….Stevie Nicks, Pat Benatar, Suzie Quatro, and Crystal Gayle. As far as style, personality and overall coolness, Stevie (also my oldest daughter's name), Pat and Suzie were my favourites, but I couldn't resist singing along to the smooth melodic vocal lines of Crystal Gayle.
Favourite musician now:
Still difficult to pick one but if I had to It would be Holly Williams (Hank Williams Jr's daughter). An incredible singer-songwriter who tells her stories with pure raw emotion.
Guilty pleasure song:
Can't Stop The Feeling by Justin Timberlake
Live show ritual:
Vocal warms up in the car on my way to a show.
Favourite local musician:
Ron A. McNeill.
EP or LP?
LP
Early bird or night owl?
Night Owl
Road or studio?
Studio. I love being in the studio and the whole creative process that goes along with it.
Any shows or albums coming up?
I realesed my latest single "Stay," in January 2023 and continue to promote my children's recording and book "Shine On."
Where can we follow you?
Website | Facebook | Instagram | Youtube
***
Rapid Fire Calgary Qs
Favourite local restaurant:
The Place in Bowness. Best Pizza in town!
Favourite street in your city:
Stephen Ave has so much to offer whether it's shopping, eating, entertainment or people watching.
Favourite park in your city:
Bowness Park. I grew up in the area and in my opinion, it is one of the most beautiful spots in the city. Beautiful place to walk or ride your bike by the river. You can also paddle board or canoe in the summer, skate and have hot chocolate around a bomb fire in the winter.
Favourite music venue in your city:
Ranchmans, The Blues Can, Mikey's and Ironwood Stage and Grill.
Favourite music store in your city:
Long and Mcquade. They are so helpful both as performers and as a teacher.