Calgary-based funk/soul group Souls In Rhythm has toured much of the nation, won many accolades for the songwriting and live show, and has shared the bill with many notable artists including R&B giants Boyz II Men, and American hip-hop icon Common (to name a couple).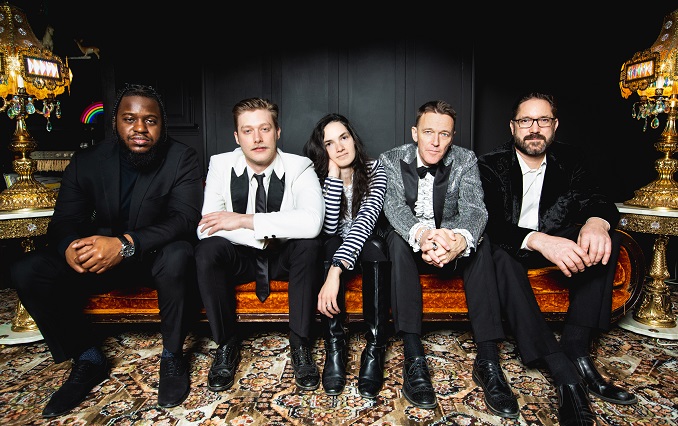 Name:
Souls In Rhythm
Genre:
Funk/Soul
Founded:
1998! (Holy smokes!)
# of Albums:
4 albums and 8 singles
Latest Album:
Another Round
Latest Single:
I Can't Do It Alone
Latest Video:
Favourite musician growing up:
Stevie Wonder, Ray Charles, Michael Jackson, Aretha Franklin, James Brown
Favourite musician now:
Stevie Wonder, The Beatles, Silk Sonic
Guilty pleasure song:
Gino Vannelli's Black Cars or Rockwell's Somebody's Watching Me (which we do live mashed with Ozzy's Crazy Train!)
Live show ritual:
Silence (pre-show). Keep it funky! (during the show).
Favourite local musician:
Fans of so so many local artists… super tough question… Gonna go with Amy Bishop.
EP or LP?
LP all the way!
Early bird or night owl?
I'm the nightiest of all the owls! 🌜🦉
Road or studio?
Studio hands town (love to create!) but looking forward to some touring later this year!
Any shows or albums coming up?
Our current single out now is I Can't Do It Alone (streaming and YouTube). New full-length album in late spring!
Where can we follow you?
Instagram | Facebook | Website | YouTube
***
Rapid Fire Calgary Qs
What is your favourite local restaurant?
Blackfoot Diner
What is your favourite street in your city and why?
17th Ave SW – my first summer job, love the vibrancy, always something to see (saw my first naked lady – I was flashed when I was 15 😬😳)
What is your favourite park in your city and why?
Weaslehead – biking around the reservoir is the best!
What is your favourite music venue in your city?
The Palace
What is your favourite music store in your city?
Long & McQuade (for things to make music!) or Recordland (to get music!)