The band Flowshine has spent the last decade carving their own path a little left of centre. Their love of adventure, experience, and bringing people together with music has taken them from their home in Calgary to oft-overlooked corners of the country. Their openness to experimentation and desire to make something wondrous have left their peers unsure of how to characterize their brand of hooky indie/alternative. Their songs demonstrate strong musicianship, and relatable storytelling, and often feature musical guests lending their signature to the Flowshine whole. Guitarist and vocalist Jeremiah Erhardt have said, "We want our music to be fun and emotive; we want people to jump in our canoe and let us guide them down the river, showing them things they've never experienced."
Their new album You Goddess (2022) has them paired with Ian Dillon at the National Music Centre and Calgary Recording Company. They have expanded their aural palate further with guest features from heavy hitters and long-time friends from the Calgary music community.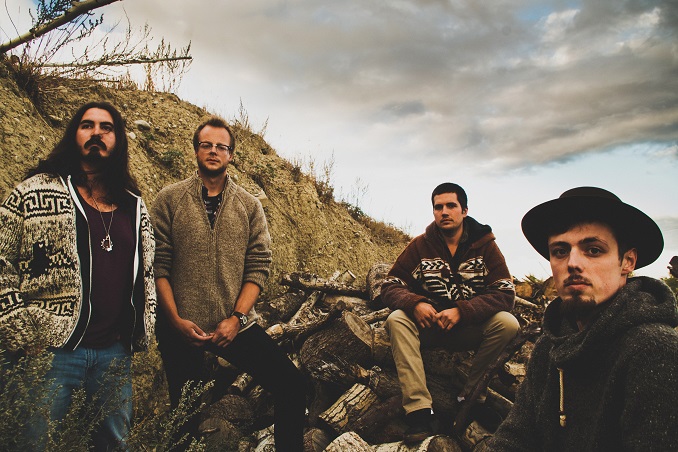 Name:
Flowshine
Genre:
Indie/alternative
Founded:
2009
# of Albums:
4
Latest Album:
You Goddess
Latest Single:
"Give It A Go"
Latest Video:
Favourite musician growing up:
Jimi Hendrix
Favourite musician now:
Isaiah Sharkey
Guilty pleasure song:
Doja Cat – Say So, most of Ariana Grande's catalogue
Live show ritual:
If there are other bands playing, we're always watching their sets. We try to gauge the crowd and decide on how we want to structure our setlist. We usually check in with each other, make sure we're in the right headspace, and that we're bringing good energy to the performance. One of us grabs a round for everyone so we can toast the crowd during the show.
Favourite local musician:
Calgary is home to so many hard-working and talented artists. Mike Clark Band, Thomas Thomas, The Ashley Hundred, Shuffalo, Free the Cynics, I Am The Mountain, and so many more… get out and watch a local band!
EP or LP?
We love both for different reasons. EP's often act as a snapshot and artists sometimes take chances that they normally wouldn't. With LPs there is less urgency, you can take time to tell a story. Either is effective if the artist has intention and vision.
Early bird or night owl?
Night owl
Road or studio?
We feel most creative in the studio. You get to fuss and mould something that you hope will land with listeners and really get the arrangements and dynamics just how you want them. A lot of the limitations in this setting are one's own imagination. We love performing live and getting out to connect with people and bring them together through music and we've had some good opportunities to do this across Canada.
It really isn't a this or that question for us, they very much go hand in hand. There'll be times when we're working on a record and we're very conscious about getting the right BPM for people to be able to dance or jump up and down. Performing live we really get to see what songs people react to, whether it's an instrumental break or a lyrical hook. Our live performances of our songs can be quite a bit different than the recorded versions and we've never really felt the need to try and perfectly recreate a studio take.
Any shows or albums coming up?
Our new record You Goddess is out now, streaming on all major platforms. Catch us live in Calgary at InspireFest with the Static Shift on Sunday, July 16. Watch our new video for "Good People" recording live, direct to disc (vinyl) with Ian Dillon at Calgary Recording Company.
Where can we follow you? 
Website | Instagram | Facebook | YouTube
***
Rapid Fire Calgary Qs
Favourite local restaurant:
Mikey's on 12th – great food, great tunes
Favourite street in your city:
Brentwood Boulevard – all of the gorgeous elms and green ash lining the street and it's the way we always walked home from Kilkenny
Favourite park in your city:
Recently it's been Buckmaster in Bankview. A few of our friends live near there and it's a great place to relax and throw a frisbee. Love walking the dogs through Edworthy too.
Favourite music venue in your city:
Vern's.
Favourite music store in your city:
Go to all of them, they all need your support! Recordland, Hot Wax, Heritage, Blackbyrd, Sloth, Melodiya, CD Trader…