Based on the last name of two 'born and raised' Albertan brothers, Flaysher is a CMAB Award-nominated Canadian country duo with grit in their blood, harmonies and unvarnished truths in their lyrics. Inspired by artists such as Bob Seger, Dierks Bentley, Bon Jovi and Dallas Smith, Flaysher's songs are rooted in the influence of their upbringing. Raised in small-town Airdrie, Alberta, you can almost hear the sawdust in their voices from growing up on dusty job sites working for the family business.
Flaysher's latest single, "Wild One," has an undeniable energy and a melody you just can't help but sing along to. The track was written by Nashville heavy-hitters Tebey, Emma-Lee and Karen Kosowski and produced by Dan Swinimer (Billy Currington, Tenille Townes, Madeline Merlo, Tim Hicks, to name a few). It's a feel-good song about the kind of girl you know you can't hold onto for long yet can't help but try.
These true blue-collar boys are known for their high-energy live performances. Every time they hit the stage you can't help but feel the passion they have for performing and lifting people up and those who are lucky enough to catch them in concert will feel enriched by a moment they won't soon forget.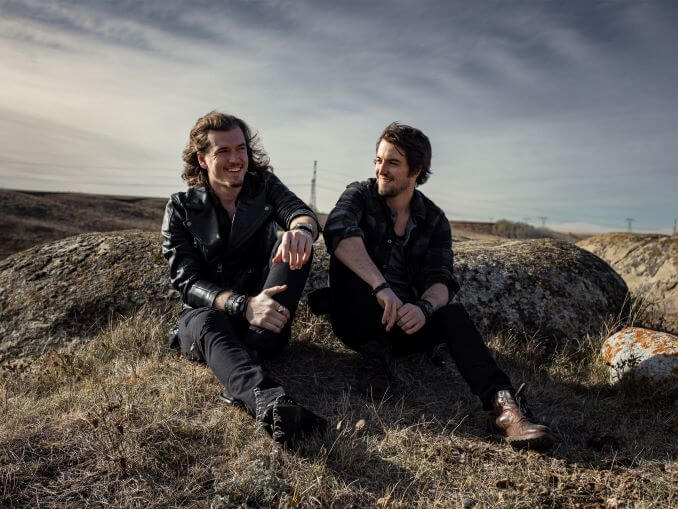 Name:
Flaysher (brothers Brad Flaysher and Ryan Flaysher)
Genre:
Country
Founded:
We played our first show in 2008 as a cover band but rebranded to Flaysher in 2015 with the release of our first all original EP.
# of Albums:
None yet!
Latest Single:
Wild One
Latest Video:
Favourite musician growing up:
Bob Seger has always been a huge influence, even as kids singing along in the back of dad's old work truck.
Favourite musician now:
Dierks Bentley
Guilty pleasure song:
"Style" by Taylor Swift
Live show ritual:
A simple handshake with the crew before hitting the stage. It reminds us to be grateful to live out our dreams at any scale, and also to really live in the moment on stage.
Favourite local musician:
Ryan Langlois
EP or LP:
LP for sure!
Early bird or night owl?
We're both primarily night owls.
Road or studio?
Love the road!
Any shows or albums coming up?
"Wild One" is our big focus right now, but we will also be releasing a few other songs this year as we get closer to summer!
Where can we follow you?
Twitter | Facebook | Instagram | Website | Spotify | Linktree
***
Rapid Fire Calgary Qs
Favourite local restaurant:
Pauls Pizza (Airdrie, AB)
Favourite street in your city:
Main Street past Nose Creek Park in Airdrie. It's nice to drive past nature in the park and the road has a lot of bends, which is more fun than a straight road when cruisin' through town on our motorbikes.
Favourite park in your city:
Nose Creek Park here in Airdrie. It's a big park with pathways and a large amphitheatre just off the water.
Favourite music venue in your city:
King Eddy (Calgary)
Favourite music store in your city:
Long and McQuade (North Calgary)