Born and Raised in Sundre, Alberta artist and songwriter Tate Irving writes from a place of authenticity and heart. His music takes on the struggles of daily life and growing pains, and re-imagines these as catchy, moving singles which connect for their melodic embrace as much as their deeply human undertones.
Tate Irving has been playing since just five years of age and boasting a lifelong commitment to making music. His teenage years saw him perform with two different bands. In the years since, the creative has appeared in multiple shows at renowned venues and events- Including spots in Calgary, Wicked Woods Music Festival and at Friendzy Fest!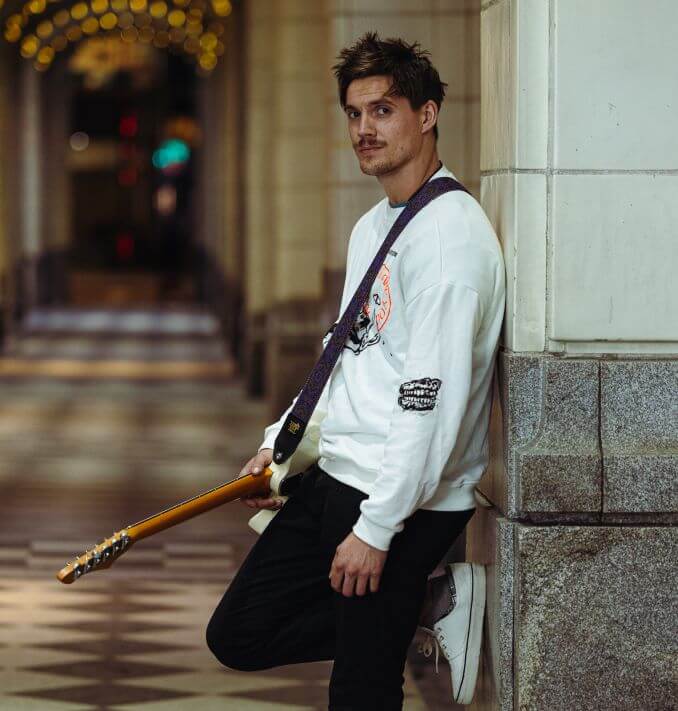 Name:
Tate Irving
Genre:
Acoustic, Indie, Chill Alternative
Latest Single:
Glow
Latest Video:
Favourite musician growing up:
Ed Sheeran
Favourite musician now:
Ziggy Alberts/ Nic D
Guilty pleasure song:
Ealrs Gotta Die- Dixie Chicks
Live show ritual:
Making sure there is a pick in each of my pockets
Favourite local musician:
Mhnus or Guest who.
EP or LP?
I Am in the process of creating an EP In the very near future!
Early bird or night owl?
Night Owl aspiring to be an Early Bird
Road or studio?
I love being on the road, however, the creativity created in the studio is something that I cant get enough of, and there is nothing like finishing a project to make it available for fans to listen to!
Any shows or albums coming up?
I have a single, Glow, that came out June 3rd and I am extremely excited about it!
I will also be playing a few festivals over the summer
Friendzy Fest Rangeton Alberta
Also Casabastock in Golden BC
Where can we follow you?
***
Rapid Fire Calgary Qs
Favourite local restaurant:
Alumni
Favourite street in your city:
Kensington road NW, I used to live just a five-minute walk down the road, the vibe when you're walking through Kensington is just phenomenal, there are so many holes in the wall shops, whether you're looking for an amazing sandwich, or want to listen to live music while having a cold drink, there is always a place to stop in!
Favourite park in your city:
Prince's Island Park, I used to ride my bike through this park all the time, there is always a collection of buskers hanging out along the pathways and shows in the park's amphitheatre to stop by and enjoy.
Favourite music venue in your city:
Either the Palace Theater or the ironwood Bar and Stage
Favourite music store in your city:
Long and Mquade For sure!