The acoustic-romantic pair, Amante Duo, is Hilary and Noel Amante; a husband & wife flute, guitar and vocal duo, based out of Calgary, AB. Performing for weddings, venues and special events, they carry a unique blend of traditional and modern sounds and are best-known for their stripped-down acoustic covers gracing every genre from Pop to Jazz, Indie, R&B, Soul, Rock, Folk and everything in between.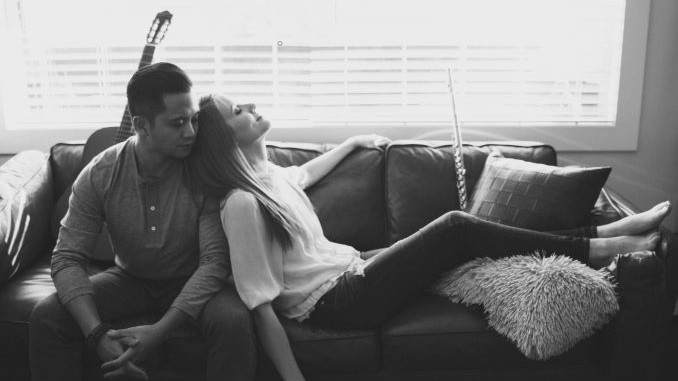 Name:
Amante Duo
Genre:
Acoustic Indie Folk Pop
Founded:
2006
Latest Video:
Favourite musician growing up:
That's like asking us to pick a favourite child. Stevie Wonder, The Roots, Donny Hathaway, Leonard Cohen, The Beatles, Bill Withers, Michael Jackson, Alicia Keys, Jack Johnson, Carpenters, Lauryn Hill, Bobby McFerrin, The Real Group, Justin Timberlake, The Quantic Soul Orchestra.
Favourite musician now:
(all of the above) + Scary Pockets, Queen, Pharrell Williams, Pentatonix, Iron & Wine, Bruno Mars, Billie Eilish, Olafur Arnalds, The Cinematic Orchestra, Nils Frahm, Gretchen Parlato, Bon Iver, SYML, The Paper Kites, Bahamas, Sleeping At Last…we could go on…
Guilty pleasure song:
"Blurred Lines" — Robin Thicke
"What's Up" — 4 Non Blondes
Live show ritual:
XL Coffee in one hand, water in the other.
EP or LP?
EP
Early bird or night owl?
Night Owls
Road or studio?
Road…until we have our in-home production studio, then both!
Any shows or albums coming up?
We're booking weddings & markets into the remainder of 2022 and 2023! Reach out, we'd love to help you celebrate. Also, check out our other musical ventures at Guitar Born Project and Altra Volta; there's more to come!
Where can we follow you?
Website | Instagram | Facebook
***
Rapid Fire Calgary Qs
Favourite local restaurant:
The Bro'Kin Yolk (Hey, Gil!)
Favourite street in your city:
Inglewood for the food, drinks, music, local shopping; it's colourful and full of life, you leave with full hands or full hearts (sometimes both).
Favourite park in your city:
Edworthy Park. It's hard to beat sunny walks with the river at your side.
Favourite music venue in your city:
The Rozsa Centre (we met on stage here), Festival Hall, Bella Concert Hall.