Brittany Lyseng is a Calgary-born comic whom you may know from her debut on CBC Gems' "The New Wave of Stand-Up Comedy", where she absolutely nailed it! This week we caught up with Brittany to talk about roasts, her podcast 'Life Pairings', and about her brand new comedy album 'Going Up'.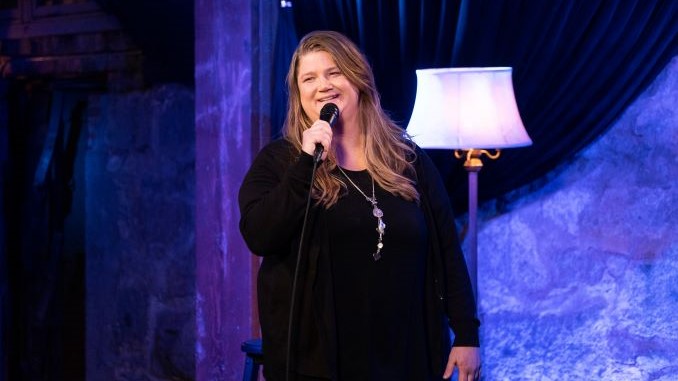 How would you describe your comedy style?
Indulgent Storytelling
Who are some of your influences?
Sarah Silverman, Deborah DiGiovanni, Bill Burr, Norm Macdonald
Who was your favourite comedian growing up?
Norm Macdonald / Sarah Silverman
Who is your favourite comedian now?
Paul Myrehaug
What is your pre-show ritual?
I love the drive to the show, I like to blast a song I know the words to and sing along to get my mouth moving and my heart rate up. Then I get to the venue about an hour earlier then I am supposed to, have a beer and quietly panic. Perhaps not the healthiest but a routine nonetheless.
What is your favourite place you have performed? Why?
A comedy club on Vancouver Island called Hecklers and a beautiful theatre called the Winter Garden Theater in Toronto are tied. Anywhere you feel like the audience is on your side and they trust you is the most incredible feeling. While completely different vibes, one a sports bar and the other a stunning old theatre. Both places I felt like they trusted me in these big moments of my career and I could just lean in and have fun. Those kinds of places and moments have an incredible effect. They can be game-changers.
What is your favourite medium for listening or finding new comics/comedians?
Live! Get out to your local rooms. Every city has incredible spaces with new emerging new talent.
Do you have anything to promote right now?
I do a podcast called Life Pairings; we pair life events with alcohol!
Check out my comedy album called Going Up on any streaming service
You can currently see me on CBC Gems, The New Wave of Stand-up, and on Canada's Roast Battles available on CRAVE.
Where can we follow you? 
Instagram | Podcast | Twitter | Tik Tok | Tickets
Tell us a joke about Calgary.
Does the c in c-train stand for "C I told you we would get you 35 km within your destination 45 min late"?
PAY IT FORWARD: Who is another local comic/comedian we should know about?
Malik Elassal, Tommy Mellor, Chris Gordon