Growing up with jazz musician parents, Allison Lynch began studying violin, piano, guitar and ukulele from an early age, incorporating them into her songwriting. With an eye to the golden age of jazz and a finger on the pulse of the modern singer-songwriter aesthetic, Allison transcends the era through a deliberate mix of the modern and the classic.
With technical chops earned from her Bachelor of Music in classical singing and composition, Allison Lynch fuses jazz, blues, folk and pop influences on Skin & Flame, her intimate first release that features sensuous vocals, bluesy folk-uke ballads and a few newly imagined standards from the jazz repertoire. Allison Lynch has also appeared on stages across Canada earning awards and nominations for her work as an actor and theatre composer/sound-designer. Theatre and songwriting converge in her latest song and video, The Ballad of Poor Anne, an edgy folk-pop lament from the point of view of Lady Anne from Shakespeare's Richard III.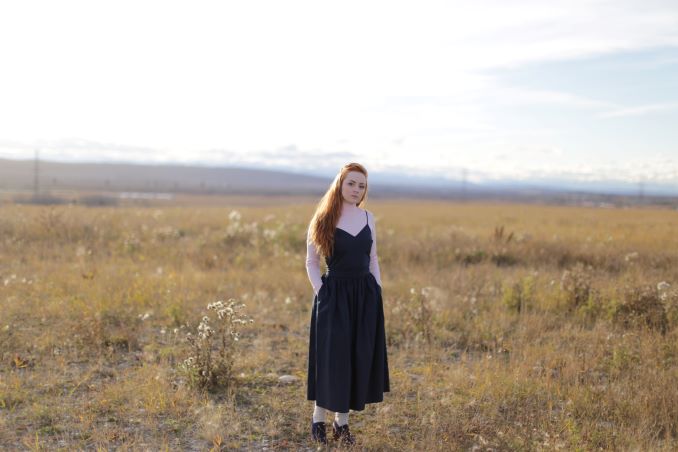 Name:
Allison Lynch
Genre:
Singer-Songwriter, Jazz, Adult Contemporary
# of Albums:
1
Latest Album:
Skin & Flame
Latest Single:
Wish You Well
Latest Video:
Favourite musician growing up:
My parents. My dad is a pianist/organist and my mom is a singer.
Favourite musician now:
Rose Cousins
Guilty pleasure song:
Watermelon Sugar by Harry Styles
Live show ritual:
No shoes onstage
Favourite local musician:
Kris Demeanor
EP or LP?
LP
Early bird or night owl?
Night owl
Road or studio?
Studio
Any shows or albums coming up?
I'm composing the music and sound design for A Christmas Carol at Theatre Calgary and will be playing live in the show from Dec. 2-24. I've also got an album of spoken poetry and music coming out in the new year called "What the Wind Said Next."
Where can we follow you?
Rapid Fire Calgary Qs
Favourite local restaurant:
Aida's Bistro
Favourite street in your city:
9th Ave in Inglewood. It's such a vibrant neighbourhood with cool vintage and vinyl shops and great restaurants.
Favourite park in your city:
It's not really a park but I love a walk through St. Mary's Cemetery at the top of cemetery hill. It's so beautiful and quiet. Like an inner-city escape.
Favourite music venue in your city:
The Eden. Live jazz on Fridays and Saturdays.
Favourite music store in your city:
I love That Old Retro Store in Inglewood. They have some amazing obscure vinyl!