36? has ruled for years Calgary's local scene with a whimsical fist: placing third in the 2014 Peak Performance Project, and winning rock recording of the year at the 2015 Western Canadian Music Awards for their first full-length "where do we go from here", which the Calgary Herald uhhh heralded as "(not) just the best Calgary album of the year, it's the album of the year, period." They rode this momentum through 2015 to NXNE, and across the pond to the UK's Great Escape and Liverpool Sound City Music festivals. Another 12 songs came out across the Tiger Tail EP and their half of a split release with The Ashley Hundred. This was the last officially released music from the prolific band until their successful release of their sophomore LP "Milk Mountain" with Vancouver record label File Under Music in 2019. With the release of "Milk Mountain", 36? hit the road for a staggering 8 months of touring the western United States. Coming home in the winter of 2020 to play Calgary Folk Fest's Blockheater Festival, 36? was greeted with praise in local media outlets Beatroute and The Scene's lists for "Albums of the Year". On the heels of embarking on another 6 months of touring starting with a show at Boise, ID's Treefort Music Festival the band's tour plans were cut short by the Covid-19 pandemic and they instead retreated to their roots, bunkering down and creating new music.
In October, 36? released their long-awaited new full-length record with the help of Montana's North Pole Records. Self-recorded in isolation by various members of 36? throughout the pandemic, "Naturally" showcases the band's capabilities to create world-class recordings even under the most tumultuous circumstances.
Award-winning Calgary, AB art-rock collective 36? pushes their take on cookie-cutter pop production to its limits with their latest 7-track record, "Naturally". Conceptually playing with the idea of artistic over-perfection, 36? delivers emotionally distorted pop bliss cooked in with their signature wall of sound chaos landing them somewhere in a bubbly psychedelic mix of Animal Collective and Harry Styles.
"Naturally comes as an attempt to encapsulate the dilemma that I believe every artist experiences as their art shifts from personal musings to the worldwide stage. Is it really possible to remain true to yourself when you know that the world is watching? They say that electrons behave differently the moment that they are observed, I believe the same can be said for artists. The desire to be heard and the desire to speak truthfully are not always a complementary pairing and that is the theme for this record. " – Taylor Cochrane, songwriter for 36?, on "Naturally"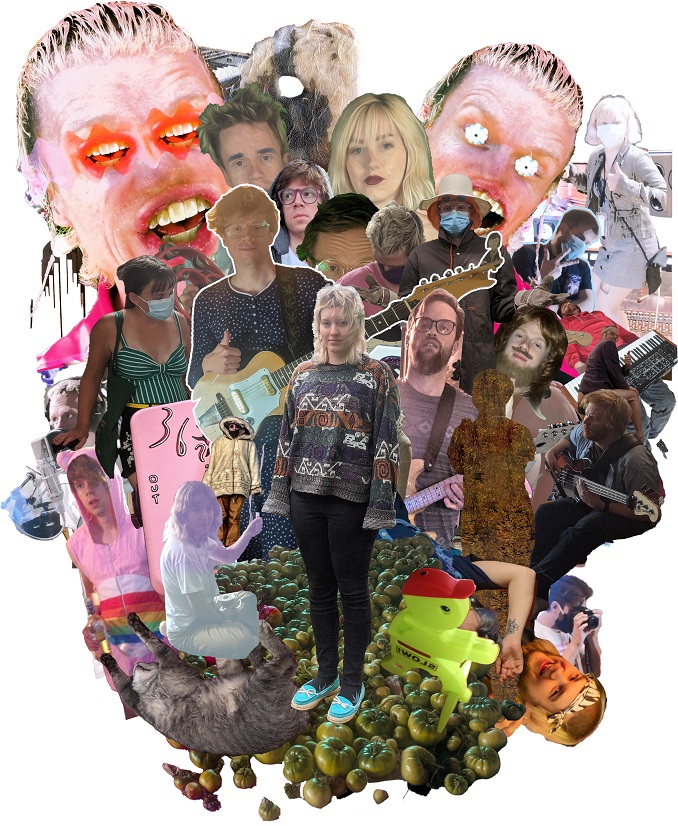 Name:
Taylor Cochrane from 36?
Genre:
art-rock, art-pop, indie-alternative
Founded:
In 2006 36? became the alias I started writing and recording music under. For a few years, it stayed as basement recorded musings that never really saw any promotion and never made it onto a stage.
In 2014 I assembled an amazing group of musicians that became the first full band iteration of 36? that made it to the live stage. Since then the band has shrunk and grown based on the location and availability of members.
# of Albums:
Our upcoming record will be the 6th record we have released
Latest Album:
Our brand new record "Naturally"
Latest Single:
36? – Natural
Latest Video:
Favourite musician growing up:
I was and will always be obsessed with Blink-182. (The one with Tom Delonge)
Favourite musician now:
I dunno, there is a lot of good music out and what I am into changes based on my mood. I like hearing good stuff that I haven't heard before
Guilty pleasure song:
Y'all aren't about to make me feel guilty for listening to Taylor Swift. She's a queen. I feel no guilt about such things, let the guilt run off of me and go down the drain that's what I say. Huzzah!
Live show ritual:
In the early stages of the band, I would have to take a PSP (or pre-show poop if you will). If I was able to accomplish the act I would generally have a better show nowadays I'm not as… uh… regular as I was back then, but as a general rule of thumb I never go on stage backed up.
Favourite local musician:
There are a lot of amazing artists in this city. I am dating one called Laura Hickli so they are my favourite.
EP or LP?
It's situational
Early bird or night owl?
Depends on whether I am excited to get up in the morning.
Road or studio?
I have a soft spot in my heart for both but if I have to choose one I would say studio. I feel most at home as a producer and I do most of my songwriting in the studio. That being said I could literally live on the road in a van for the rest of my life and I would be happy as a clam.
Where can we follow you?
Website | Instagram | Facebook | YouTube | Spotify
***
Rapid Fire Calgary Qs
Favourite local restaurant:
Eating at home because I am super poor
Favourite street in your city:
The streets that run through Bowness and the streets that run through Bridgeland are my favourites. I've had some of my best times in those neighbourhoods and every house there doesn't look exactly the same as the house next door to it.
Favourite park in your city:
The Douglas Fir Trail because I had the majority of my psychedelic adventures in that place. Not many other places in this world hold stock of that much terror and bliss in my memories.
Favourite music venue in your city:
Rockin' for Dollars is the best thing that the Calgary music scene has going for it. There is always a nice mix of new bands and more well-known bands. Anywhere that BJ hosts Rockin' for Dollars will be my favourite.
Favourite music store in your city:
The HMV that used to be the signal hill but then got turned into a Men's Work Warehouse or something. I used to go to that every day after work at the Superstore when I was a kid. Now I just buy music directly from my friends or listen to them on the world wide web. Also, Luke's Drug Mart is dope.