Rob Skeet is a live entertainer with over 40 years of experience in the entertainment industry. Great entertainment for lounges, pubs, weddings, tournaments, and parties. Featuring a wide variety of music styles including Rock, Country, Pop, Sing-along, and some stuff that's just plain silly! Playing guitar and keyboards and working from a centre of electronic gizmos and whatzits, Rob uses his boundless energy to create an evening of fun and merriment. Over the years, Rob has gained a large following of die-hards. Whether it's your first or fifty-first time, Rob's show is sure to be a crowd-pleaser! Now with the addition of a smokin' Celtic fiddler, Rob offers up a Duo alternative as "Rob Skeet and Clay Pigeon"
Rob Skeet and Clay Pigeon is a high-energy duo with Rob's usual shenanigans but with the added bonus of a smokin' fiddler. Since 2019, Rob has also become the premiere tribute to Elton john with a Vegas-style show featuring a 4 piece band, multiple costume changes and many stories that tell about Elton's incredible career.
Rob is also the president of the Music Mile Society, which amplifies, activates and advocates for live music both on the music mile (9th Ave SE from the Blues Can to King Eddy) and throughout the city.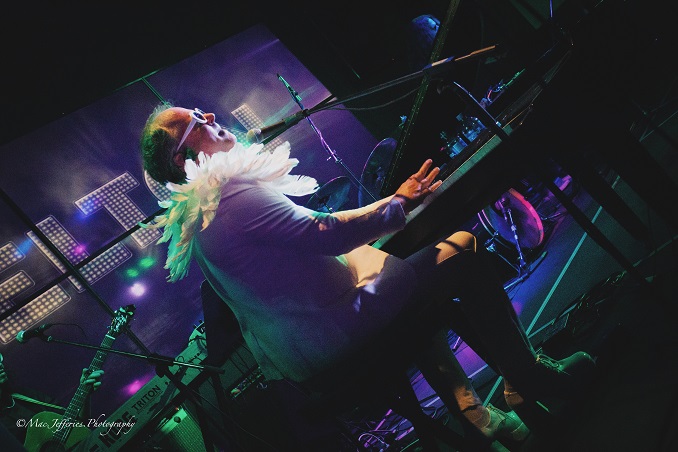 Name:
Rob Skeet, Rob Skeet and Clay Pigeon, Cyril Tenjohn and the Husky Tower Band (Elton Tribute)
Genre:
Celtic Rock, Country, Rock, Sing-a-long Party Music, Elton John Tribute
Founded:
43 years ago
# of Albums:
2
Latest Album:
Kentucky Fried Celtic
Latest Single:
None at the moment
Latest Video:
Favourite musician growing up:
Elton John (Obviously)
Favourite musician now:
Probably still Elton John
Guilty pleasure song:
Megan Trainor all about that bass
Live show ritual:
Sociables! (Or Conga through the bathrooms)
Favourite local musician:
Dean Lauderdale
EP or LP?
Goodbye Yellow Brick Road.
Early bird or night owl?
Both, I never sleep
Road or studio?
Studio
Any shows or albums coming up? 
2 Elton John Shows at the Ironwood Oct 28,29th
Where can we follow you?
***
Rapid Fire Calgary Qs
Favourite local restaurant:
Rouge
Favourite street in your city:
9th Ave – Home of the music Mile
Favourite park in your city:
Fish Creek – Tons of trails and wildlife
Favourite music venue in your city:
Ironwood
Favourite music store in your city:
Long & McQuade