"Shady Pines, Ma!" An iconic threat uttered by Dorothy on the legendary show, Golden Girls to Sophia — her elderly mother, to end a disagreement. We all laugh along, but the fear of being forgotten in a retirement home is real, and it's scary to many — a punishment, even. A place to go between retirement and old age, with the intent of being "kept safe", but really, just a building that houses people whose needs may be perceived as an inconvenience. Our busy lives with kids, jobs, and responsibilities make full time compassionate care for elderly family members seem impossible.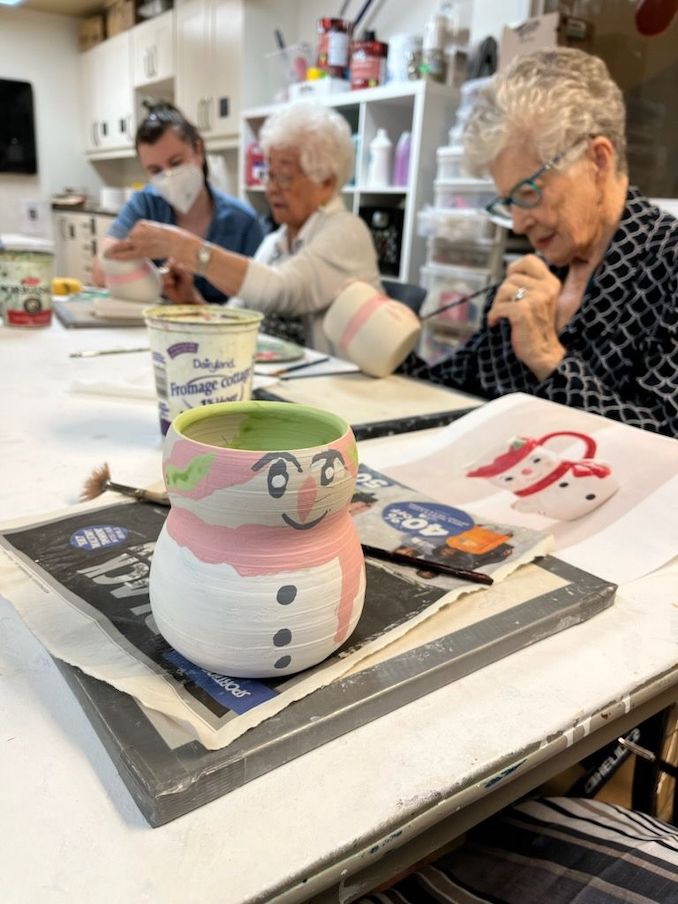 The stigma of an "old folks home" still rings true today. Many people still believe the stereotype of retirement residences — merely a drab, dull, dim shelter for the forgotten generations to ride out their golden years in a room without a view. Maybe a bridge club, if you're lucky.
If these are your immediate thoughts regarding a retirement residence, walking through the doors of a United Active Living Community in Calgary may challenge everything you thought you knew.
A Different Kind of Senior's Community
The main foyer is buzzing. There are people everywhere. Light streams through floor-to-ceiling windows from the courtyard. Laughter echoes, dice tipple out of a cup at a table in the bistro. A group gathers around taking in a demonstration by an artist in the open-concept art studio, the fruits of their labour flanking hallways and public spaces. Residents gather, ready for a scheduled outing to the theatre. People are busy here.
This is not your average old folks' home.
But why? What makes a United Active Living residence so different from other retirement and care communities?
Memory Care Reimagined
One key difference here is that United has built its foundation on an innovative approach to memory care. The "United Minds" approach means residents living with dementia are fully integrated into the community without the use of separate secured units, ensuring they have the choice to continue to live with their spouse (and pets!), move unrestricted throughout public spaces, interact freely with other residents, and fully participate in all of the enriching programs offered — a free range retirement community, full of vibrant, active, funny, smart older adults choosing how they'll spend their day.
Residents are empowered to make their own choices and give input in scheduled programming, often creating their own social groups based on shared interests and activities, including pub night, and yes, even a bridge club. The "choose your own adventure" approach to life at United Active Living is creating a community full of people leading post-retirement lives full of firsts; people meeting new friends, finding new hobbies and passions, and learning new things at every turn.
Partnerships with outside organizations such as Mount Royal University and the Calgary Philharmonic Orchestra further enrich all that's on offer, often bringing up-close-and-personal performances and behind-the-scenes experiences tailored to resident's interests. Choose your own adventure, indeed!
Individuality, support, inclusiveness, and meaningful engagement are the foundation of the United Minds services. Residents keep their vitality and joie de vivre while being supported and cared for in a safe, enriched environment.
Addressing Dementia Risk Factors
Influences like social isolation and physical inactivity have been shown to be among key risk factors for developing dementia in adults over the age of 65. One study concluded the risk of developing dementia over the study's nine-year duration was 27 per cent higher among socially isolated adults compared with older adults who were not socially isolated. The silver lining of such studies suggest it's possible to make lifestyle decisions to reduce social isolation which may reduce the likelihood of developing dementia. At United Active Living, this means opportunities for learning, participation in social programming, an active lifestyle, and a vibrant, engaging, and socially connected community – for everyone.
United Active Living's integrated approach to aging through inclusivity, diversity, and personal freedom is quickly becoming recognized throughout the age-care industry for its promising outcomes, with the hopes of combating the stigma of growing older, breaking barriers for residents experiencing cognitive impairment, maintaining an exceptional quality of life beyond expectation, and delaying or slowing the onset of dementia.
Your Golden Years Await
"No one wants to think of aging as being a period of decline and isolation. And it really shouldn't be," says Amy McDonough, United Minds Manager. "United takes a unique perspective, one that is gaining recognition within the industry as an innovative alternative to traditional housing and social programming."
United Active Living is an older adult community changing the way the world views post-retirement life. To learn more about assisted living in Calgary, visit unitedactiveliving.com/services/assisted-living/