Hi there, I'm Milo, and I would love to come home with you! I'm an excitable young boy with a tendency to get distracted (squirrel!), so I need my future family to be patient with me and willing to put in some work. The team here at CHS can help us both with that! Since I am very high energy, I would do best in an adult-only home. Walking, jogging, running, swimming – you name it, I'll try it! Us high energy dogs need to stretch our legs. Once I get to know you, I can get excitable at times and show my exuberance by jumping and mouthing. I haven't had the chance to fine-tune my manners yet, so this is something we'll need to work on together using positive reinforcement training! Interested in adopting me? Please make sure you have done research on my breed so there are fewer surprises once you take me home! Well, that's what you need to know about me – send an email to the adoptions department ASAP! A cute face like this won't be here for long!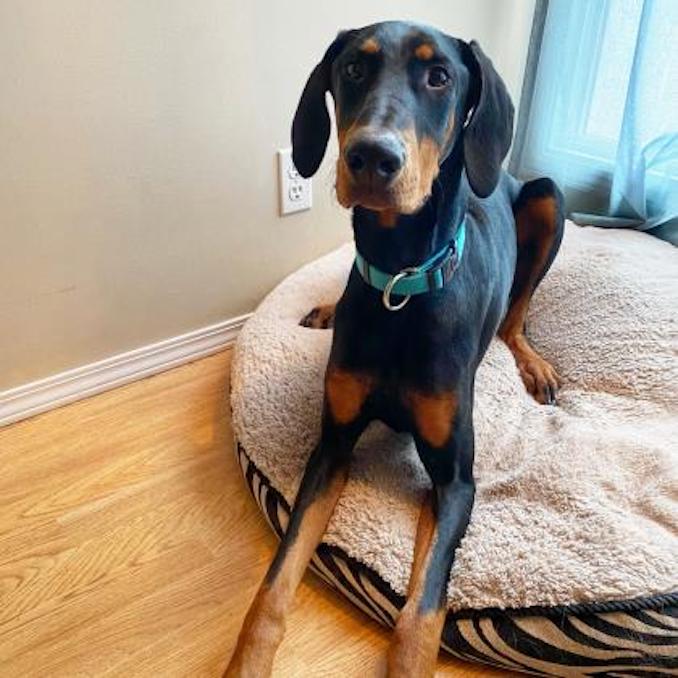 MILO
Breed: Doberman Pinscher
Age: 10 months 4 days
Gender: Male
Size: Medium
Colour: Black/Brown
Spayed/Neutered: Yes
Milo is available for viewing at the Calgary Humane Society! Interested adopters are welcome to self-schedule for an adoption appointment using our online calendar here.
About this column:
Each week we feature animals available for adoption from local shelters in the Calgary area with the hopes that our readers will assist in finding good homes for them. If you, or someone you know, has the resources to take care of one of these animals, please do get in touch with the appropriate shelter via the links provided.