We had the chance to catch up with creative Victoria Banner about her comedy style, influences and her upcoming comedy special.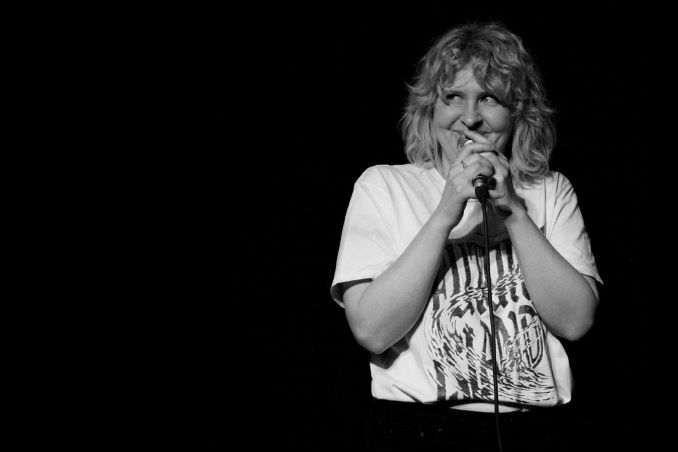 How would you describe your comedy style?
Notably energetic, peppered with empathy.
Who are some of your influences?
Simon King, Patton Oswalt, Kyle Kinane. Stories are the best.
Who was your favourite comedian growing up?
I'm 32 so it was 100% Dane Cook
Who is your favourite comedian now?
Can I buy extra ad space and go city by city listing comics across North America?
Anyone who puts "alt" in their bio/press kit. I love alt comedy.
What is your pre-show ritual?
Always have a clear vision about what makes the day of the show special.
Make sure I've physically talked to some other comics who are kind to me & gas me up that day.
What is your favourite place you have performed? Why?
Tall Tree Music Festival. Physically favourite because it was an outdoor stage designed by Jimbo the Drag Clown overlooking the ocean.
Emotionally favourite because music festival stages are notoriously bad for comedy, however slaying
music festival stages is kind of my comedy superpower, so I had an amazing set in a cool place.
What is your favourite bit you have written and why were you proud of it?
I have a joke about going to the psych ward which really destigmatizes seeking help for mental health and its the joke that audience members
always come talk to me about after the show. Its not even just purple-haired weirdos like me who want to talk more about the mental health joke…
when I perform small towns I end up doing whiskey shots and talking CBT (cognitive behavioral therapy) with farmers and church ladies.
What is your favourite medium for listening or finding new comics/comedians?
Comedy Festivals, the format of most festivals is to pair a famous headliner with someone relatively unknown but super fresh.
If a comedy festival lineup is announced, I treat it like a music festival line up and cue up all the albums I haven't heard.
Tell us a joke about your city.
I'm sad the Calgary Flames didn't win the playoffs, for had they won we would have been able to project THE FORBIDDEN COLOR onto the Calgary tower.
The punishment for losing is city council will have to take a vote on whether or not we should add fluoride to the black-capped chickadee.
Do you have anything to promote right now?
I taped a half-hour comedy special for Peacock TV with an absolute saint of a director Quentin Lee for a season of Comedy Invasion (Keep an eye out for that)
Every Sunday myself and trans/lesbian/activist/comedian Karla Marx runs an all femme/queer comedy showcase at The Attic called "Laugh Loft" (Google: Laugh Loft)
Where can we follow you?
PAY IT FORWARD: Who is another local comic/comedian we should know about?
Erin Wood. And really you shouldn't know about her because she is funnier than me.
Check out her show Ratboy Comedy every Wednesday at Vern's.