Matt Foster is a stand-up comedian that has travelled all over western Canada (and the world!) to share his craft! Matt is a natural on stage and makes stand-up comedy look easy. His natural charisma, great comedic timing and a quick wit make him the perfect comedian to watch.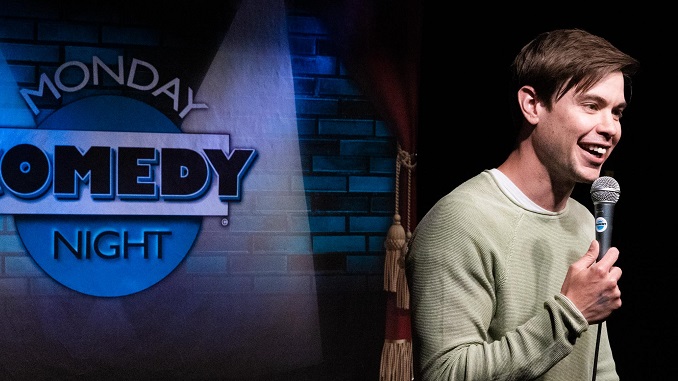 How would you describe your comedy style?
Conversational. Crafted jokes with a side of storytelling.
Who are some of your influences?
Too many to list, but my big ones are Bill Hicks, Bill Burr, Paul F. Tompkins, and my very funny family and friends.
Who was your favourite comedian growing up?
Bill Hicks. I used to listen to his albums every night before falling asleep.
Who is your favourite comedian now?
Paul F. Tompkins.
What is your pre-show ritual?
Ideally, I'll go for a run early in the day, meditate, review my material, and then do something fun. At the gig: I'm walking around, repeating my setlist/key lines in my head, and listening to my pre-show playlist.
What is your favourite place you have performed? Why?
That's a tough one to answer. You can have an amazing/terrible show anywhere depending on the night. For me, a packed-out comedy club with an audience that is stoked to see the show, and not drunk and rowdy—I'm looking at you, Friday late show— is my favourite place. Everyone's jammed in tight, and the audience is so close to you that you can literally feel the air move when a joke hits. Terrifying during covid, but it's the best.
What is your favourite bit you have written and why were you proud of it?
Right now, it's a bit I have about hypochondria and my frustration with walk-in doctors. It's taken me over a year of edits and rewrites to get it to work. Some bits just come to you, but other bits you have to believe in for a long time before it really comes together. It can be a daunting process, but when that click moment happens and it starts really hitting—that's what it's all about for me.
What is your favourite medium for listening or finding new comics/comedians?
For me, live is the best way to consume stand-up. But I discover a lot of new comics through comedians I already love—their social media, podcasts, or books. I found Paul F. Tompkins by reading Bob Odenkirk's memoir.
Tell us a joke about your city.
I used to have a joke about the Calgary Stampede, but—because I'm in the UK right now—I changed it to the "London Stampede" to make it more relatable for the British people. It's not going well.
Do you have anything to promote right now?
I'm currently doing stand-up in the UK but I'll be back. All of my upcoming dates are posted on my website. Signing up for my mailing list is the best way to support me and also the best way to find out about future shows and album releases.
Where can we follow you? 
PAY IT FORWARD: Who is another local comic/comedian we should know about?
James Moore