Vong Show is a Comedian and Producer who refers to himself as the Official spokesperson for gay, super cute Asians. Growing up he always felt like the narratives in media rarely reflected his experiences or the lives of his friends and family. He was inspired to pursue standup comedy to share his story and build a platform to celebrate unique voices whose stories need to be heard. We had the chance to speak with him to find out more about his style, influences and projects.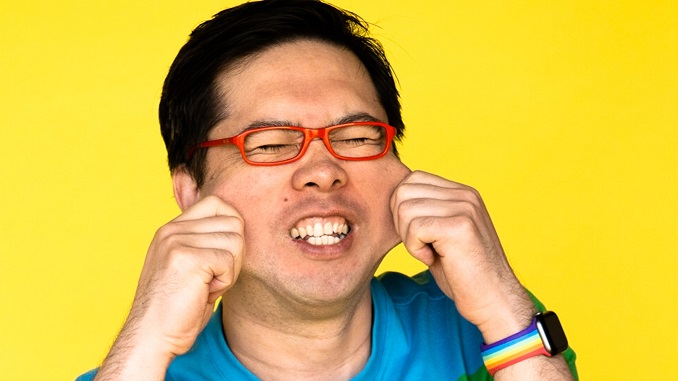 How would you describe your comedy style?
My comedy style is autobiographical storytelling combined with biting social commentary. My aim is to enlighten through laughter so I do tackle challenging topics to provoke thought. I've always believed that no matter how different you are from someone if you can make them laugh then you can connect with them on a human level. So I like to use comedy to share stories and connect with people who can relate to my life story but also connect with people who have very different experiences in life.
Who are some of your influences?
My recent influences are Mike Birbiglia and Hannah Gadsby for their use of storytelling techniques woven throughout their standup comedy performances. This mixture of styles is really changing what standup comedy is and pushing the industry forward to connect with audiences on a human level.
Who was your favourite comedian growing up?
My favourite comedians growing up were definitely Chris Rock for his biting social commentary and Louie Anderson for his autobiographical storytelling. My style is likely influenced by a combination of what they were able to achieve.
Who is your favourite comedian now?
I still think that Chris Rock is the best comedian alive and is one of the few comedians who retained their hilariousness and relatability even after becoming famous.
What is your pre-show ritual?
On the day of the show, I'm on total vocal rest prior to the performance so I don't speak to anyone at all until I'm on stage. To zone out, I always choose a single song that I loop on repeat all day. Finally, right before the show, I warm up similar to how I used to for athletic events. Growing up a played a lot of sports, so going back to athletic warmups
and stretching puts me into the correct mindset to embrace the pressure of the moment.
What is your favourite place you have performed? Why?
My favourite performance venue is the CBC's Glenn Gould Studio in downtown Toronto. The show took place right before the pandemic and we had a double sell-out of 700 audience members, all of whom had come to see my comedy special taping. It was the first time in my career that I had a comedy special taping that was full of my followers.
Normally a comedy special taping is a general audience who may not have heard of the performer, so to have an audience full of people who've supported me throughout my career was really meaningful.
What is your favourite bit you have written and why were you proud of it?
My favourite bit is about my time working as an obituary writer. I'm very proud of it because it was the first bit that I wrote when I started comedy 20 years ago, and normally people don't like their first written pieces of standup but I'm super proud that the material still holds up today.
What is your favourite medium for listening or finding new comics/comedians?
My favourite way of finding new comics is definitely amateur night at clubs. I don't think you can really replicate what it feels like to be in the room when someone is performing live. Outside of that, I do think that YouTube is also a pretty good channel to find new comedians.
Tell us a joke about your city.
Due to a lack of Asian representation in media, there's a generation of Asians who've decided the best way to fit in is to distance themselves from their heritage and hide their identity. There's a group of Asians in Alberta who are terrified you're gonna find out that they're Asian. Heck, the first Chinese guy I met in Calgary was named Jose and his brother's name was Pepe. Even my best friend Ming changed his name to Milton. Now Ming is just a strong traditional Chinese name. Ming is like DYNASTY, and Milton is like LIBRARIAN!
Do you have anything to promote right now?
Yes, I have a monthly theatre show called 'The Vong Show' at Paradise Theatre in Toronto. I believe I'm the only standup comedian in Canada with a monthly theatre residency.
Where can we follow you?
Website | Instagram | Youtube | Facebook | TikTok
PAY IT FORWARD: Who is another local comic/comedian we should know about?
Robert Watson from Toronto is amazing and hilarious.