We recently spoke with Calgary comedian Marito Lopez about his influences, his favourite things as well as his podcast Strictly Beloved Podcast and other upcoming events in his life.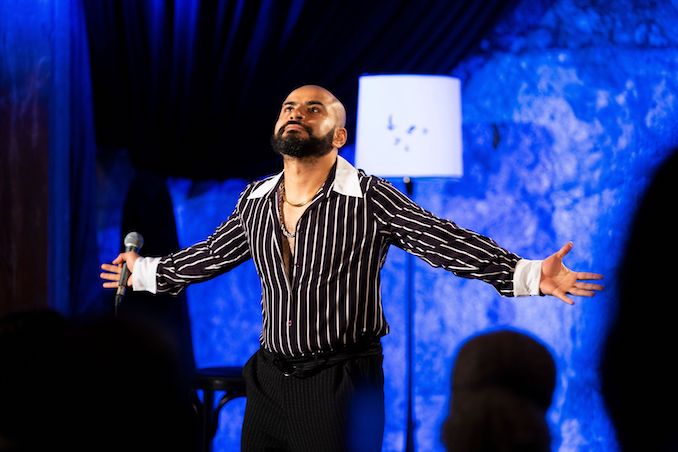 How would you describe your comedy style?
I am an explosion of Latino-ism. An earthquake of LatinX-ellence. I was actually born during an earthquake in El Salvador. 1986. Praise Allah. But, also, I'm just a little cutie pie up there. Puss in Boots.
Who are some of your influences?
My influences are James Baldwin, Emiliano Zapata, Frida Khalo, Che Guevara, Malcolm X, Pancho Villa, Martin Luther King Jr., Freddie Prinze Sr., RICHARD PRYOR.
Who was your favourite comedian growing up?
Dave Chappelle and Chris Rock. Mike Epps. Katt Williams. John Leguizamo. Eddie Murphy. George Lopez. Bill Burr.
Who is your favourite comedian now?
Dave Merheje and Dino Archie. They are the best in the world. Sophie Buddle is insane on stage. Steph Tolev is a monster. Jarrett Campbell is going to be the best thing to come out of Canada. Martha Chaves is the Queen of Latinx comedians in Canada. I'd be nothing without her journey. She is a Nicaraguan comedian in Canada. So badass. Kenny Robinson is the reason people of colour have opportunities in this country. Thank you.
What is your pre-show ritual?
I try to have the best day. Run. Gym. READ. Pray. Write. I try to have a great day. Right before I hit the stage, I try to have fun with the comics in the green room. There's nothing better than riffing with some of the funniest people on Earth. Also, I say a lil prayer to myself. Praise Allah. Then I go on. When I have a bad day, I usually die a horrible death on stage haha.
What is your favourite place you have performed? Why?
COMEDY BAR in Toronto. It's my favourite place on Earth. It's my temple and mosque. There is so much history in that one venue. It's where the philosophers in Greece go to study, develop theories, drink beers, or have a cigar on the steps. It's a haven for artists. And it's ours. It belongs to the best comedians in Canada.
What is your favourite bit you have written and why were you proud of it?
My favourite bit is about my mom smuggling Salvadoran cheese through US customs. I love it because its true. It's gangsta. It reminds me how funny my family is. How funny Latino people are, PERIOD. I love it because I've never heard another Canadian comedian talk like me. That joke is personal to my culture. My people. My family. And it came from my experience. I thank God for experiences like this. Even the ones that hurt or scared me in the past. They make me who I am. That joke was the beginning of getting "good." Took 13 years to write like that. To write like me.
What is your favourite medium for listening or finding new comics/comedians?
Nothing beats going to live shows. Nothing will ever beat that. Ever. When another comic I respect tells me to go check someone out on Netflix, that's the only time I'll do the streaming shit. Last specials I saw were Mike Epps and Earthquake. Loved them.
Tell us a joke about your city.
I'm from North East Calgary. North East Calgary is like finding a Biggie record underneath a pile of Country records. Calgary is known for truck nuts and cowboy hats. Calgary is white dudes named Chad and they got no teeth. But I'm turning Calgary into Timbs and leopard print blouses. Also, I have all my teeth.
Do you have anything to promote right now?
I run a podcast on Youtube and Spotify with Dino Archie called Strictly Beloved Podcast. On May 1st we were at The Rickshaw Theatre in Vancouver.
I have a bunch of tv tapings coming out this year, like New Wave Of Stand Up on CBC Gem.
I am writing a show about growing up as an immigrant in North East Calgary with my friends. It's called Lil Papi.
Also, I'm always working on a memoir about being the son of immigrant parents. My heroes: Mama Lopez and Papa Lopez. Latinos are the future. I tour the country, always.
Where can we follow you?
Instagram | My Blog | Podcast: Strictly Beloved Podcast
PAY IT FORWARD: Who is another local comic/comedian we should know about?
I am so fortunate to be a part of so many communities in Canada. These young comics always impress the hell out of me.
Vancouver: Bobby Warrener. Malik Elassal. Ola Dada. Danika Thibault. Gina Harms. Randee Nuemeyer. Sean McDonnell.
Calgary and Edmonton: Miles Greenway. Austin Lonneberg. Faris Hytiaa. Will Hannigan. Brad Semotuik. Natasha Lynn Myles. Celeste Lampa. Leah Schietl.
Toronto: Kyle Patan. Sam Burns. Hannah Lawrence. Salma Hindy. Jacob Balshin.
There's so much!