This week we spoke to Meaghon Reid, Executive Director of Vibrant Communities Calgary, stewards of Enough for All, Calgary's poverty reduction strategy to learn more about how we can end poverty in Calgary!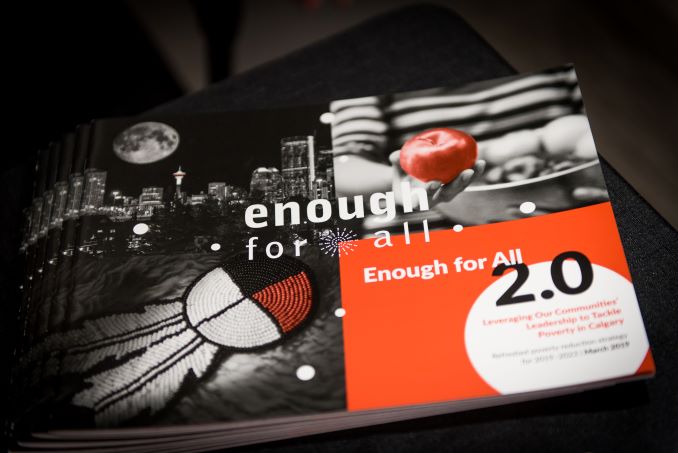 Describe your charity/non-profit in a few sentences.
Vibrant Communities Calgary (VCC) is working to make poverty history in the city of Calgary. We are doing this through the implementation of Enough for All, Calgary's community-driven poverty reduction strategy. The mission of the strategy is to create opportunities to align and leverage the work of hundreds of organizations and thousands of Calgarians to reduce poverty in our city.
What problem does it aim to solve?
Poverty is a complex systemic issue. Poverty is related to income but it is important to recognize that there are many contributing factors to someone living in poverty. Some of these other contributors are education and health. Access to food, housing, justice services, child care and transportation are also considerations. Our aim is to reduce the poverty level in Calgary and eliminate the stigma surrounding poverty and the complex systemic issues that continue to impact poverty in our city.
When did you start/join it?
I became Executive Director in September of 2019 and Vibrant Communities Calgary became an organization in April 2005.
What made you want to get involved?
We know that poverty is a layered issue but that cities hold a lot of responsibility for all the people who live, work and play there. In 2005, Calgary's City Council wanted us to get involved to address the systems that keep people in poverty so that we could ultimately eradicate poverty.
What was the situation like when you started?
When I started at Vibrant Communities Calgary, there had already been a lot of change in the way that people had viewed poverty and what lenses they were seeing it through. We had seen a change in the provincial government and in many other economic stressors, including job loss and the continuing oil crisis in Alberta. Although the provincial economic situation had changed for the worst, we had seen a 50% reduction rate in child poverty in Alberta. And by this point, we had already seen movements in health for those in poverty and getting people out of poverty. I had a great foundation coming into my role, and VCC did well to ensure that they had a solid standing with the municipal and provincial governments through the poverty reduction strategy.
How has it changed since?
It has changed because of COVID-19. The pandemic changed a lot of things and highlighted many pre-existing inequalities including the ability to access food, the ability to support oneself on limited income support, and the access to transportation. It has also given us an opportunity to change systems. There is a renewed desire to change these systems so that shocks like COVID-19 have less of an impact on those living in poverty in the future.
What more needs to be done?
We like to make changes through policy change and reducing the stigma around poverty and those who live in poverty. Some immediate issues that need to be tackled include making sure that all those living in shelters have stable and safe homes, that our food sources are available to all people regardless of culture, and that mental health recovery options are accessible for those who have and are experiencing trauma. One of the long-term issues that we are trying to tackle is establishing a stable and livable income that is available to everyone. We need to make sure that we are taking care of one another.
How can our readers help?
There are a lot of things that the community can do to help. We encourage everyone to go and read Enough for All, Calgary's poverty reduction strategy. You can also connect and volunteer with an organization that helps those living under the poverty line. There are a lot of volunteer opportunities that are virtual too. Be sure to look into different organizations and see what you can do to help. The other thing we encourage people to can do is talk about poverty with other people. Look at the statistics and the Enough for All strategy and talk about your own experience so that we don't attach stigma or shame to poverty. We can start by changing the stigma within our own circles.
Do you have any events coming up?
October is End Poverty Month in our city. Register for a Wednesday lunch and learn about Enough for All or becoming a Champion and attend Poverty Talks! virtual event Poverty is Talking, It's Time to Listen on October 17, the International Day for the Eradication of poverty. Check out details here.
Also, take time to start a conversation over dinner or your next Zoom call. What does enough for all mean? What are some ways that you can help reduce poverty in our city? Take an opportunity to identify and challenge some of your assumptions about those who live in poverty and help reduce stigma.
Where can we follow you?
Follow us on Instagram: @enoughforallyyc and @vibrantcalgary. Like and follow us on Facebook. You can also learn more about our work here.
PAY IT FORWARD: What is an awesome local charity that you love?
CUPS is one of our Champions and they have taken an integrated approach to serving people in our community since 1989. They look at health, education and housing for those in poverty. They help families who have experienced trauma to become self-sufficient and contribute to society.