It's time for some nice transition pieces to be added to your wardrobe! This week we spoke to Whitney Titheridge, the co-owner Crabapple Clothing Company, about how we can stay stylish and support a local business!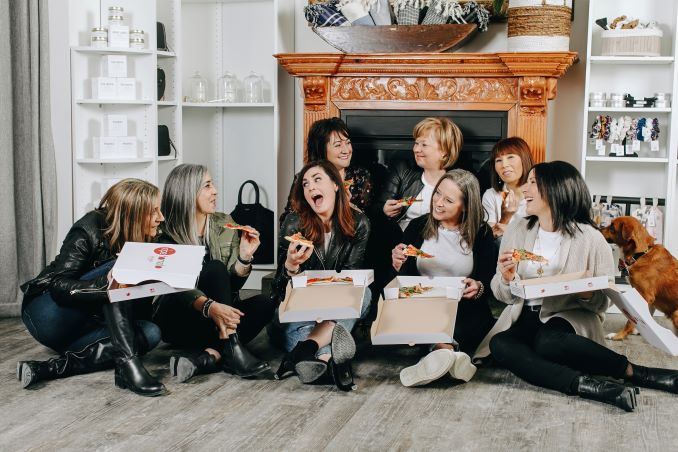 What is your business called and what does it do?
Crabapple Clothing Company is a women's wear boutique specializing in clothing and accessories for every aspect of a woman's day to day life.
What made you want to do this work?
Honestly, I certainly never anticipated that I would be doing this for my career; however, the opportunity to buy into the business presented itself in my early 20's and I never looked back.
What problem does this solve?
Our mission at Crabapple Clothing is to provide our clients with a superior shopping experience; offering quality, trendy clothing in a comfortable environment with one on one customer service.
Who are your clientele/demographics?
Crabapple has been in business for 30 years and with such a long history in Calgary we have developed a very broad and diverse customer base. Our average customers are fashion lovers between the ages of 35 and 70, yet we have a little something for all ages.
How does your business make money? How does it work?
Some days it still feels like we are working on the making money thing but essentially we sell product!

Where in Calgary can we find your profession?
We are located in the fabulous community of Marda Loop.
What is the best question a prospective customer could ask a member of your profession when comparing services?
What makes you different?
Well, the answer is lots! We are a boutique and while we carry many familiar brands, we also carefully curate a selection that includes very unique product. Whether a customer is looking for an entire wardrobe or simply a few pieces to update their current closet, we have pieces that are special so you won't feel like everyone else walking down the street. Additionally, we know the majority of our customers by name and love building those relationships with our clients and helping them express their own personal style.
What is the best part about what you do? What is the worst part?
The most empowering part of my job has been the real sense of community that we have built within our little store. Patrons have become friends and family. Through numerous charity events and projects, we are starting to feel like we have been able to give a little back to the city that has been so generous to us. Additionally, the current climate of collaboration over competition has also been really exciting and rewarding.
My least favourite aspect of my profession actually ties in with my most favourite. At the beginning of my entrepreneurship, I struggled to find where we "fit in" in this industry and said yes to far too many things that did not feel right in my gut. With age and maturity, I am slowly finding my voice and learning to be true to our brand.
What is your favourite joke about your own profession?
It's not a joke but ironically I strongly dislike shopping!
PAY IT FORWARD: What is another Calgary business that you love?
Distilled Beauty Bar is one of my faves in Marda Loop! Incredible service with such attention to detail. Who doesn't like a cocktail while getting your nails done!