The Mustard Seed was founded in Calgary with the goal to end homelessness and reduce poverty. This week we spoke to Andrew Gusztak, Volunteer Resources and Street Level Manager, and Director of Essential Services at The Mustard Seed to learn more about how they're working to achieve this.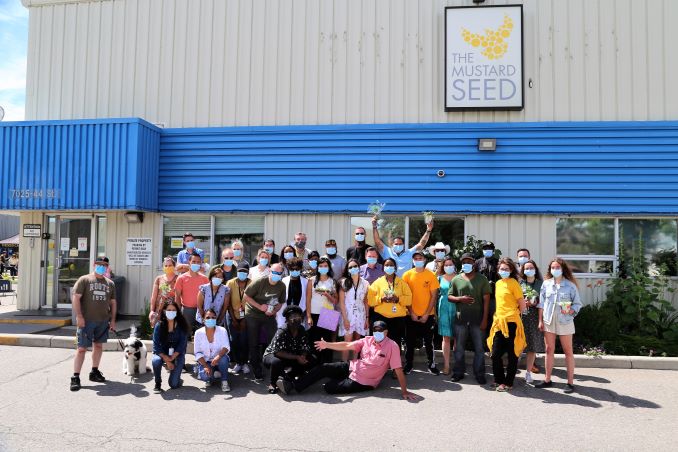 Describe your charity/non-profit in a few sentences:
The Mustard Seed is a Christian non-profit organization that has been caring for men, women, and children experiencing homelessness and extreme poverty since 1984. The Mustard Seed provides a safe haven where we support the whole person through delivering basic services, housing, wellness services, employment programs, and partners with the community to address the root causes of poverty.
What problem does it aim to solve?
We aim to move people off the street into housing – directly in our centres or in community – and we aim to move people out of extreme poverty by creating community supports and pathways to programming
When did you start/join it?
I joined as a volunteer in 2010, I became part of the staff in 2011
What made you want to get involved?
I was interested in using my talents to help people that were less fortunate have a second chance at a better life.
What was the situation like when you started?
The organization was in a leadership transition and various new programs were being implemented. It was an exciting time due to new projects and new vision being shared throughout the organization.
How has it changed since?
We've really dialed down on our best practices over the last decade. We have a deep understanding of how we're successful with our clients and the best way to move them forward. Our programs have evolved and expanded, and our supports are more robust than ever before.
What more needs to be done?
Roughly 3 years ago, we started to build upon our health and wellness programs; especially as they relate to keeping our clients housed safely and successfully. Creating supported housing options to our clients is a major focus of our organization, and we learned that there were large gaps in the family housing options in Alberta. We are aiming to add family housing facilities to our organization and help solve issues related to family homelessness and poverty.
How can our readers help?
Volunteering and donating are profound ways to add support. Our seasonal donation opportunities can be fun, educational and give the donor a sense of accomplishment – especially with our gift in kind requests. Volunteering gives our community a direct opportunity to, personally, help our clients. Through relationship and service, experiencing the homeless community helps our volunteers grow a compassionate response to what otherwise might be a fearful or judgmental outlook.
Do you have any events coming up?
Due to the COVID-19 outbreak, our teams have been working on creative ways to keep our community supporting our clients. The next major event for all our cities is our first ever "Camp-At-Home for Hope Weekend" – a family-friendly camping experience done right in your backyard in support of a great cause! This will be happening the weekend of September 19 – check our website for more details on fun initiatives.
Where can we follow you?
Our website as well as on Twitter, Facebook, and Instagram.
PAY IT FORWARD: What is an awesome local charity that you love?
I personally love The Alex Community Health Centre. They're unique blend of professional and community programming are a HUGE support to Calgary. They are a very unique asset to our community, and they're creating programs that have a great impact on the clients they serve.