We had the chance to catch up with Amanda McClughan, Development Director at Saving Grace Animal Society, about what they do to rescue and help our four paw friends.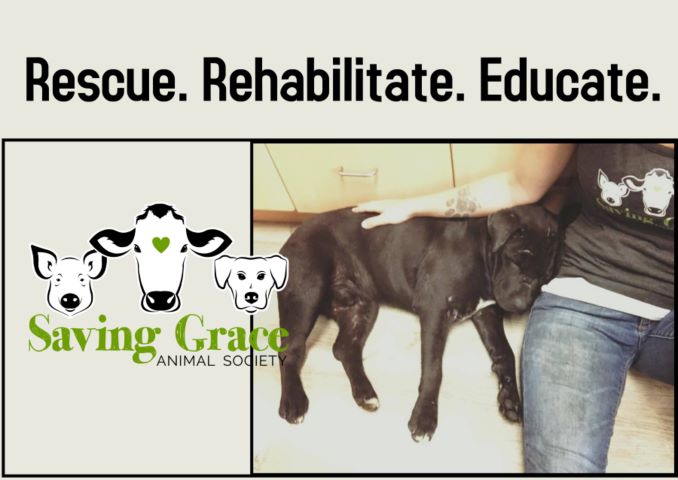 Describe your charity/non-profit in a few sentences.
Saving Grace Animal Society is an animal rescue dedicated to helping animals in need, no matter what the circumstances. We strive to create a safe place for all animals no matter what situation they have come from whether it be neglect, abandonment or medical issues. No matter the breed, species or age, if we can help in some way big or small we will.
What problem does it aim to solve?
The ultimate goal is to rescue, rehabilitate and educate. We dream of a world where shelters aren't full and waiting lists don't exist. Through spaying/neutering, education on proper training and a focus on matching the right dogs with potential adopters we hope to make a difference in the number of unwanted animals we see yearly.
When did you start/join it?
Saving Grace took possession of our current shelter and became a nonprofit in 2018 however was operating on a much smaller foster based scale prior to that since 2016.
What made you want to get involved?
I fell in love with Saving Grace because of the dedication to the "harder" animals. We often take in behavioural cases that others can't as well as costly medical cases. We truly believe any animal deserves the right to live if they have the right to do so.
What was the situation like when you started?
Before i started Saving Grace was operating on a smaller scale using just a few foster homes and seeing maybe 5-10 adoptions per month. We now have a fully operational shelter, a team of over 15 people and are seeing up to 80-100 adoptions per month not to mention having a hand in up to 200 animals lives per month through transport and rescue.
What more needs to be done?
Education & Dedication! I am still stunned when someone has an unaltered animal "just because." This summer has been horrendous for cats in Alberta due to so many wandering unaltered cats. Every week I am receiving calls about sick, abandoned, unwanted kittens/cats and many people still do not see the importance of fixing their animals.
I would also love to see some more dedication from pet owners. We live in a world of convenience where if someone can't solve the problem for us, we pass the problem onto someone else. If more people were willing to dedicate their time to what their pets need, not what they need then our shelters wouldn't be so full of surrenders. If we can afford a $5 coffee and a 5 minute wait in a drive-through every day think of the time and money that could be put into a training class or self-training your pet.
How can our readers help?
Help us spread the word! The more adoptions we have the more animals we can take in. Help us to educate your friends and family about the importance of adopting a rescue pet.
Do you have any events coming up?
We do! We have a Comedy Night Fundraiser on November 6th in Lacombe.
Where can we follow you?
We are on Facebook, Instagram and Tiktok and our website.
PAY IT FORWARD: What is an awesome local charity that you love?
We would love to throw our support out to Team Jigger, a wonderful new organization in Lacombe AB!