It is always inspiring to see the community come together to support one another. Recently, Fishman's Personal Care Cleaners, a well-loved local business, ran their first coat drive in order to gain winter wear to be donated to the Women in Need Society (WINS).  We caught up with Fishman's to learn more!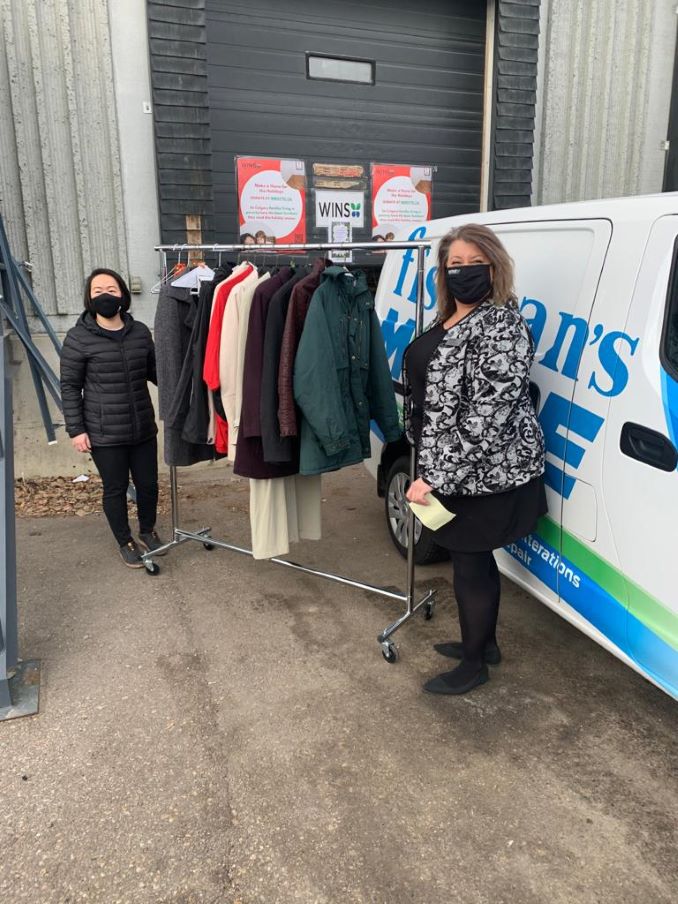 Describe your charitable initiative in a few sentences.
Fishman's Personal Care Cleaners has developed a long term relationship with the Women in Need Society in Calgary (WINS). One item the organization needs every winter is warm clothing. This year, between November 15 and December 15 we are hosting our first annual coat drive in support of WINS. Each year moving forward during the partnership we will host a coat drive to benefit WINS. We couldn't be more excited to support this incredible initiative and to work with the inspiring team at WINS.
What problem does it aim to solve?
The Women In Need Society of Calgary provides basic needs to women in poverty and their families. According to WINS, winter wear is a critical, basic necessity within their community with a constant need for more donations. We're hoping our initiative will provide some warmth this winter to those in need in our city.
When did you start this initiative and why?
Our partnership with WINS was recently formed this fall. We are in our 75th year of business and have been blessed enough to support hundreds of charities over the decades. We are always looking for opportunities to develop long term, mutual partnerships within our community.
What made you want to get involved with WINS?
At Fishman's, we are always looking for local charities with similar values to partner with and a way to contribute our services in a useful way to the community. We look for partners in the community that have a need that we can fill, obviously clothes, cleaning and delivery are our speciality. Plus we have an incredible customer base who has always supported all of our charitable campaigns. We have also witnessed the impact that WINS has had over the years, so we are thrilled for the opportunity to work with their team on this annual initiative.
What more needs to be done to help organizations like WINS?
WINS and other similar organizations are facing an unbelievably difficult year, with so many charities losing donations and revenue due to the economic impact of the COVID-19 pandemic. When it comes to WINS, cleaning out your closet goes a long way. We hope Calgarians can realize that something as simple as donating gently used clothing can make a difference in these difficult times. People can donate men's, women's and children's clothing – along with small household items. Not only does this help WINS generate revenue, but women exiting poverty are given gift cards to shop essential items at the store. It's such a simple way to help.
How can our readers help?
We will be accepting donations until December 15 at all Fishman's locations across the city. If you aren't able to donate to this opportunity, WINS has numerous amounts of other initiatives to support on its website . Year-round, Calgarians can also drop off gently used items to WINS donations centres across the city.
Do you have any events/initiatives coming up?
We are planning a 'Cancer-Free Campaign' in the spring with the Alberta Cancer Foundation and we are also planning another clothing drive that will include donations for costume or slightly used jewelry in support of Gems for Gems (an organization supporting domestic violence survivors).
Where can we follow you?
You can follow us on Facebook at @fishmanspersonalcarecleaners and Instagram at @fishmansyyc.
PAY IT FORWARD: What is an awesome Calgary charity that you love?
The Calgary SCOPE Society will always have a place in our hearts as Tasha Fishman was an outreach worker there for almost a decade. The organization supports families who have children with disabilities, adults and seniors. One of her favourite campaigns that they created that still stands, is the "Holidays for Hope" campaign. Tasha realized quickly while working with city youth, how many of them had never seen our beautiful mountains!
The initiative raised over $650 thousand to build a disability-friendly condo in Canmore that could be used 365 days a year by low-income families once a year. It is full, all year round, servicing hundreds of families and the organization is always in need of support for its operations.