The amount of waste created by babies is astronomical, and we're not just talking about what goes into the diapers. This week we spoke to Soiled Diapers Composting Services Inc., a local business that is looking to save the environment, one stinky diaper at a time.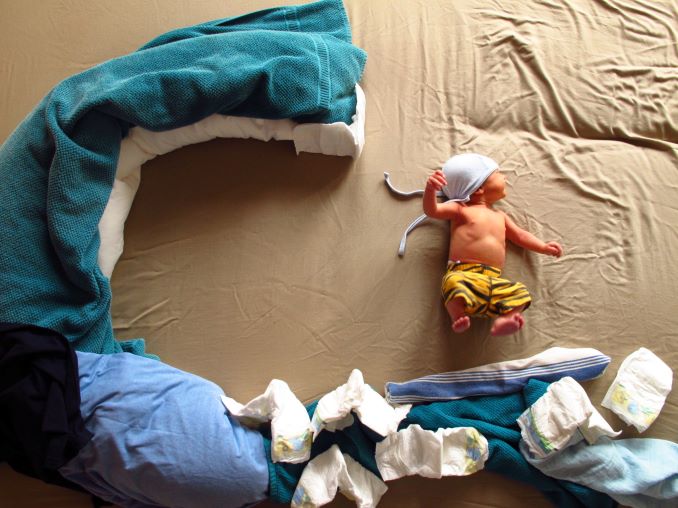 What is your business called and what does it do?
We are called Soiled Diapers Composting Services Inc. Our vision is to eliminate the need for disposable diapers to go to the landfill, so we collect and compost all brands of disposable diapers.
What made you want to do this work?
We started as a University project for a capstone business class. As the need, and market, became more apparent through further investigation, we realized the potential for a real business (with a few real world tweaks from the imaginary project world we were working in) opportunity in Calgary, Canada, and North America. After graduating, we promptly forgot about it! However, it only took a year in our desired professions to realize how much we hated it, and decided to launch SDC Inc.
What problem does this solve?
We solve an ever-growing problem of waste headed to landfills. Many countries in the world are not in the position that North America – especially Canada – are in regarding space for waste/landfills. We are space-spoiled here. The solution to the growing amount of waste is always "let's dig another hole!" rather than come up with innovative ways to eliminate, or even mitigate, the waste we produce.
Over 2.5 billion baby diapers are sent to Canadian landfills each year, 110 million in Calgary alone! Just to put that into perspective, that is approximately 555,000 tons of waste per year, which is also the approximate deadweight (dwt) of the Jahre Viking Supertanker. AND, that doesn't account for all of the adult diapers or other adult incontinence products out there.
Who are your clientele/demographics?
We currently seek out private clients who have children in diapers, commercial clients such as daycares, dayhomes, and long-term care facilities. We also seek out commercial and multi-family unit clients who wish to have their organic waste processed locally, rather than shipped to Olds or Coronation.
In the future, our ideal clientele will be municipalities. This program works at it's optimum level at a larger scale. For example, the private rate of $8.49/wk for a biweekly collection could be reduced to approximately $5/mo/household at a city of Calgary level of participation.
How does your business make money? How does it work?
It is a very simple process: people sign up for the service that fits their lifestyle and budget, we come and collect the diapers from their homes/businesses on the subscribed schedule. We then bring the diapers back to our facility, shred them up with other organic material, and send them through our specialized composting equipment. After the process is complete, we get useable, organic compost. Any of the inorganic material that is still left in the compost when it comes out the back end (a little diaper humor for you…refer to subsequent question haha) is screened away, and send elsewhere for further processing. If waste to energy is available, that is our first choice, but recycling or landfill are also considered.
Where in Calgary can we find your profession?
We are the only company of our kind in North America. There are others that do similar types of projects, but none quite like ours. The City of Toronto will accept disposable in their green bin program, but the diapers are separated out, blasted with a water-jet to separate the organic from the inorganic, then composted. Any inorganics are incinerated. There are also other companies that will compost your diapers if you purchase their specific brand of compostable diaper, whereas we will accept any brand of disposable, compostable or not.
What is the best question a prospective customer could ask a member of your profession when comparing services?
Which type of diapers do I need to use to participate in your program?
We accept all types and brands
How much of a traditional diaper is actually compostable?
~85% of the diaper remains in the compost, 15% is screened out as inorganic
How can I get my daycare/nursing home/pool/city to participate in your program?
We'd be happy to meet with the people responsible for the waste and set up a custom program for them
What is the best part about what you do? What is the worst part?
The best part of my job is to see how confused people are when they first come across our company, "Soiled Diapers Composting…oh, they are a diaper service…wait…what?…do you really…really?" haha
The worst part isn't what you would think (poop right?), but actually when we have to tell people that local leaders across Canada aren't ready to accept our program as a viable waste diversion stream despite the fact that diapers make up the third largest consumer item headed to the landfill (approx. 3% of all Canadian waste from a single product!)
What is your favourite joke about your own profession?
My favorite jokes are any poop jokes that are original. Don't tell me I have a crappy job (I hear that a lot), but if you can make it punny, or use poop in a unique way, I'm all for it!
PAY IT FORWARD: What is another Calgary business that you love?
Our favorite charity is the Calgary Food Bank's Bare Bottoms Diaper Drive. Our preferred tech company is Swank Media. Our preferred organics supply company is BluPlanet.
We love Green Calgary, and Be Local.
Cobbs Adventure Park is an awesome animal preserve and kids playground! And, as a hobby beekeeper, I really like ApiHex. They are always ready to help and give advice!