Who doesn't love a night at the movies? Amidst COVID-19 regulations, this year's Calgary International Film Festival will go online, with tickets on sale now! We spoke to CIFF's Executive Director, Steve Schroeder, to learn more!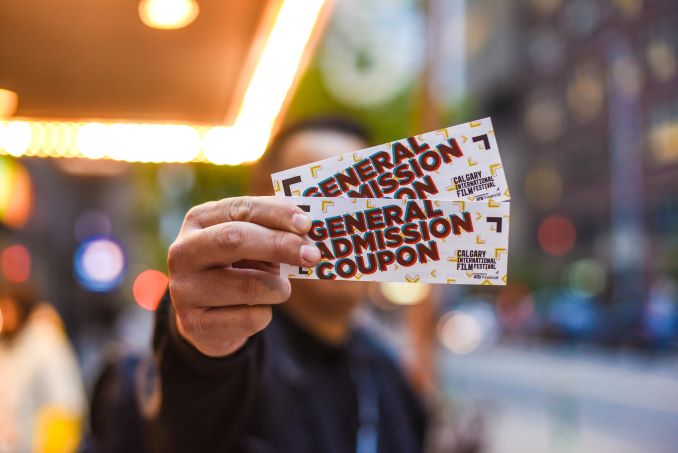 Describe your charity/non-profit in a few sentences.
CIFF is a not-for-profit charitable organization that brings films from around the world to Calgary for its annual fall festival and year-round programming. The Calgary International Film Festival is now the largest event of its kind in Alberta and the sixth largest film festival in Canada, bringing audiences together for remarkable and engaging cinematic experience.
What problem does it aim to solve?
There was not necessarily a problem to solve, but when we first launched, Calgary didn't have a major film festival. When the earliest film festivals emerged – Cannes, Venice, Berlin, Melbourne – they were reflections of great cities, a fulfilment of a city's identity, and a promise that that city is a cool place to live, work, play, and visit.
Now as we move into our 21st festival, we continue to represent Calgary's identity and deliver on great storytelling. Our audience leaves the theatre – or their at-home screen – with an enriched perspective on the world and their place in it through our handpicked lineup of the best and most entertaining stories we can find across a broad range of topics and genres.
When did you start/join it?
In 1998, the Calgary International Film Festival Society was founded and incorporated as a not-for-profit. Then, in 2000, the Inaugural CIFF was launched with 58 films over six days drawing an attendance of 8,000
I became the festival's Executive Director at the beginning of 2012.
What made you want to get involved?
After spending 14 years as the Executive Director of One Yellow Rabbit, I spent a few years as an arts consultant. I wanted to explore what it would be like working on a more per-project-basis in this industry that I love so much.
I could honestly have kept going, I was really enjoying it, but the idea of the film festival was a new challenge I couldn't turn down. My long tenure in the performing arts had already prepared me to run a festival, but there are opportunities that come with a film fest that you just don't have in the performing arts.
A film festival includes more movies that you could curate in an arts festival, or surprising to some people – even a major music festival!
To curate an event that speaks to so many people – the range of languages, view points, genres – it's incredible. The number of people out there who consider themselves dance, music and theatre aficionados is huge, but the people whose lives are touched by film – that's even bigger.
You'd be hard pressed to find a person who doesn't love the movies or doesnt have at least one film that has influenced them or has touched them in one way or another.
A film festival is one of the best vehicles for bringing a city together. I love being part of CIFF – a film festival that is truly a mirror of our city 's personality… not as a statement of politics, but as a statement of interest in the world. Calgarians are really informed, well traveled, and curious about the different cultures and ideas.
What was the situation like when you started?
When I came to CIFF, it was a huge time of transition for the organization – I was only the third Executive Director the festival ever had.
CIFF had gone through a bit of turmoil and needed a renewal. After some amazing years, it had hit a slump in terms of funding and administrative capacity. In spite of this rather daunting environment that I entered, the festival had an amazing core audience who despite some rougher years, never abandoned us.
We also had a dedicated Board of Directors and a super passionate volunteer core. There were enough people and stakeholders – private and public – who wanted CIFF to be successful.
Without a lot of money, CIFF was in need of a refreshed narrative and a new path to possibility. There had been a lot of staff turnover – it was almost a complete reboot from a staffing standpoint. It was very challenging, but fun and exciting – it was like jumping on the back of a buckin' bronco trying to steer our way to sustainability.
What was really lacking when I entered the picture was that CIFF lacked a brand and an identity, and it hadn't really established a clear mission, persona, or vision for itself.
Who are we doing it for? What kind of film festival do we want to be? Film festivals vary quite a bit. Some are destination festivals, others are for the industry. At CIFF, we're all about the audience!
How has it changed since?
Since 2015 the audience has doubled in five years, and the festival is firmly established as one of Alberta's most impactful and engaging arts experiences. We know who we are and an audience of up to 40,000 returns every year to experience films from upwards of 50+ Countries. We're now an Oscar-Qualifying Festival for Short Film, Canadian Academy Qualifying Festival for Feature Film and we've been recognized globally, year after year by MovieMaker Magazine as one of the Top 50 Film Festivals Worth the Entry Fee.
In addition to the annual festival, we've got an excellent Year-Round film Program that includes: Top Docs (formerly known as Doc Soup, MoS Docs, Global Perspectives, Oscar Shorts, & A Red Carpet Affair.
This year, we're entering into brand new territory with a hybrid festival model. Films will be available to stream online across the entire province of Alberta or you can join in on one of the 90+ in-cinema screenings we'll have with new COVID-health and safety protocols in place.
What more needs to be done?
CIFF is the first major annual arts event to return after the lockdown. We know not everyone is able to or wants to come in-person which is exactly why we've introduced our virtual festival model. This way, everyone in Alberta can participate…and maybe even people outside of our Province.
How can our readers help?
Come down to the festival and watch some movies…or let us come to your home with at-home streaming! The best support you can give to the festival is to join in the film fun and help reignite the city's spirit. We reduced our ticket prices too – it's just $11 to watch a film this year!
If you're feeling generous, consider purchasing a Friends with Benefits membership and be part of a special group of festival fans who receive year-round perks and discounts on merch and tickets! It's a great way to immerse yourself in the experience and see as many films as you can fit in your schedule.
Do you have any events coming up?
The 21st Calgary International Film Festival takes place September 24 – October 4, 2020. We'll have 90 in-cinema screenings over the course of the eleven-day festival and the majority of our lineup will be available to watch online from home.
Where can we follow you?
Facebook @calgaryfilm
Instagram: @CIFFcalgary
Twitter: @CIFFcalgary
Web: CIFFcalgary.ca
PAY IT FORWARD: What is an awesome Calgary charity that you love?
Calgary Folk Music Festival! We're so impressed with the way they turned around their festival cancellation – their virtual concert series was fantastic and the community really came together!
This year, we're collaborating with them to pair some of our Music on Screen films with some virtual performances. After that, we can't wait for the return of Folk Fest at Prince's Island Park and take in some more intimate shows at their beautiful venue Festival Hall.