100 Women Who Care Calgary is a grassroots Giving Circle which meets four times per year (Sept-May) for just 1 hour to jointly select a local charity. We spoke with President and Co-Founder Alison Lapczuk, to find out more about them.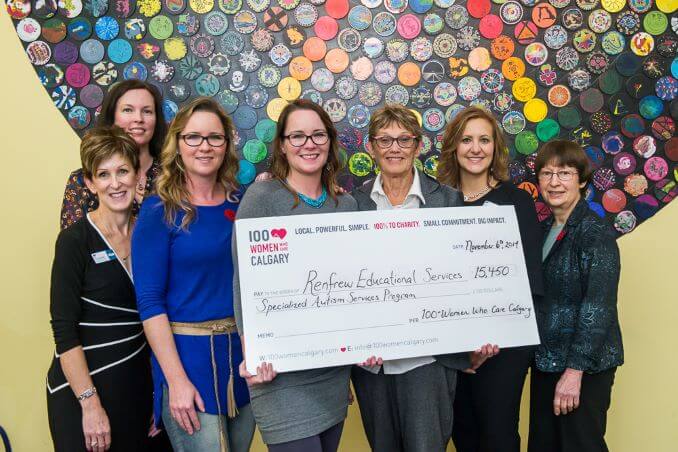 Describe your charity/non-profit in a few sentences.
100 Women Who Care Calgary is a grassroots Giving Circle which meets four times per year (Sept-May) for just 1 hour to jointly select a local charity. At each of the 4 meetings, every member gives a $100 donation to the charity of choice. Charities are nominated by and spoken for by our members. Three of these nominations are drawn live at each meeting and each speaker is given 5 minutes to pitch their nominated charity to the group. We then take a vote by ballot to determine the charity of choice and the donations are gathered. It is simple, yet powerful because 100 members who give $100 together is a $10,000 gift for a deserving local charity. Since we have many more than 100 members, we've given sometimes in excess of $20,000 to an individual charity.
What problem does it aim to solve?
Caring women are often thwarted from getting involved in local charitable work because they are so incredibly busy with work, family, and life in general. Women with big hearts, but little time are incredibly grateful for the format of our Giving Circle because it is literally 4 hours of meetings per year.
In each meeting, we first hear from our last meeting's Charity of Choice. They thank our members and share the impact that our donation made. This helps our members to learn more about each supported charity, but also allows them to see that their dollars really mattered.
Our format also gives our members a sense of empowerment. Through Voice or Vote (or both). Members who wish to nominate a charity which they are passionate about are given the opportunity to publicly speak about the charity to their fellow members. It is a safe environment where speakers feel supported and heard. We recognize that public speaking is not easy – and that is part of what makes it so powerful for each speaker, because, when they win the vote – they are winning up to $20,000 for a cause that really matters to them. Knowing it was their voice, their words that created that impact is an achievement that will stay with them throughout their life.
Many members, of course, will never wish to speak – and that's okay. Their power comes with attending the meetings and casting their vote and making their donation. Together we are all making a difference.
When did you start/join it?
I started the Calgary chapter in the late summer of 2013. Christy McMurray joined in September and together we became Co-Founders of the first 100 Who Care Chapter in Western Canada, holding our first meeting at the Marriott downtown on November 4th, 2013.
What made you want to get involved?
I was inspired by attending a meeting in Windsor, Ontario in August of 2013. My Mother-in-law, Donna Lapczuk, brought me as her guest to that meeting, knowing it was "up my alley".
My Co-Founder, Christy McMurray, was inspired by hearing of a chapter starting up in Kingston, Ontario. She acted immediately and found me online.
It's been a beautiful partnership ever since.
The concept of '100 Who Care' originated with Karen Dunigan in Michigan in 2006. You can read that history on our website.
Both Christy and I saw this concept as being a simple and brilliant way to make a real difference in our city. It allows women to engage effectively with local charitable causes without taking much time. It's also just a beautiful group of women that we feel blessed to know.
What was the situation like when you started?
Ours was the 5th chapter in Canada, the first in Western Canada. The 100 Who Care concept was totally unknown here in Calgary in 2013. Getting things going required a lot of emailing friends and asking them to pass on the invite. It also involved learning how to build a website from scratch and lots of cold-calling businesses to try to secure a venue and AV equipment at no charge (we operate on a $0 budget). At our first meeting, we raised $8000.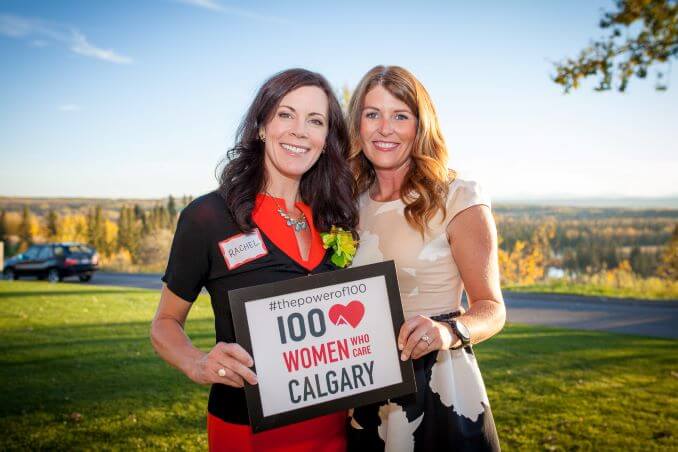 How has it changed since?
To date, we have raised well over $800,000 for Calgary charities that our members spoke up for and voted for. You can see every charity we've donated to and how much was donated on our website.
What more needs to be done?
We are Marching to a Million! Our goal, announced on our 8th anniversary last November, is to reach the $1,000,000 Milestone by our 10 Year Anniversary meeting, which will take place in November 2023. In order to reach this goal, 100 Women Who Care Calgary is looking to welcome many more members into our giving circle. Every new member who joins us means our impact on Calgary charities will be greater!
How can our readers help?
1) Help us grow! You can join us by filling out the Commitment Form.
2) Bring your friends and keep spreading the word!
3) Print and post our tear sheet at your place of work or local coffee shop.
4) Can you help us with a meeting venue? Email us at info@100womencalgary.com
Do you have any events coming up?
We will be meeting next at the end of September. The exact date/location are TBD.
Where can we follow you?
We would LOVE for you to Follow us / Share our content via our Social channels here:
Instagram | Facebook | LinkedIn | Twitter
PAY IT FORWARD: What is an awesome local charity that you love?
In honour of our friend and long-time member, Lee Horbachewski, who passed away this summer, we'd like to nominate Calgary's Distress Centre.