Well, hey, it's me, the lovely and energetic Binx at your service! I bet you can't resist this soft and shiny fur and my adorable face! The humans tell me I am a lovely, friendly girl! I may take a few days to fully warm up, but once I do you'll be rewarded with a little cuddle machine with such a strong purr and the best biscuits this side of the Bow River! I do have a fair bit of energy as well, so my ideal home will be one that can give me regular play sessions and fun things to do to keep me out of trouble. I'm not too fond of other cats (I want all the cuddles for myself) so please let me be your one and only! One very unique thing about me is that I'm what's known as a "manx". It means that I don't have a tail! But manx cats can sometimes have health issues, so it's a great idea to have a chat with your vet about me before we head home together! The counsellors here can also give you more information on it. I'll be waiting for you!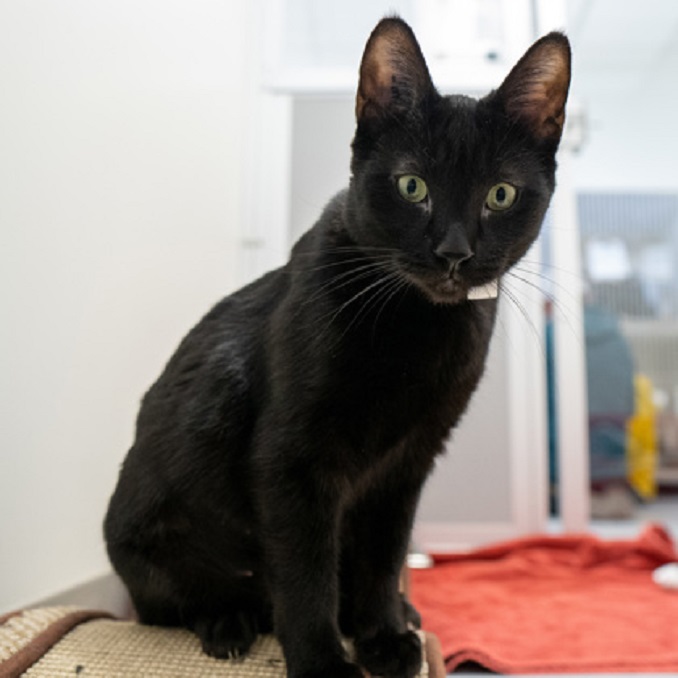 Binx needs a new loving home in the Calgary area
Age: 1 year
Gender: Male
Weight: 4.7 kg
Colour: Black
This sweet pet is available for viewing at the Calgary Humane Society! Interested adopters are welcome to self-schedule for an adoption appointment using our online calendar here.
About this column:
Each week we feature animals available for adoption from local shelters in the Calgary area with the hopes that our readers will assist in finding good homes for them. If you, or someone you know, has the resources to take care of one of these animals, please do get in touch with the appropriate shelter via the links provided.