Eine Kleine China (He/Him) uses music as a vessel to travel vast distances in the mind's eye. Since his debut album in 2017, the Calgary-based electronic producer has infused beguiling guitar melodies with fidgety beats, playfully mangled samples, and all manner of technological invention. During the past two years, EKC's practice of meditation drew him into a slower process of creative pollination, while an interest in synching his music with animated visuals inspired intricate concepts and cinematic arcs. On his third album, Prince Tsushinkogyo, mastered by Jamie Sitar (Destroyer, Black Mountain, Bend Sinister), Eine Kleine China invites listeners on a vibrant journey to the destinations of his daydreams.
Eine Kleine China (pronounced "eye-na kly-na China") was selected as the project name because of the heartbeat rhythm contained in the sequence of words. The German phrase is a nod to Mozart's "Eine Kleine Nachtmuzik" and Berlin's place as the worldwide epicentre for electronic music and music technology. There's humour in the literal translation of "eine kleine China" which means "a little China" – at statement that is absurd in the context of China as a modern economic powerhouse. Eine Kleine China is rhythmic, fun and colourful.
Recommended if you like Boards of Canada, Aphex Twin, Flaming Lips, Daft Punk.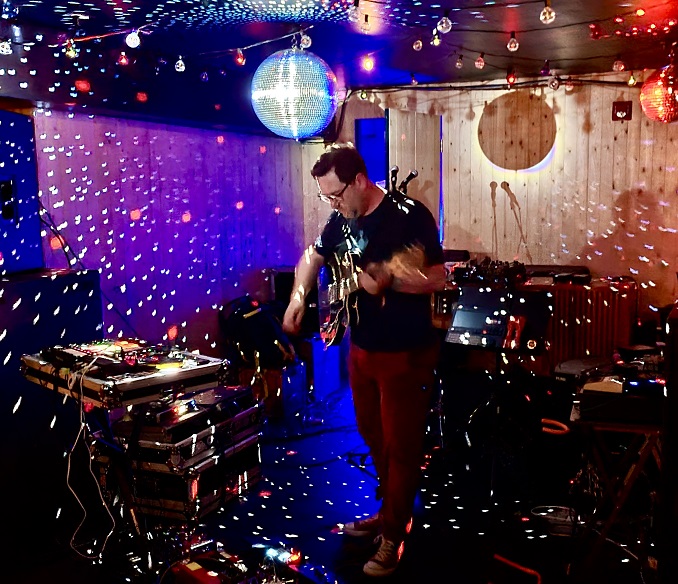 Name:
Eine Kleine China
Genre:
Electronic, Experimental, Dance
Founded:
2017
# of Albums:
3
Latest Album:
Prince Tsushinkogyo
Latest Single:
"Carpe DM"
Latest Video:
Favourite musician growing up:
I grew up in Calgary and was a teenager in the late 90s. At the time, there was a prolific local "all ages" scene. My friends in High School would put on noisy punk rock shows at the (long gone) Multi-cultural Centre in the East Village. The community was open and inclusive and instilled a strong DIY ethic which was foundational for me. I'd like to shout out the folks at the Calgary Cassette Preservation Society for posting a comprehensive archive of releases and memorabilia from that time.
Here's one release I remember fondly from The Day After Tomorrow Band with a download link. I was also a big fan of Muchmusic's leftfield programming like The Wedge which introduced me to lifelong favourite artists like Portishead, Aphex Twin, Squarepusher.
Favourite musician now:
I saw Standards (from California) play this summer and it blew my mind! Until that point, I had never seen a mosh pit at a math rock show. Very technical guitar and drums. Easy to enjoy.
Guilty pleasure song:
I think "Rasputin" by Boney M is great. It reminds me of partying at weddings. Boney M and Liz Mitchell still tour. More recently, my kids and I have been playing Harry Styles' latest album on repeat when driving around town.
Live show ritual:
I like showing up early and hanging out with the sound technicians before the show. I like to nerd out with them about gear and technology. Fuss over the sound and dial it in.
Favourite local musician:
Ryan Bourne/Rebecca Reid (Hair Control, Plant City) and Shane Ghostkeeper/Sarah Houle (Cîpayak ᒌᐸᕀ) are doing incredible work this year. There was an epic show with all of them at the Planetarium Dome theatre at Contemporary Calgary in May to mark the release of Ryan's new album Plant City. I also shared the stage with Ryan and Rebecca's band Hair Control in April of this year which was an honour!
EP or LP?
I think LPs are more fun. I like getting immersed in a longer, more complete sequence of musical ideas. I'm also an artwork and liner notes person.
Early bird or night owl?
During Covid, I got into the habit of getting up early every day. I enjoy getting outside and watching epic sunrises. Hearing the dawn chorus is a great way to start the day.
Road or studio?
Time to get out of the studio and hit the road.
Any shows or albums coming up?
I'm very excited to be playing Sled Island 2023 in late June. It'll be on Friday, June 23, 2023, at the legendary Palomino in downtown Calgary.
Where can we follow you?
***
Rapid Fire Calgary Qs
Favourite local restaurant:
Marda Loop Brewing is a great local hang. Now with live music on Saturdays!
Favourite street in your city:
1 ST SW intersects downtown and connects to lots of interesting spots. You get immersed in historical buildings and can find cool taverns and coffee shops.
Favourite park in your city:
Weaselhead Flats is perfect for a quick nature escape within the city.
Favourite music venue in your city:
Congress Coffee has an incredible vintage hifi PA system. It's the ultimate venue for intimate performances. Picture the best living room show coupled with a music producer's dream sound system.
Favourite music store in your city:
Melodiya Records and Hot Wax. I never leave empty-handed and they are incredibly supportive of local musicians.