Meryl Lee is the founder of a local business called Inspired Findings that crafts homemade wooden frames showcasing inspirational messages. We spoke with her for this week's featured local business to find out more about her and the business.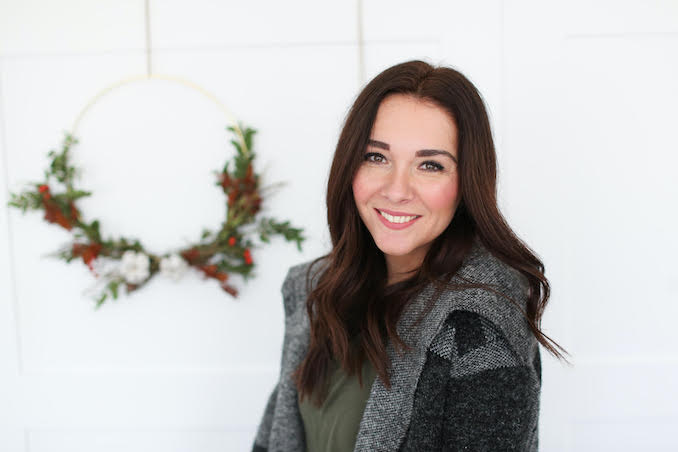 What is your business called and what does it do?
My business is called Inspired Findings. I make inspiring and timeless handmade wood signs for your home!
What made you want to do this work?
I began my business refinishing furniture and was making signs to stage each piece. I've always been so moved by an inspiring quote or phrase that it naturally started to become front and centre! I know how much something inspiring can motivate, encourage and uplift in all seasons and it means so much to me that I get to be a part of creating that reminder to my customers and audience.
What problem does this solve?
Simply my signs are meant to be relatable and inspiring. They are made to be very neutral in appearance to fit in pretty much any home!
Who are your clientele/demographics?
My clients and demographic range for sure. Most consistently I would say my clients are people in the young adult and parenting stage. I make a lot of signs expressing positive reminders related to family and kids. As well I try to make a wide variety signs that would make a great gift for weddings, graduations, birthday, etc.
How does your business make money?
My business sells signs through my website, at markets (when they were a thing!) and I also wholesale my signs to stores throughout Alberta and Saskatchewan.
How does it work?
My process has been developed and fine tuned over the past 6 years. I didn't know at all what I was doing at the beginning but I believe everything is "figureoutable" and after a lot of actual blood, sweat and tears I found my rhythm!
I individually stencil and paint each sign on wood that I have cut and sanded. Then I frame each sign with a wood frame that I cut per sign and stain with a beautiful antique walnut stain! Then there are of course all the finishing touches, top coating, more sanding, etc etc! It's quite a process!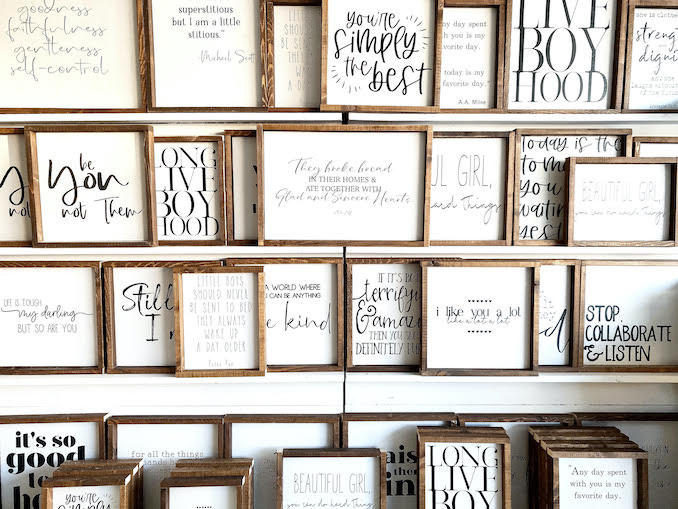 Where in Calgary can we find your profession?
You can find my signs in Calgary at Twisted Goods at MarketMall and Southcentre, at MarketSpot in MarketMall, at Ninth and Brick in Inglewood, MadeLocal in Westman Village, at Albertas Own in Canmore and a couple other new spaces coming soon!
What is the best question a prospective customer could ask a member of your profession when comparing services?
An important question would be to ask if the sign maker designs their own work. I think it's super important in such a saturated market that you are unique! You often can find a lot of the same thing over and over again, it's important to be creative and stand out as a maker to put the work in to creating something unique to your business – not a copycat of someone else's work.
What is the best part about what you do? What is the worst part?
The best part is definitely the creative side of things. I love making something beautiful and quality and knowing it will bring joy to people. Call me crazy but I love every side of making signs, I cut, sand, and build all of my own signs individually. It's messy and exhausting and reminds me that I'm not 20 any more, but I just love it!
The worst part… hmmm… like I mentioned above – when people directly copy your work, it feels defeating and disappointing. Aside from that as much as I love the process of making large quantities of signs – it's hard work! I'm often working long hours of physical labor between school drop off and pick ups, there are lots of late nights and early mornings to fit it all in – it can be quite exhausting! I know every parent can relate to that hustle!
What is your favourite joke about your own profession?
Pretty much that all of my clothes no matter how hard I try somehow all end up having stain or paint on them! That and that my hair always smells like stain and saw dust often becomes a sort of dry shampoo for me! I've just had to embrace it!
PAY IT FORWARD: What is another Calgary business that you love?
How do I choose just one! I am obsessed with the community of local businesses here in Calgary.
I love Little W Studio who also makes amazing signs and is absolutely hilarious. I love Lambs Soapworks – her bathbombs are my love language. And of course my friends at Primrose – it's been so cool to be able to watch their business from the dream stage and then completely explode! I actually could go on and on, but I'll stop!