The Hidden Gem is a space providing local artists and artisans to sell their art and promote their business. They offer a one-stop spot for those looking to encourage and support their community's entrepreneurs. We spoke with Vic and Brandy Tipper to learn more.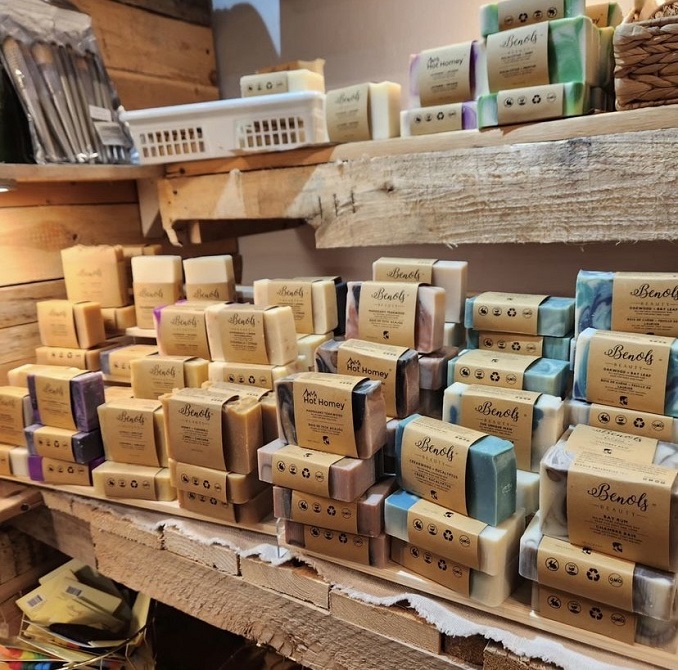 What is your business called and what does it do?
The Hidden Gem. We provide space for local entrepreneurs and artisans to show their creations to the world. They get a booth to call their own, and they never have to be here in the market.
What made you want to do this work?
When covid hit we went from owning a renovations company to opening markets. We opened 3 markets in 10 months. The first one opened on July 1st, 2021 the exact day that heavy restrictions went into place for covid we did the opposite and opened a massive indoor market housing over 150 locals.
What problem did you want to solve with the business?
When covid hit it affected everyone in some capacity or another. With us, we lost 4 major contracts the first-week covid hit. So us having 6 kids, an acreage etc we had to pivot to continue to be able to provide for them. So we began to make and sell furniture made from recycled wood off our front lawn basically. We became successful with it and started selling in other markets a bit. So we decided to look at getting our own storefront. As we did this we began to realize how super expensive it was to do this. Also, we began to meet so many vendors having the same problems. So Brandy was given an idea through her faith of working together to solve that problem. She thought what if we got a space and we filled it with others having problems and worked together to afford really any space we like and anywhere? Hence The Hidden Gem family and markets were born. Now in the Kensington location, we have 88 local small businesses inside and all sharing a cost and yet still living their dreams.
Who are your clientele/demographics?
Every age, sex, human and pet!
How does your business make money? How does it work?
Every vendor pays a monthly rent that collectively pays the total rent for the building. We do all the sales for them, advertising, marketing, events, collecting of monies, payouts etc. They come once per week to bring new creations. We have new inventory every Friday to keep the market fresh and new each visit!
Where in the city can we find your profession?
Kensington
What is the best question a prospective customer could ask a member of your profession when comparing services? Give the answer as well.
Is it family-run? Yes majorly important.
What is the best part about what you do? What is the worst part?
Helping others' dreams come to life. Watching them glow with happiness as things sell and people give them their due compliments. Serving the local community and really giving everyone the chance to shine especially in the world of the "big box" we live in! So fighting the good fight for local! There is no worst part, we are serving others and the community!
What is your favourite joke about your own profession?
I've had clients ask before if I'm a clone because I'm here and open 7 days a week with the same smile and vibe every day!
Where can we follow you?
PAY IT FORWARD: What is another local business that you love?
Manana Imports Kensington