Lazy Bake is a Calgary business that offers easy at-home baking kits. We spoke with Katie Duffin, Founder, to find out more about them.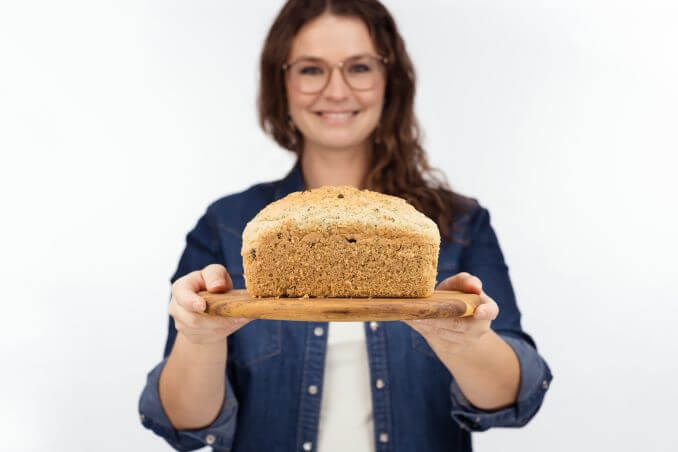 What is your business called and what does it do?
Lazy Bake offers easy at-home baking kits. Just add one or two ingredients at home to the pre-mixed kit. At the moment we have cookies, brownies and beer breads. Gluten-free and vegan options are available. A monthly subscription option is also available to have tasty kits sent to your door every month!
What made you want to do this work?
I noticed how many options there were for cooking (hello fresh etc), but nothing for baking to make it quicker, easier, and get more people trying it out. Baking is typically something people are intimidated by so I wanted to introduce some easy options for people that they can be proud of making themselves.
What problem did you want to solve with the business?
Less mess, fuss and hassle when it comes to getting in the kitchen to make some tasty baked goods. We offer quick and easy options – even kids can do it!
Who are your clientele/demographics?
Busy families, people with food intolerances, and people who like the idea of baking with beer!
How does your business make money? How does it work?
We sell directly to consumers through our website, and at markets. We also wholesale to other retailers.
Where in Calgary can we find your profession?
On our website. There is a list of what stores we are available at on there as well.
What is the best question a prospective customer could ask a member of your profession when comparing services? Give the answer as well.
How easy are your kits?
Very easy! You only need to add 1-2 ingredients, and only need a bowl, spoon and something to bake the item in/on. Our kits mean no prepping ingredients, buying stuff at the store, and a lot less clean-up.
What is the best part about what you do? What is the worst part?
Best: Hearing from customers how they love the taste of our products, and reviews about how EASY they are. We're all about giving people power over their time and spending more quality time with loved ones.
Worst: Logistics for our kitchen days – ensuring we have all the right ingredients!
What is your favourite joke about your own profession?
I quit my 9-5 job to start my own business, so now I work 24/7 instead!
PAY IT FORWARD: What is another local business that you love?
Jenny Be Free – Unique handmade accessories