By making a small change to different coffee beans, we can make a world of a difference for children growing up in Colombia. This week we spoke to Brandon Waardenburg, Director of Good Trade Company, about how we can leave a positive footprint with our coffee consumption.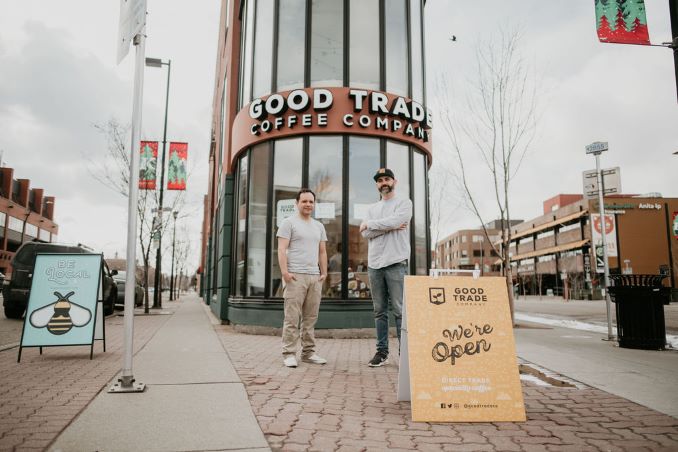 What is your business called and what does it do?
Good Trade Co. – we're a Social Enterprise coffee company that works direct with farmers and teaches life skills education to children in remote coffee growing areas of Colombia. We have two coffee shops in Calgary, we sell direct to customers online and we have wholesale partners.
What made you want to do this work?
I've worked in poverty alleviation for the last 10 years almost at a local level and I've always been interested to see how our buying and our supply chains affect people across the world. My business partner, Guillermo, and I saw space in the market where we could build a sustainable business model around coffee shops and simultaneously use the revenue to increase our education impact in Colombia.
What problem does this solve?
There are over 600,000 farming families involved in coffee farming throughout Colombia. About 60% of them live below the world's poverty line. Most experts would agree that education is a great way to lift people out of poverty, however in the areas we're working in Colombia approximately 12 to 15% of students leave school every year and don't return. We're trying to keep students engaged and healthy.
In Calgary, we think there's a spot in the market for an approachable well-balanced cup made from high quality coffees that come along with a story about resiliency. We believe our brand connects with aspirational people who want to make the world a better place.
Who are your clientele/demographics?
Our clientele are a really great cross section of Calgarians. Because of our position in Kensington we seem to get lots of people journeying from all over Calgary for coffee. Our most engaged customers are typically those that care deeply about social causes and volunteerism, they're very eager to leave the world a better place and are actively engaged in their communities. We have a fantastic range of gender diversity and non-binary customers along with diverse faith backgrounds.
How does your business make money? How does it work?
We sell hot and cold specialty coffees to customers who walk into our shops, we wholesale coffee beans to offices and retail partners, and we help community groups do fundraisers to support local programs.
Where in Calgary can we find your profession?
Kensington: 1154 Kensington Crescent NW
Crossroads Market: 1235 26 Ave SE
And on our website.
What is the best question a prospective customer could ask a member of your profession when comparing services?
What impact are you having to create sustainability and value throughout your supply chain?
Our immediate impact is by ensuring the farmers are paid well for their products, their efforts and their expertise. Our long term efforts help on an as-needed basis in ways which help them grow their business, such as helping them with things like financial literacy or product development or helping producers transition from low-quality high-yield production which is hard on the environment to high-quality sustainable growing methods.
What is the best part about what you do?
Discovering just how many aspirational people there are in Calgary and having great conversations about their challenges and their ideas to do things better.
What is the worst part?
This year, it was definitely dealing with COVID-19!
And every other year, it can be the stress of working with really thin margins, such as there are in the premium coffee industry.
What is your favourite joke about your own profession?
I don't have one yet! I think maybe I'm just too serious of a person haha
PAY IT FORWARD: What is another Calgary business that you love?
Canary Goods and Raw Market & Eatery are two of our many favorites.