We can achieve amazing things if we work as a team. This week we spoke to Kristian Chow, director of YYC Lend a Hand, about how we can help those in need.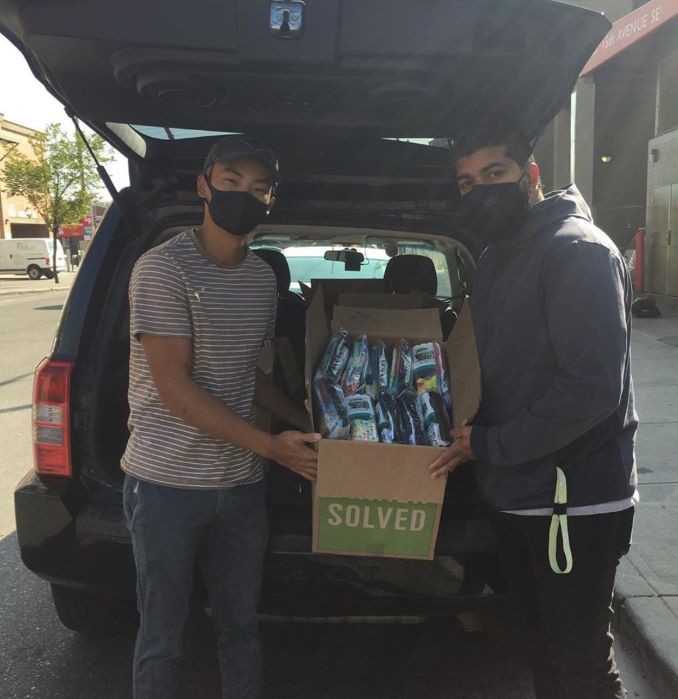 Describe your charity/non-profit in a few sentences.
YYC Lend A Hand has a mission to get essential items into the hands of less fortunate people, or to anyone who cannot afford these items. It was started by University students with a mission to help the less fortunate of Calgary. We are trying to achieve this goal by calling on fellow Calgarians. A bag of our essential items can be kept in their car or bag, which they can then give out to the less fortunate when they come across their path. We package these essential items at as low a cost as possible, but with quality products. These packaged products can then be sold to individuals in Calgary for their own distribution. Donations we receive allow us to donate bags to partner organizations who distribute them through their outreach teams.
What problem does it aim to solve?
We aim to help alleviate some of the pressure that those in difficult situations have, such as being able to afford essential goods. This small act may give them the opportunity to focus on getting back on their feet, or at the very least make their day by showing them they are supported and cared for by the community.
When did you start/join it?
This was started around the beginning of COVID-19 using SERB money, in July of 2020
What made you want to get involved?
Growing up in downtown Calgary, I was not hidden from the reality of homelessness that is especially prominent within the city. I have always admired organizations such as Feed the Hungry and The Mustard Seed. However, I wanted to start a nonprofit organization that showed others how they can help on a more regular basis. With some fellow university students, we came up with the idea to fund, pack, and deliver small bags of essential goods to members of the community, so that our project of relieving homelessness could reach as far as possible.
What was the situation like when you started?
When Lend a Hand was established, COVID-19 was hitting at its hardest. Those that were already experiencing homeless or financial issues were a population that was under even more pressure than the general population. In such a difficult time with shortages of resources and increased stress, we wanted to give people in need one less thing to worry about.
How has it changed since?
Since the time we began we have been able to distribute 700 bags of essential items to the community. These bags are given to the less fortunate on the street and as well through organizations we donate to (Feed the Hungry, Alpha House, CUPS and Centre Street Church).
What more needs to be done?
There is still ample work to be done in the efforts needed to relieve, and eventually eliminate homelesness. We hope to be able to work with more of the community of Calgary so that all the less fortunate peoples of Calgary can be reached. Furthermore, we hope to be able to partner with other organizations who would like to distribute these bags, or help us in being able to produce more bags. YYC Lend a Hand is just one small step to aid the less fortunate in Calgary, and show people a simple yet effective way that they can personally help those in need.
How can our readers help?
Purchasing bags for distribution, making donations, or simply spreading the word about our mission are all great ways to advance our cause and "pay it forward". Only $5 is enough to give someone in need essential goods that may have a tremendous impact on their life, and allows Calgarians from all walks of life to see the impact of their contribution.
Do you have any events coming up?
We don't have any organized events planned at the moment. In the future we are looking into the idea of bottle drives, donation-based runs, and volunteering within schools. We were going door to door every weekend of summer, but since school has begun again we have not been able to continue this.
Where can we follow you?
Our website
Instagram
Facebook
PAY IT FORWARD: What is an awesome local charity that you love?
Feed the Hungry is an excellent charity that provides quality food to peoples of Calgary experiencing poverty and marginalization.