This week's Leftover Turkey Fried Dumplings with Cranberry Sesame Soy Sauce recipe utilizes leftovers from everyone's favourite dish: Turkey! This recipe from Chef Jenny B of Jane Bond BBQ is an excellent quick appetizer to make with some leftovers! For more local recipes and creations from Jane Bond BBQ, check out their blog!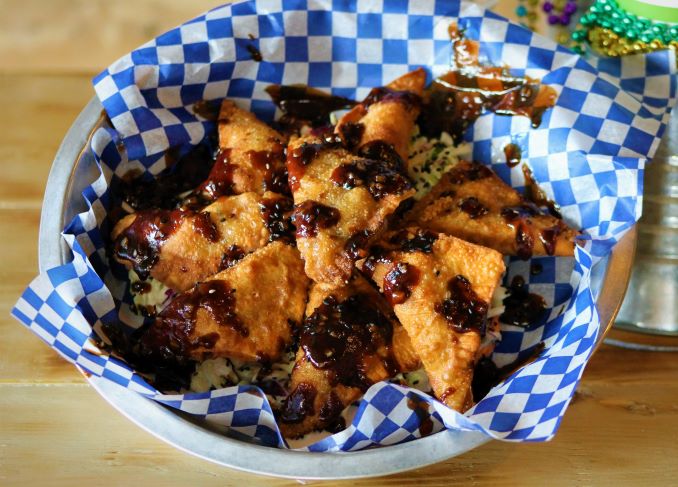 Jane's Turkey Dinner Leftover Fried Dumplings with Cranberry Sesame Soy Sauce
Yield: 20 pieces
Ingredients 
For Dumplings:
– 1 Cup Shredded Turkey
– 1 Cup Shredded Squash or Veg substitute of your hearts desire
– 1 Cup Stuffin'
– 1 TBSP Chicken Boullion (salted)
– 1 TBSP Paprika
– 2 Cups Oil
– Small dish cold water (for dippin' your fingers)
– 1 Pack Wonton Wrappers
For the Sauce:
– 1/2 Cup Cranberry Sauce
– 1/2 TSP Molasses
– 1/4 Cup Soy Sauce
– 3 TBSP Sesame Oil
– 4 Cloves Minced Garlic
– 2 TBSP Beef Bouillon (Sub gravy if you wish!)
Directions
1. Combine all sauce ingredients in a pan and heat on high for 6 min, rest on low for additional 8-10 min while making dumplings.
2. Mix and Mash dumpling ingredients together into filling, get your hands in there!
3. Place 6 wontons at a time on a dry surface.
4. Place 1 TBSP of filling in the centre of each wrapper.
5. Dip a finger in water and run it along the top and right edge of wonton.
6. Fold left bottom corn up to top right corner keeping filling into centre and press joining edges together tightly to seal the wonton wrap edges together.
7. Pick the dumpling up and press edges together again nice and tight, then store in a dish with a moist cloth. Repeat as many times as you want dumplings!
8. Remember wontons dry out quickly, so if taking a break rest under moist cloth.
9. Pour oil into a medium sized non-stick pan and turn on 3/4 to high heat for 5 minute.
10. Place dumplings in the hot oil and fry each side for 1.5 minutes until golden brown. Plate and drizzle cranberry sauce over top!