The Calgary Black Film Festival is back for its third edition! Described as "Necessary, Innovative, Strong, Diverse and Bold programming," the Calgary Black Film Festival sets out to amplify the voices of Afro-descendants.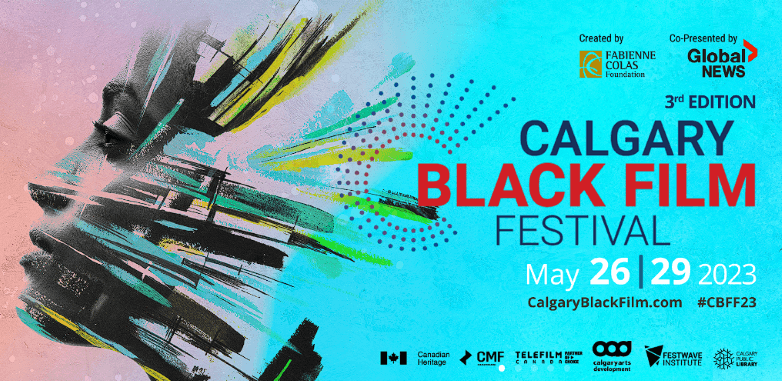 The Calgary Black Film Festival is one of a series of Black Film Festivals that happen all across Canada, which were founded by the Fabienne Colas Foundation, named after its creator Fabienne Colas. A Haitian-Canadian actress, Colas began this foundation when she struggled to find acting work after emigrating to Canada.
This third edition of the Calgary Black Film Festival will be running from May 26 – 29, 2023. In-person screenings and events will take place at The Globe Cinema and The Plaza Theatre, while discussion and panels will be held at the Calgary Memorial Park Library. All films also available for viewing online starting from 9pm on May 26th.
The festival kicks off with a red carpet Opening Gala happening at the Globe Cinema on Friday, May 26, for the screening of a mystery thriller from South Africa called 1960, a film which won Best South African Feature at the Durban International Film Festival. The plot revolves around the discovery of the remains of an apartheid-era policeman 60 years after he went missing. A retired lounge singer must revisit her past to help with the investigation, but how much does she know, and what is she holding back?
According to co-director Michael Mutombo "1960 is not a film about apartheid, but rather a film set during apartheid. It's a love story between a young girl and music – inspired by the greats, like Miriam Makeba." (Nicknamed Mama Africa, Makeba was a South African singer, songwriter, actress, and civil rights activist). Viewers can expect to be treated to a wonderful soundtrack inspired by 50s and 60s African jazz.
While this festival is aimed at increasing inclusion and diversity in the film industry both on and off camera, the programming is also aimed at the public from all communities. The CBFF Black Market offers an exciting blend of panel discussions where renowned industry professionals share real-world experience on today's most critical film making and social issues, that can be beneficial to film professionals and artists from all communities.
For instance the panel How to Keep Your Creative Focus as a Freelance Artist, being presented on May 27 at 12:30PM at the Memorial Park Library, will offer strategy and encouragement to Freelancers from any community. This particular panel will also feature Calgary filmmakers Misha Maseka and Kamika Bianca Guerra-Walker.
In addition to several feature length films being presented, the Festival includes the Being Black In Canada short film series, which supported 35 Black Canadian Filmmakers, 18 to 30 years old, in Montreal, Toronto, Halifax, Ottawa, Calgary, and Vancouver in the creation of their first documentary short films. A unique project that supports emerging artists from culturally diverse backgrounds, Being Black In Canada filmmakers received professional coaching for each stage of their film making process under the tutelage of industry professionals.
Several different tiers of ticket packages for the Calgary Black Film Festival are available, ranging from single tickets, to All Access Passes (with online or in person versions), to a VIP Opening Night ticket which includes an invitation to the After Party and two complimentary cocktails. All tickets can be purchased on the Festival's website and in person.