Mobile Escape is a Calgary business that creates and runs escape rooms that come to you. We spoke with Co-Owners Paul and Eric to find out more about them.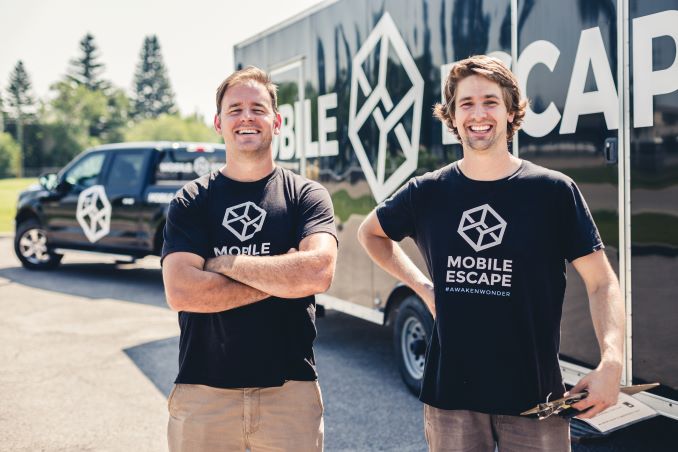 What is your business called and what does it do?
Mobile Escape exists to Awaken Wonder and "We bring the escape room to you!". Founded in 2016. Prior to Covid, we created custom escape rooms built-in line with Alberta Curriculum from grades 1-9 inside our 30-foot trailers, and we towed these to schools for students to play.
When Covid shut us down we pivoted to creating Escape Mail, which is essentially an escape room in an envelope. There are currently 12 episodes that makeup Season 1. All 12 episodes follow a continuous storyline with twists and turns following your long-lost cousin on a pursuit for your family's hidden treasure.
What made you want to do this work? What problem did you want to solve with the business?
As a kid, Co-Founder Paul Harvey struggled in school and did not thrive in a traditional classroom environment. Paul grew up always loving puzzles, and games of all kinds and always had a crafty and creative streak though. It was from this place that Paul saw an opportunity to take escape rooms to schools. Escape rooms provide students with a unique learning opportunity to discover that it is not a question of how smart you are, but rather it is about discovering how you are smart. Escape rooms provide many students who don't thrive in traditional learning environments an opportunity to be the star of the show.
Who are your clientele/demographics?
Prior to Covid, 90% of our revenue came from schools and the remainder came from things like parties, and team-building events. However, since Covid and the development of the Escape Mail product now the vast majority comes from couples and families looking for a fun games night at home.
How does your business make money? How does it work?
It used to be (and hopefully we can re-launch the original side of the business once Covid settles down again) fee for service.
Escape Mail is now translated to both Dutch (www.escapemail.nl) and German (www.theescapemail.de) and is produced and sold in those regions. We have distributors in the UK (www.thepanicroom.net) and USA (www.theescapemail.com) and is also sold online through various eCommerce platforms such as Amazon and Groupon.
Where in Calgary can we find your profession?
We bring the escape room to you! 😉
What is the best question a prospective customer could ask a member of your profession when comparing services? Give the answer as well.
What makes your escape games (both physical escape rooms and Escape Mail) better than others?
We have won multiple awards for our games and puzzles
We carefully craft our puzzles from scratch in a way that engages a variety of strengths from the solver
Our Escape Mail series has 12 episodes (over 20 hours of gameplay) that follow one continuous and evolving storyline
What is the best part about what you do? What is the worst part?
Best: Creating new puzzles and chatting with customers about our puzzles
Worst: Navigating Covid restrictions
PAY IT FORWARD: What is another local business that you love?