On September 9, I had the pleasure of attending the opening night of the Languorous Exhibit of Anda Kubis at the Newzones Gallery. As a senior Canadian abstract painter, Kubis is a prominent figure in the new abstraction movement, using her works to play with colour, space, and illusion. Read on for my honest review.
Upon entering the gallery, I was immediately captivated by the vibrancy and luminosity of Kubis's work. Her bold and rich use of colours evokes a staggering sense of depth and movement, transforming every canvas into an almost hallucinatory world of shifting perspective. Created during her time in the Kawartha Lakes region of Ontario, each painting is a testament to Kubis's exceptional skill in creating unique works while still staying connected to her overarching aesthetic.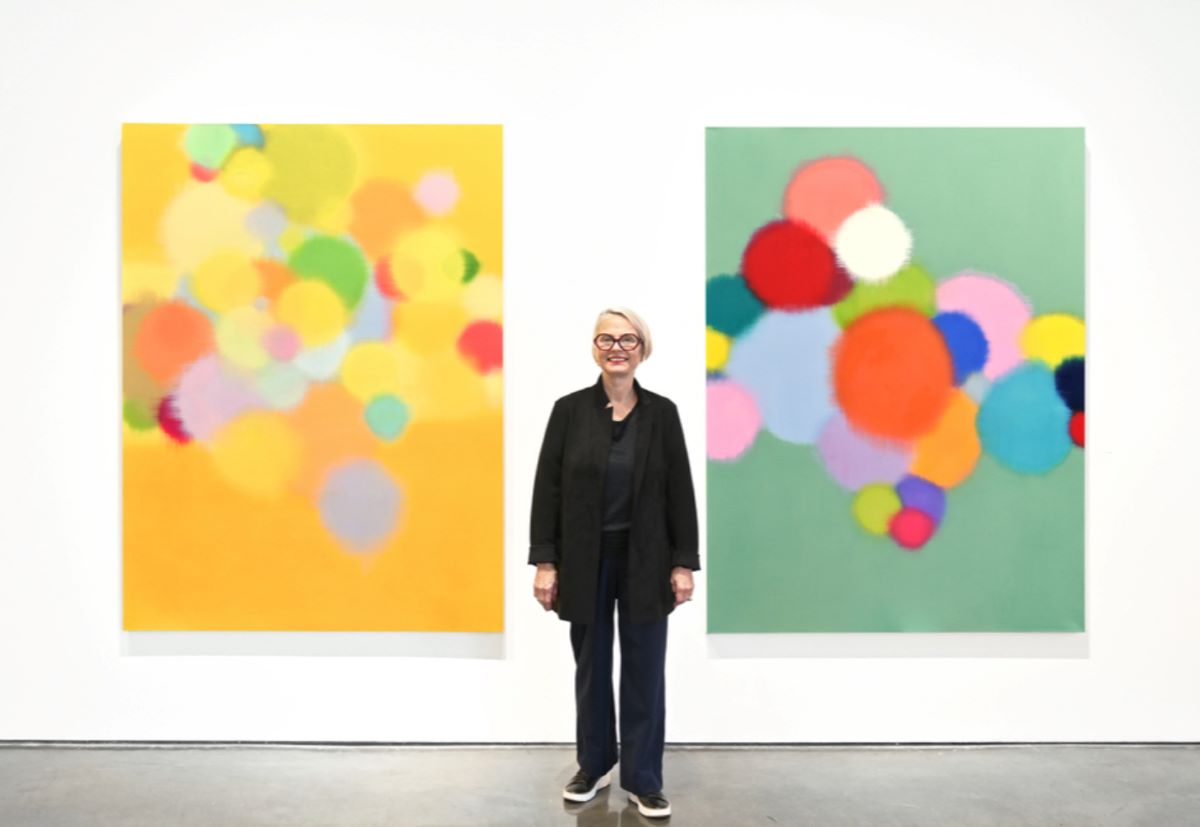 Kubis's abstract paintings provoke perception, using subtle layers of oil paint to build ethereal and palpable images. Kubis allows colourful forms to blur, morph, and grow more distinct in her work through a slow and intuitive process that creates a suspended movement captured in time. Kubis's work embraces changes in light, the rhythms of nature, and patterns of growth, evoking a sense of organic fluidity in each painting.
At 3:00 p.m., attendees had the privilege of hearing from the artist herself. In a personal speech, Kubis shared the intimate details of her creative process, offering a window into the mind of a prolific and talented painter. The diverse crowd in attendance listened as Kubis spoke candidly about the inspirations behind her work, her favourite techniques, and the challenges she faced while creating the pieces in the exhibit. Her willingness to share personal details with the audience demonstrated a sincere level of vulnerability and authenticity, which added to the exhibition's overall impact.
Kubis's artistic process is a fascinating blend of intuition and structure, emphasizing colour and colour perception. To begin, Kubis empties her mind, starting with nothing to create a fluid and natural process. She works on all her paintings simultaneously, building a dialogue between them as they develop. For the Languorous exhibit, Kubis worked consistently throughout the summer, attending her studio daily and relying on audiobooks and podcasts to keep her company while working.
Anda Kubis acknowledges that the art world has traditionally favoured dark and gritty work over the beauty and femininity of pieces like hers. However, she remains steadfast in her principles, advocating for the importance of beauty in art. Kubis's commitment to the beauty and femininity of her work is an inspiring example of how artists can use their creative talents to create change and challenge the status quo in the art world.
As an Associate Professor of drawing and painting at OCAD University, Kubis is immersed in a community that fosters passion and creativity, inspiring her regularly. Such an environment has allowed her to grow and evolve as an artist and educator. However, her academic background has instilled a tendency to scrutinize and assess her artwork with meticulousness and self-criticism.
Of all the paintings in Kubis' collection, Night Vision holds a special place in my heart. The celebratory depiction of time and space presented in the image is truly captivating, enticing viewers to immerse themselves fully in its vibrant energy. Kubis' purposeful use of vivid hues such as orange, yellow, green, and purple creates a striking contrast against the dark blue background, resulting in a visually stunning piece that is impossible to overlook.
The tremendous contrast between Kubis's oil paintings and digital artwork piqued my interest. Her oil paintings burst with a kaleidoscope of colour, while her digital artwork uses white space in a strategic manner to evoke motion and contrast. This stark distinction highlights Kubis's exploration of space, colour, and time through various mediums while also demonstrating the ever-evolving relationship between technology and artistic expression. By embracing traditional and digital mediums, Kubis embarks on a journey to push the limits of creativity, resulting in ground-breaking works that capture the imagination.
Furthermore, the Newzones Gallery staff created a warm and welcoming environment, and the complimentary refreshments added an extra touch of hospitality to the opening night. The gallery's clean, modern aesthetic and spacious layout was the perfect backdrop for Kubis's exhibit, allowing visitors to immerse themselves in her captivating work.
In short, Languorous by Anda Kubis is a remarkable celebration of beauty that is a joy to experience. Kubis's exceptional ability to capture the essence of time, space, and colour is awe-inspiring and a triumph for the new abstraction movement. The exhibit will be open until October 14, and I highly recommend visiting before it's too late.