Our Five Minutes With Feature this week is Calgary based, Alt-Country singer Leeroy Stagger. 17 years as a singer-songwriter and 10 years sober, with two kids, a home in Lethbridge and a world class recording studio to go with it, he's far removed from the hard-living twenty-something who started on this musical path. On September 13th, Leeroy Stagger invited us to be a part of his journey with the release of his new album and book, Strange Path.
The name Strange Path applies as much to Leeroy's unexpected route from the BC punk scene to southern-Alberta singer songwriter as it does to the album's own evolution. Following from 2017's Love Versus, itself a creative re-emergence after a years-long fog of anxiety and depression, Strange Path is the end result of a triple-album's worth of scrapped demos, and a spirit-reviving retreat inwards. It's also Stagger's most ambitious and philosophical creation yet, a veritable self-help book pulled from a lifetime of struggling towards the light and brimming with the hard-won joy at the heart of his recent renaissance.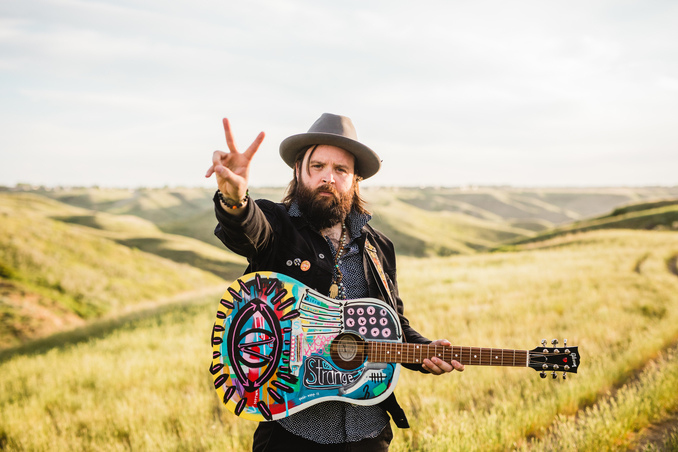 Name: Leeroy Stagger
Genre: Americana / Alt-Country
Founded: 2004
# of Albums: 12, about 9 too many I think.
Latest Release: Strange Path
Latest Single: Mother
Latest Video:
Favourite Local Restaurant:
The Coup, I like the vegan food these days. Hearts Choices is great too.
Favourite band as a teenager:
The Black Halos
Favourite band now:
The War On Drugs
Guilty Pleasure Song:
That's Amore by Dean Martin
Live Show Ritual:
Be in the moment, open to spontaneity.
Favourite local artist:
Mariel Buckley
Nose Hill or Fish Creek?
Fish Creek I guess, they are both fun.
EP or LP?
Maybe EP.
Early bird or night owl?
Early bird, I have babies now. Night owl isn't an option.
Road or studio?
Studio, the road has worn me out.
Where can we follow you?
Just go to LeeroyStagger.com and that will give you all the details.
Any shows or albums coming up?
Almost always, check out leeroystagger.com for all upcoming tour dates. And as for albums, I just released Me & The Mountain and Strange Path this year!