Our chosen Charitable Choices feature this week is Alberta Ecotrust who are committed to addressing Alberta's environmental issues and working with the community to invest in and support projects involving water, land use and climate change.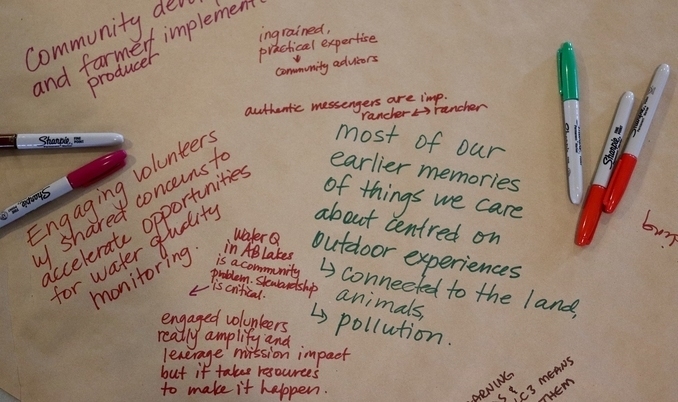 Describe your charity/non-profit in a few sentences? What problem does it aim to solve?
Alberta Ecotrust is a unique partnership organization bringing together environmental nonprofits, industry, government and concerned Albertans to support the people and projects addressing Alberta's most pressing environmental issues. This support includes investment in environmental projects focused on water, land use and climate change. Alberta Ecotrust also regularly convenes the environmental community to build networks and capacity to help them do their work.
When did you start/join it?
Alberta Ecotrust was founded in 1991 by visionary Albertans from the corporate and environmental nonprofit sectors to catalyze and support community-based action to protect and preserve the environment.
What was the situation like when you started? How has it changed since?
The relationship between industry, nonprofits, government, and citizens has changed dramatically since Alberta Ecotrust was founded in 1991.
Twenty-eight years ago Alberta Ecotrust began with a primary focus of convening industry and environmental nonprofit partners to provide critical funds to community organizations taking action on environmental issues. As we learned more about the environmental community we increasingly recognized the need to build skills and support nonprofit capacity.
Today, our role as an environmental convener is to foster authentic relationships within and across sectors and boundaries, creating space to share knowledge and identify common goals.
What more needs to be done?
There is no endpoint in the pursuit of a healthy environment. With a long term vision and consistent effort to continually test, measure and revise our collective approach, Alberta Ecotrust sees unlimited potential for new opportunities to innovate and collaborate on solutions across sectors.
How can our readers help?
Alberta's environmental issues are complex. If we are to make progress on environmental solutions, we need to work together. No one can do it alone.
We invite you to sign up for our newsletter to stay in touch on the people and projects we support through our grant programs; attend a workshop or event, or join our growing family of Environmental Champions with a donation.
Do you have any events coming up?
We're currently planning our 2020 Environmental Gathering for Fall next year. This is Alberta Ecotrust's signature annual event, bringing together people in the environmental community, companies, municipal and provincial governments, and citizens to support positive environmental action. The Environmental Gathering is a critical space for conversation and relationship building. A space where we can respect different points of view and draw on everyone's ideas to find new solutions to environmental challenges.
Where can we follow you?
Visit www.albertaecotrust.com to subscribe to our newsletter. Follow us on Twitter @AlbertaEcotrust and Facebook @AlbertaEcotrust.
PAY IT FORWARD: What is another Calgary charity that you love?
Another charity we love is the Women's Centre of Calgary.