When visiting Toronto, there is a never ending supply of entertainment and restaurants to explore on your trip. Whether you're looking to immerse yourself in the international repertoire of cuisines, experience a broadway hit musical, or catch a live music show of any genre, Toronto's vast diversity has you covered. The energy of the city is ever changing, and that's what makes it such a dynamic and exciting destination, no matter how many times you come back there is always something new to do. This guide will point you to the best places to grab a bite, the best shows to see, and the best live music joints for your undoubtedly eventful and lively visit to Canada's metropolitan centre.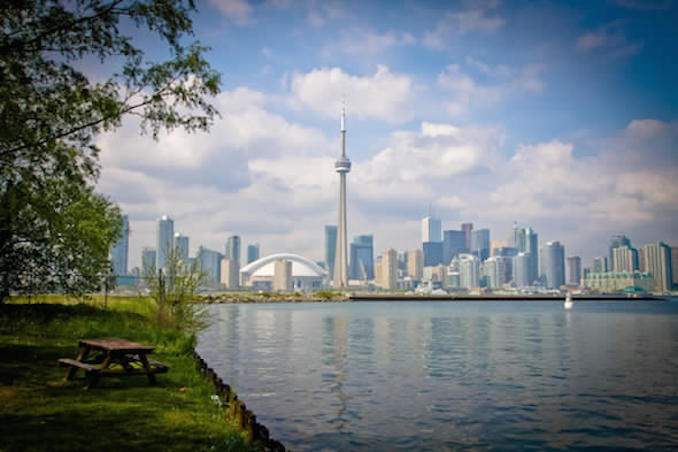 FOOD
Bymark, located in the financial district in the heart of the city, is the perfect place to sit down to an upscale dining experience after a bustling day of sightseeing. The restaurant features their famous "Bymark Burger" by Toronto Chef Mark McEwan, with a focus on fresh, gourmet and ambitious twists on classic dishes. Its unique atmosphere is set by a floor-to-ceiling wine cellar, intimate private dining rooms, modern bar, and spacious patio.
DaiLo, a rustic storefront on College street with a charming interior, offers authentic Asian cuisine, with an aim to provide high quality ingredients, leading to better lives and more delicious meals. The majority of their menu is dominated by Chinese dishes, and are augmented by Liu's signature modern flair and updated to suit the western palate and the modern demand for local and sustainable ingredients.
Mildred's Temple Kitchen takes an exciting spin on classic brunch staples, such as pancakes, croissants, quiches and scones. The hip and trendy restaurant is tucked away in the heart of Liberty Village, and has a commitment to providing locally sourced, seasonal ingredients, simply and sumptuously prepared. The industrial setting mixed with the bright sunlight of the lofty floor to ceiling windows instills an air of warmth and comfort long after you have departed.
Visit our Toronto website to find out more about some of the best restaurants in Toronto.
THEATRE/PERFORMING ARTS
The Four Seasons Centre for Performing Arts is located on Queen West, and is home to the Canadian Opera Company and the National Ballet of Canada. The shimmering glass walled building contains a sleek modern interior, with 5 tiered rounded seating, designed to offer magnificent acoustics. Every year during the holiday season the Centre puts on the Nutcracker ballet, and presents stunning performances of the classic show. Acclaimed principal dancer, Sonia Rodrigeuz performs frequently here, having danced in Swan Lake, Romeo and Juliet, The Sleeping Beauty, Giselle, Manon, La Fille mal gardée, The Merry Widow and Marguerite and Armand.
The Royal Alexandra Theatre opened in 1907, and since has been the oldest continuously operating theatre in North America, as well as the most popular theatre in Toronto. This antique and elegant location had put on over 3,000 productions, and is today owned by Mirvish Productions. The classic broadway stage most commonly features hit musicals such as Come From Away, Kinky Boots and Mamma Mia!
The Fringe Festival is an annual theatre and performance festival, now celebrating over 30 years in the spotlight. Over 150 productions across three dozen stages are held over the two week span in early July, with original shows from all genres, including everything from comedy to drama and emotion to youth plays.
Visit our Toronto website to find out more about theatre in Toronto.
MUSIC
The Horseshoe Tavern, located in Toronto's Queen West neighbourhood has been a trailblazer in Toronto's musical industry since it opened its doors in 1947. The front bar is open 7 days a week, with live music in the back bar. Over the last 15 years, decade defining bands have made their Toronto debuts on this stage, including Franz Ferdinand, Bright Eyes, Death Cab For Cutie, The National, St. Vincent, Joel Plaskett, The Shins, Calexico, The Decemberists, Tame Impala, Mitski, & Kate Nash.
Lee's Palace is a rock concert hall located on the south side of Bloor Street West east of Lippincott Street in the Annex. The historic 2-floor venue is outfitted with a vibrant mural exterior, and is currently utilized as a concert venue and nightclub, after having been adapted in September 1985. Internationally recognised bands such as The Verve, Nirvana, Tortoise, Blur, The Smashing Pumpkins, Oasis, Red Hot Chili Peppers, Arctic Monkeys and The Magnetic Fields have all graced the electric stage of Lee's Palace.
Massey Hall is a not-for-profit charitable organization, and is one of Canada's premier concert halls. The traditional grand auditorium showcases the world's greatest musical performances in all disciplines, with musical genres as diverse as Enrico Caruso, Glenn Gould, James Brown, U2, Justin Bieber and of course the Toronto Symphony Orchestra.
If you are looking to catch a live show, visit our Toronto website to find out more about bands from Toronto and support some local talent.