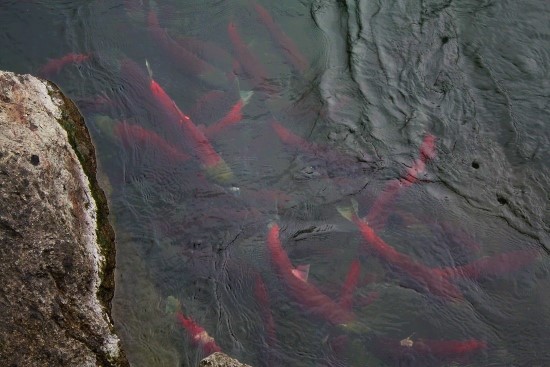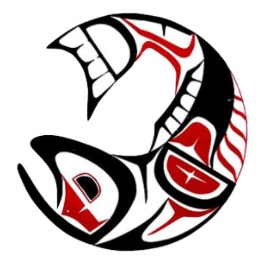 "Salmon are themselves a proud race. They are happy to come ashore each year and give their rich flesh to feed the people, but they must be treated with respect."

                        ~Donna Joe, Salmon Boy
Each fall rivers across British Columbia undergo a vibrant transformation. Clear mountain streams turn deep crimson as thousands upon thousands of salmon return home to spawn. For Calgarians the closest access point to view this incredible display of nature is the Adams River that flows through Roderick-Haig Brown Provincial Park near Shuswap Lake. The Adams is one of the most important breeding areas in western Canada for Sockeye Salmon and when you examine their onerous lifecycle their ability to survive against all odds is truly remarkable.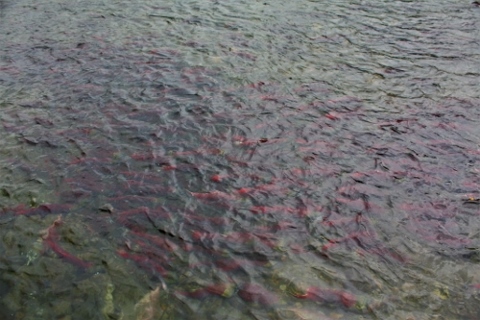 Female salmon will deposit three to five groupings of eggs, known as redds, over a period of several days and then shortly after spawning the adult salmon die leaving the unprotected eggs to hatch on their own. Salmon fry are hatched in gravelly riverbeds and typically make their way to a nearby lake where they'll grow and mature over the next couple of years. From there they make an arduous journey westward across the province before reaching the Pacific Ocean. For the Adams River Sockeye this means a journey of two-thousand kilometres via the Thompson and Fraser Rivers prior to arriving in saltwater. From there the salmon will spend the next three years in the open ocean. Travelling with strong Arctic currents the salmon will make it as far as Alaska and the Aleutian Islands before turning around and retracing their paths.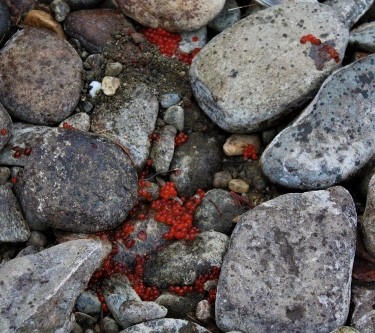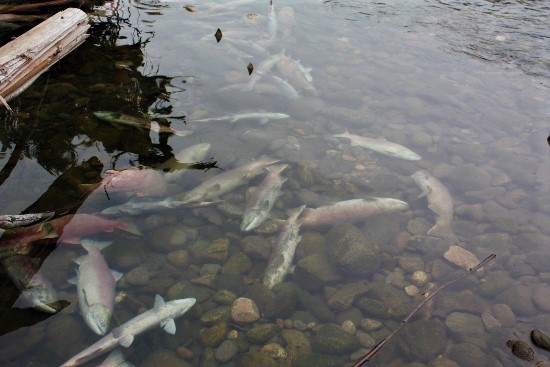 The journey back to their natal river is one that features near insurmountable odds. Not only do they swim upstream against powerful currents, but they must navigate rapids and other obstacles while dodging all manner of predators. Just one out of every four-thousand eggs laid in the Adams River will live to return to their spawning grounds. The entire trek is completed in an astounding seventeen days and even more shocking, they don't eat the entire time. They live off fat stores that accumulated during periods of heavy feeding while in the ocean. During this unbelievable journey the salmon begin to undergo their own distinct transformation. Their bodies turn a bright red hue while their heads change to green and their mouths black. Male fish develop aggressive hooked mouths and large humped backs, which is believed to be an asset during the courtship selection process. Their journey's come full circle when their lifeless bodies become nourishment for other wildlife and their fertilized eggs begin to hatch, starting the cycle once more.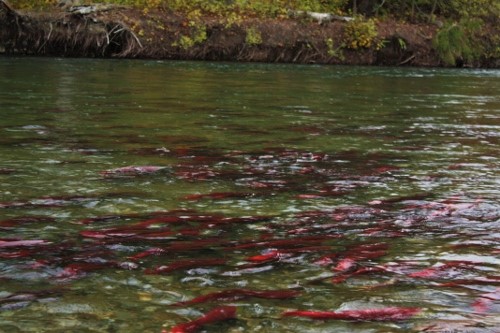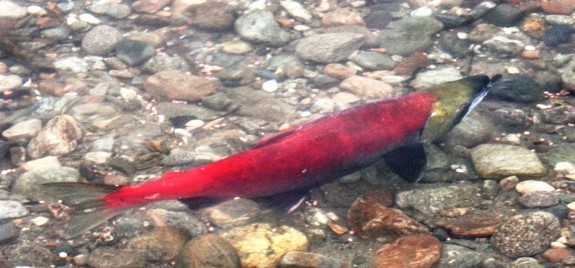 Although the salmon run occurs each fall there is a dominant run that happens every four years. During non-dominant years you can expect to see anywhere from hundreds to hundreds-of-thousands of fish returning to the river, but during a dominant run there could be millions. With lofty numbers like that it's no wonder the Adams has become a desired destination when the leaves begin to change. The Adams River Salmon Society hosts interpretive walks every year, but during dominant years (the next of which occurs in 2018) they put together a much larger event known as the Salute To The Sockeye. The Salute brings in very large crowds so if you're planning on attending the festival next year it's best to book accommodations well in advance.
Long before the annual run became a tourist spectacle the Secwepemc People relied on the abundance of available fish to sustain themselves over the long winter months. They have inhabited the Adams watershed for millennia and archaeological surveys have uncovered evidence of human habitation that dates back four thousand years. Even the name 'Sockeye' is an anglicized version of the First Nation word 'Suk-kegh' meaning 'red fish'. The salmon have been here long before us and even though their numbers fluctuate they'll likely be here long after we're gone. The image of these scarlet fish with the emerald head coupled with their rich cultural, economic, and ecological history has made them a steadfast symbol of British Columbia and the Pacific Realm.
*featured image (top) is brightly coloured Sockeye Salmon in the Adams River. Photo Credit: Tyler Dixon