Our featured recipe this week, Beefsteak Tartare is by Michael Noble of The Nash Restaurant. This makes a lovely appetizer to serve on a hot day, the zip of the beefsteak tartare served nicely chilled is both exciting and refreshing. It's the perfect summer dish!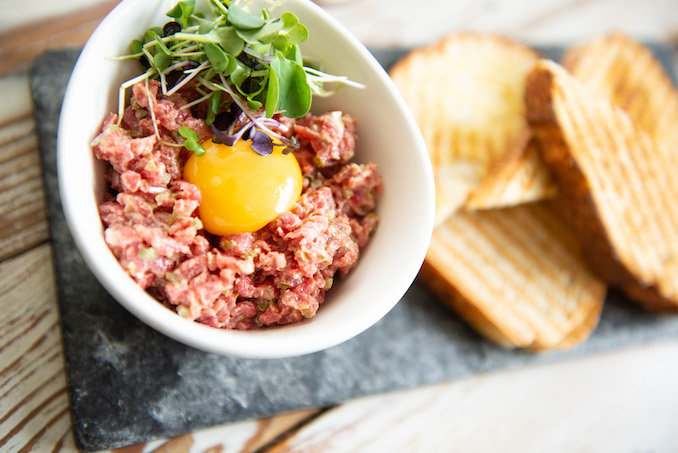 Beefsteak Tartare Recipe
Serves 4 as an appetizer
INGREDIENTS
PART A
– 4 oz tender beef (striploin or tenderloin) ~ fat and tissue trimmed and chopped fine
PART B
– 2 tsp shallot ~ minced fine
– 2 tsp pickles (cornichons) ~ minced fine
– 2 tsp capers ~ chopped fine
– 1 tsp anchovies ~ chopped fine
– 1 tsp chives ~ chopped
– 1 tsp Dijon mustard
– 1 ea egg yolk (free-range)
– Salt (Maldon) to taste
– Tabasco optional if you enjoy spicy
– Sourdough bread (toasted), potato chips and crostini are all great options to serve the Tartare on.
Directions:
1. In a chilled bowl combine all of Part B ingredients using a fork or a whisk.
2. Add the chopped beef, season to taste with the Maldon salt and Tobasco as preferred. If you prefer your tartare more spreadable you can add extra virgin olive oil to adjust this.
3. Serve chilled in a nice bowl alongside the bread, potato chips, etc.
4. Enjoy!
Find out more about The Nash Restaurant.