While we are currently quarantining within our homes, there are some who are at risk of domestic abuse. The Brenda Strafford Centre operates to service and house individuals experiencing domestic violence, and this month are hosting the Lost and Found Campaign. We spoke to the Manager of Fund Development, Jorge Torres, to learn more about how this new initiative is protecting families when at their most vulnerable.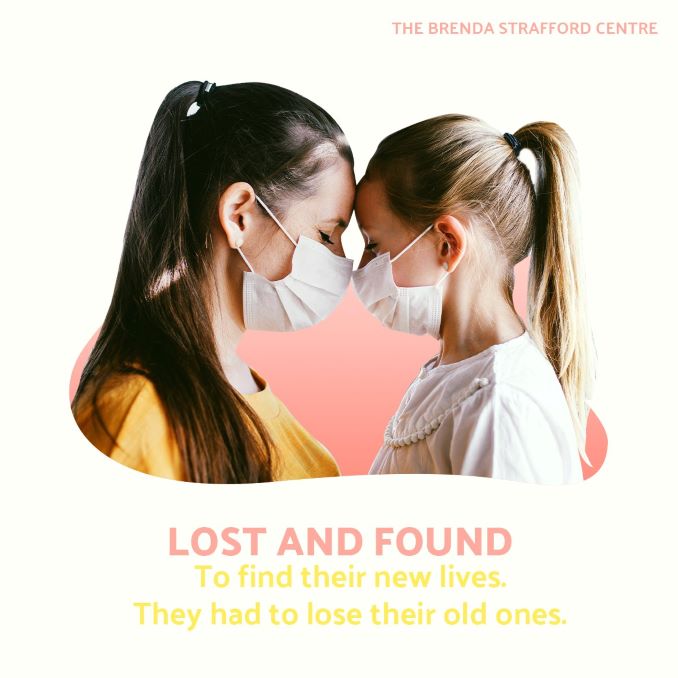 Describe your charity/non-profit in a few sentences.
The Brenda Strafford Centre was established by The Brenda Strafford Foundation in January 1996 when it became apparent that there was a dire need in Calgary for longer accommodation for women leaving emergency shelters.
We are a second-stage shelter and progressive housing facility which operates to service individuals experiencing domestic violence. We provide a safe environment where our clients can heal, grow and ultimately find long term success after their stay at the centre.
The Centre consists of a variety of programs where our trained professionals help clients work through their trauma, build self-confidence and self-awareness as well as providing childcare in a safe and secure environment. The Centre has 34 second-stage shelter apartments where our families can stay for up to 6 months while receiving individualized counselling and parenting support.
What problem does it aim to solve?
Domestic Violence. According to the Canadian Women's Foundation, on average, every six days a woman in Canada is killed by her intimate partner. Alberta has one of the highest rates of domestic violence in Canada. Calgary Police Services receive more than 18,000 domestic violence calls per year and many more incidents go unreported.
Some other facts about domestic violence:
• The number one ranked reason for police responding to 911 calls is for domestic violence
• One of the leading reasons why woman stay in abusive relationships is the lack of affordable housing options.
• Women, and their children, can cycle through women's shelters 7 to 10 times before finally breaking free from a life of violence.
The Cost Domestic Violence.
According to the Department of Justice, each year Canadians collectively spend $7.4 billion to deal with the aftermath of spousal violence. This figure includes expenses such as medical treatment, criminal justice enforcement, legal assistance, financial aid, food assistance homelessness services, among others.
When did you start/join it?
I joined on June 2019
What made you want to get involved?
Domestic Violence is appalling problem in our Country, and Alberta has the highest rate in all Canada. The work that we do at the Brenda Strafford Centre provides families who have experienced violence with a chance to recover from trauma and find long term success. And I believe investing in long-term, sustainable solutions like the ones we provide, is the most effective way to eradicate domestic violence.
What was the situation like when you started?
The organization was already established as a leader in the sector but lacked structure in the fund development area.
How has it changed since?
I believe the fund development department is now more effective and sustainable.
What more needs to be done?
One of the greatest needs right now is to create and fund a long-term response strategy for the COVID-19 crisis, in order to provide our clients with enhanced, comprehensive support in the following areas:
• Overcoming trauma and anxiety that might be exacerbated by the health crisis
• Provide mental health support for adults and children
• Develop a comprehensive outreach program to support clients after they leave the centre
• Help our clients finding employment and educational opportunities
How can our readers help?
You can donate or volunteer with us!
Do you have any events coming up?
The Lost and Found Campaign
In order to respond to the crisis and to honour the courage and resilience of our clients, The Brenda Strafford Centre is launching the Lost and Found Campaign from May 5th to June 5th, 2020 with the following objectives:
• To raise $20,000 for our COVID-19 Response
• To inform the public about the efforts taken by the Centre to support its clients during the pandemic
• To tell the amazing stories of some of our clients and their journey of healing and self-discovery
The campaign will consist of a series of electronic and traditional communications, a social media strategy and multi-media campaign; as well as an online silent auction.
Where can we follow you?
Website
Instagram
Twitter
Facebook
PAY IT FORWARD: What is an awesome local charity that you love?
Sagesse
They empower individuals, organizations and communities through direct service, capacity building, education and advocacy. They work in more than 50 communities across Alberta – either directly providing service or partnering with agencies to deliver programs on our behalf to eradicate domestic violence.