For every young artist, it always starts with place. A place to foster and reveal talents. A place where discipline and inspiration meet. In Western Canada, one of those places is the Storybook Theatre at the Beddington Theatre Arts Centre. For parents of aspiring artists drawn to singing, dancing, and acting Storybook Theatre might be worth your consideration. Like much of the theatre world, SBT finds itself in rebound after a pandemic that shuttered most theatres. Now in it's 46th season, SBT is back in full swing with its student summer intensive offering of Legally Blonde the musical.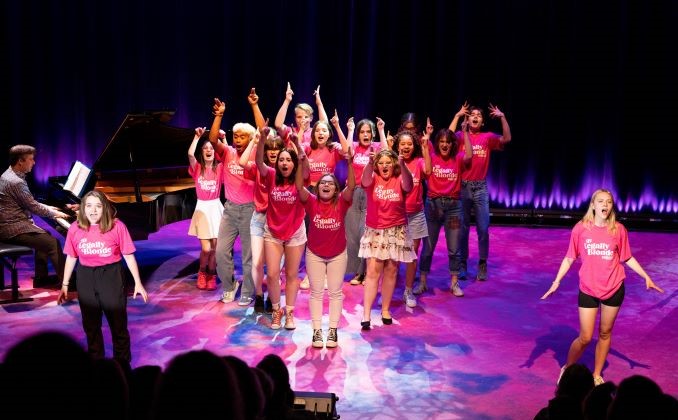 With music and lyrics by Laurence O'Keefe and Nell Benjamin, Legally Blonde is a delightfully entertaining show with terrific roles and a large ensemble where nearly everyone gets an opportunity to shine.
Based on the movie, the plot follows the life of Elle Woods whose life is turned upside down after her boyfriend Warner dumps her and heads off to Harvard Law School. Elle, not one to give up on love, charms her way into the prestigious school where she meets a variety of challenges in the guise of snobby students and intimidating professors.
Directors Cassie Doane & Joel Schaefer have done a wonderful job casting this show. And programming this type of material for these youngsters is also wise. It speaks to the very themes I imagine many of the student actors think about. Ideas like being able to see underlying strengths in people are one of the reasons this show resonates. Accepting ourselves for who we are is another.
What's admirable is that the staff don't cut any slack to the student actors simply because they are new to this. I was genuinely impressed with the hurdles tackled and overtaken. The choreography, the harmonies, and the comedic timing felt polished even considering how complex it looked. The quick costume and set changes were seamless and spoke to the many hours in rehearsal getting these moments just right.
There is some real talent in this group. And a handful are legitimate triple threats in singing, dancing, and acting, and I expect we'll see them elsewhere…
Even the misses, those times that felt off were still endearing. Because there's something special about watching the learning of a performance. Because when we see something go wrong but observe the way smart, bright minds can handle it, it becomes more than a performance. It's a lesson about courage and growth. It shows us the way forward.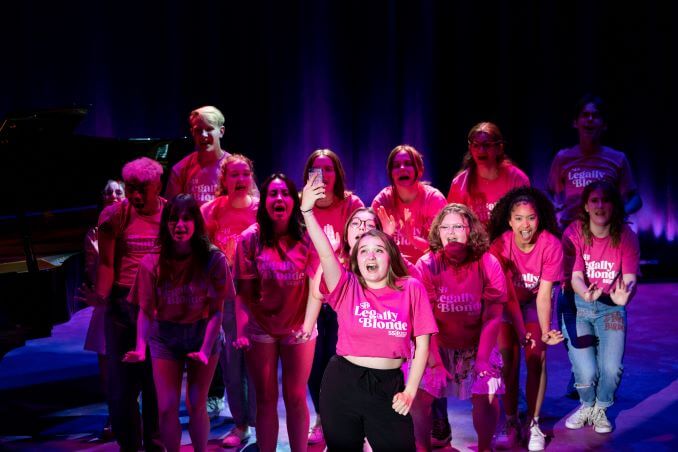 That is why theatre companies like Storybook are so important. It's not simply about putting on a show. It's also about learning to be an adult who must face challenges. Yes, all adults must eventually learn this lesson, but I have no doubt the student actors of this production will meet their challenges with some additional tools. Some with a dance in their step. Some with a song in their heart.
***
Legally Blonde the musical plays until September 10th at the Storybook Theatre through the Beddington Theatre Arts Center. Running time: 120 minutes with intermission.