This week's recipe comes from A1 Bodega and Café who have created some meal kits for people who would like to try out their cooking skills at home using restaurant quality ingredients. This Spaghetti Bolognese meal kit uses their house-made A1 Bolognese sauce that is also served on the café side. The kits are available for purchase in store or on their website.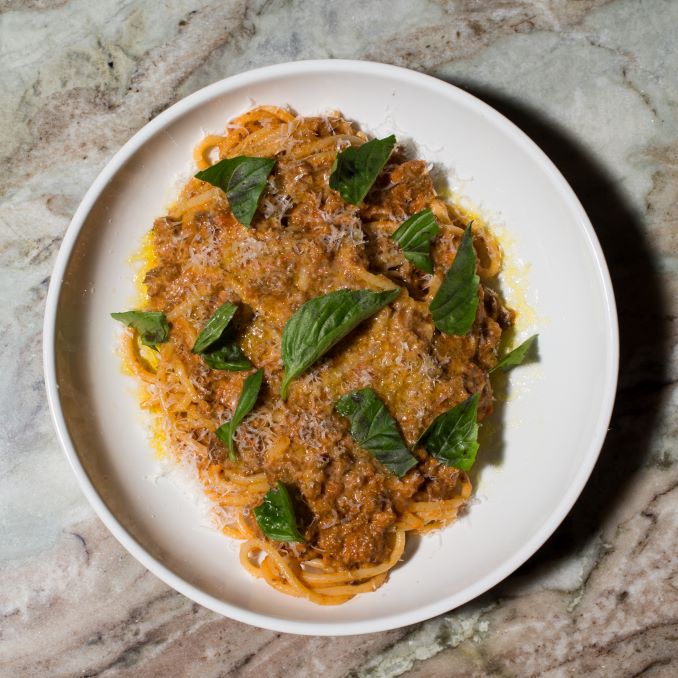 Spaghetti Bolognese
Ingredients
– 500g Spaghetti
– 500mL A1 Bolognese Sauce
– 1-2 Tbsps Butter
– 2oz Cream
– 5g Basil
– 2oz Olive Oil
– 2oz Parmesan
– 1 loaf A1 Focaccia
Directions
1. Bring a pot of salted water to boil.
2. Add the A1 Bolognese sauce with a bit of pasta water to a pan big enough to hold and toss the pasta and sauce, and let it heat through while stirring occasionally (add more water as needed to ensure a thick, but saucy consistency).
3. Add the spaghetti to the boiling water and cook until al dente (follow the cook time on the pasta for reference).
4. While you're waiting, brush the focaccia with some olive oil, season with salt and toast lightly in a pan or the oven.
5. Just before your pasta is finished cooking, finish the Bolognese sauce with a tbsp of cream and a knob of butter, stirring constantly to emulsify.
6. Once al dente, strain the spaghetti while reserving the pasta water.
7. Add the spaghetti to your Bolognese and toss till combined, adding more pasta water if necessary to get the desired sauciness (should be smooth and saucy, but not watery).
8. Garnish with lots of fresh torn basil, parmesan and a drizzle of olive oil and dig in!
TIP: Use that toasted focaccia to get every last bit of sauce.