It's often difficult to balance life with cooking tasty and healthy dinners for ourselves and families. This week we spoke to Terry Clavet, head chef of DoorChef about how they can make planning and cooking dinner an easy and fun process!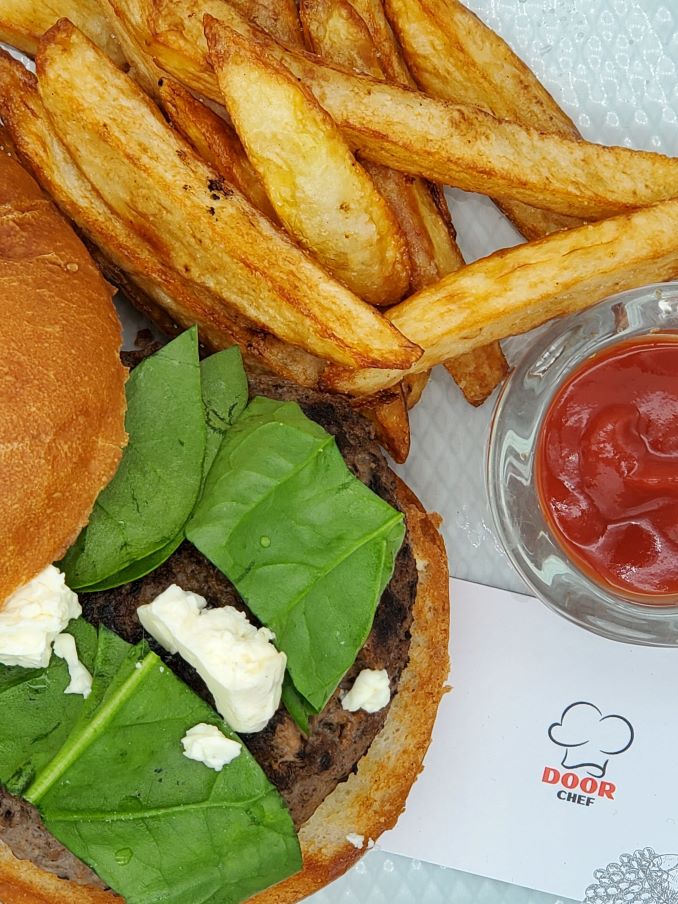 What is your business called and what does it do?
My business is called DoorChef and we are a private chef company offering many different services such as dinner parties, dinner dates and our newest service meal kit/food boxes for those who are interested and are busy individuals.
What made you want to do this work?
The reason I decided to do this type of work is because I enjoy cooking and meeting new individuals, and this industry is very well known for that exact thing. My cooking obsession came young to me, watching my grandmother cook her amazing recipes and just being in there smelling all types of aroma, always took me on a journey which over time became an obsession. The best part is the amazing individuals you meet over the years and that for me is a big important part.
What problem does this solve?
Our business is perfect for busy individuals, like families and business-owners, who normally have no time to plan their breakfast, lunch and dinners. We are able to plan the meals, provide instructions on how to make it and the ingredients necessary! All you have to do is follow our easy instructions and a lovely meal is ready for you.
Who is your clientele/demographics?
Anyone is who normally has no free time to plan their meals, so they end up eating the same thing everyday. One of my bigger demographics is families, which I can relate to as planning and preparing dinner for a family is often a hard journey, that even I as a chef do not always want to take on. This usually results in many people eating the same dishes during the week because they're easier to make. A lot of my business comes from people living in Calgary, Airdrie, Chestemere, Cochrane.
How does your business make money? How does it work?
DoorChef makes most of its money through catering dinner parties, where you are able to choose what you would like to be made, or have a chef create a surprise menu. We also offer dinner dates, where we can plan the perfect date for you and your significant other! We are able to plan these dates in your home or outdoors with a curated theme, and you can enjoy your meal either served to you by your chef or you can enjoy alone. We recently added a meal kit service, where you are able to choose from the recipes we offer and we will send the ingredients and easy-to-follow instructions right to your door!
Where in Calgary can we find your profession?
We don't have a DoorChef location as everything is done online which is where most of our competition comes from in Calgary for the sort of work that we do. We work with certain local companies to bring you ingredients and working on building partnerships with more of them as we progress.
What is the best question a prospective customer could ask a member of your profession when comparing services?
Some people ask about how and why our prices at DoorChef are different from others in the industry. We are currently working to make our individual dishes have their own prices within boxes, rather than one flat price, to make it more affordable and similar to restaurants.
Ask us about our locally sourced ingredients! Our ingredients are fresh from the moment you order to when you received your meal kit box. We are a company that wants to work with and advertised local companies to bring fresh and locally sourced ingredients to you.
What is the best part about what you do? What is the worst part?
The best part of what I do is getting to meet and cook for diverse populations of people. Seeing the smiles on their faces as they eat my food, or hearing them tell me how much they like it, motivates me to continue this work to get more of this feeling!
The worst part about what I do is all the behind-the-scenes work! This ranges from building menus for dinner parties or dates, writing recipe cards with easy instructions, to the marketing. This can be a lot to handle sometimes and takes away from enjoying cooking and the presence of other people. I'm complaining now but it's work I have to do and its work I will always do to build my business and succeed also has a chef myself.
What is your favourite joke about your own profession?
My favourite joke about my profession, is a joke that's mostly between us chefs or I should say my chefs in training, it goes "How many chefs does it take to plate a dish, chef? Only three, because the fourth only uses his brain and eyes."
Sure it's offensive but I don't take it that way, I take it as a testament that I have been there and know that there's more to me then using my brain and eyes being the head chef, and I know they know that but they laugh now about it and will cry later like they always do so in a way I see it as a joke that is funny, because I will get the last laugh and still work hard and succeed not letting it get to me.
PAY IT FORWARD: What is another Calgary business that you love?
@momsmasala is a local business that is looking to simplify Indian cooking. With roots from South India their spice blends are a variety of family recipes made the old-fashioned way with no preservatives, just the way mom would make them. I personally love its versatility especially the Chettinad Masala which I plan on incorporating in my dishes in the future. They've recently launched a Kickstarter campaign, go check them out!