I had the pleasure of attending the highly anticipated Pumpkins After Dark event in Calgary on October 8, 2023. As a lover of all things festive, I was excited to see what all the buzz was about. While some aspects did not quite meet my expectations, overall, it was an enjoyable event that I recommended checking out. Keep reading to find out more in my candid review.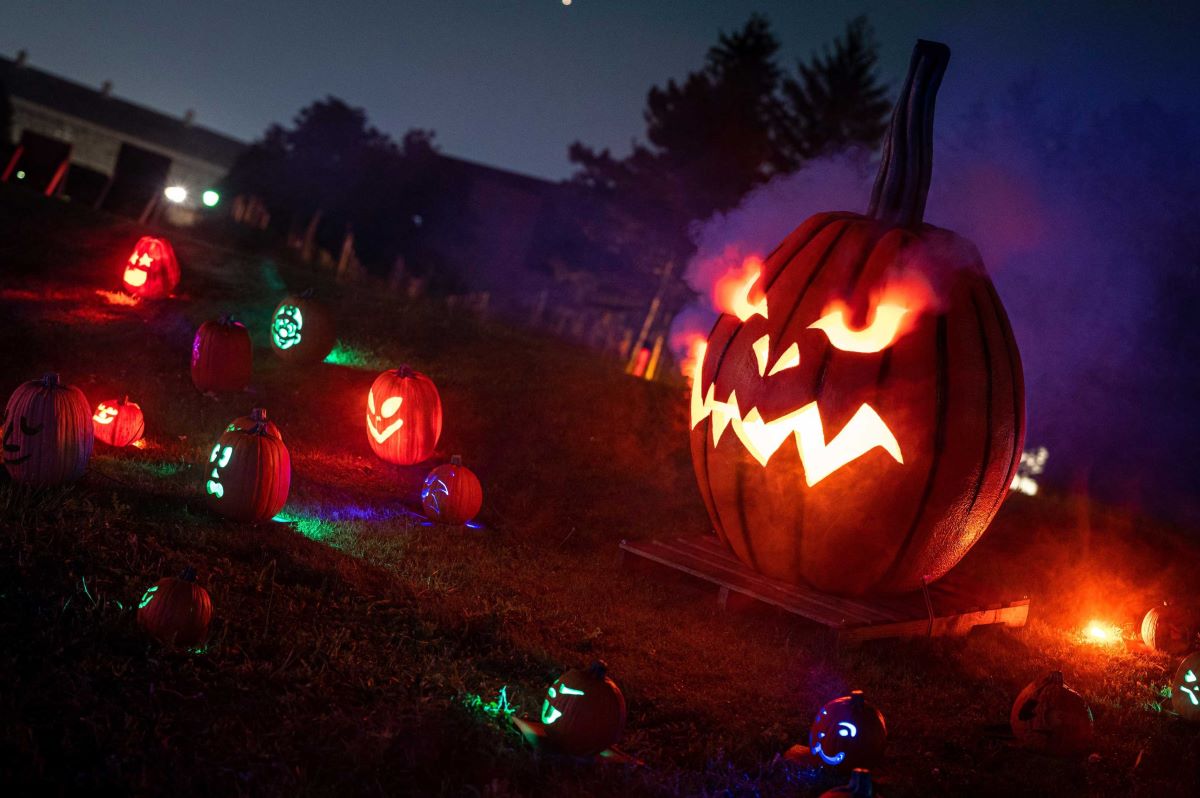 Pumpkins After Dark Calgary, hosted at Winsport, Canada Olympic Park, is Canada's biggest fall and Halloween festival. It features 6,000+ hand-carved pumpkin art installations, live carving demonstrations, live entertainment, and food trucks. The event is also self-paced, mostly on paved pathways, and has warnings for strobe lights, bright lights, flashing lights, and special effects like fog machines and blacklights.
Upon entering the grounds, I felt transported into a Halloween movie reminiscent of the festival in Hocus Pocus 2. It is undoubtedly a cute date idea, as there were many opportunities for couples to take photos together, with photo booths and light-up hula-hoop dancers. The park also has food trucks offering mini donuts, cotton candy, coffee drinks, popcorn, and candied apples. I particularly enjoyed the Mocha Monster from the Winsport Coffee food truck, which was surprisingly cheap yet delicious.
One of the highlights of Pumpkins After Dark is the variety of hyper-realistic pumpkin carvings. There was something for everyone, from bugs to skeletons, sharks, Inuksuk, and scary zombies. The pumpkins are displayed in groups, with pop culture references such as Shrek, Pokémon, Death Note, Hell Boy, Edward Scissorhands, and Michael Myers. The ambience of each display was complemented by different music playing in each section, making it a more immersive experience than other walkthrough festivals.
Pumpkins After Dark is an event that truly comes to life with the energy and enthusiasm of its attendees. From the youngest to the oldest, everyone is captivated by the intricate, awe-inspiring pumpkin carvings on display. The festival has a palpable sense of Halloween magic, uniting people with a shared sense of excitement and joy.
Beyond the Halloween-themed festivities, Pumpkins After Dark is a tribute to the boundless power of imagination. Through each intricately crafted pumpkin – whether inspired by classic monsters or contemporary pop culture references – we are reminded of our shared experiences and stories. This festival provides a unique space for individuals from all walks of life to come together and relish in the spirit of the season. Whether you come with family and friends or venture solo, you will leave Pumpkins After Dark feeling a renewed sense of inspiration and connection.
Despite its appeal, Pumpkins After Dark has a critical flaw – the lack of visible artist plaques for the pumpkin sculptures on display. This oversight not only fails to acknowledge the effort and skill of the artists but also disregards basic art etiquette. Recognizing and giving credit to artists is essential, as it is customary and an industry standard. By providing plaques with valuable information, visitors can appreciate the artistry and effort that goes into each piece.
To create a more inclusive and supportive culture, Pumpkins After Dark should ensure that artists receive proper recognition for their work in future events. This acknowledgement would foster a more appreciative environment, encourage more artists to participate, and create a better experience for everyone involved. By valuing and honouring the hard work of these talented individuals, Pumpkins After Dark can elevate the event's overall quality and inspire continued participation from artists and visitors alike.
The safety of the trail at Pumpkins After Dark is a significant concern, especially for those with physical impairments, due to its steepness and poor lighting. The lack of lighting and difficulty of the path could pose potential risks to attendees. However, these concerns can be addressed by installing additional lighting and using glow-in-the-dark tape to mark the path.
During my visit, Pumpkins After Dark offered glow sticks for sale, which I found helpful in navigating the dimly lit path. I highly recommend purchasing them for their safety benefits, especially for those with mobility impairments. Using multiple safety measures, such as installing additional lighting and implementing glow-in-the-dark tape, Pumpkins After Dark can create a safer and more inclusive environment for all attendees to enjoy their experience.
It is also worth noting that the timing of Pumpkins After Dark might be tricky for those with young children. As an evening event that can run quite late, it may not be ideal for families with early bedtimes. However, this can be mitigated by planning accordingly, such as choosing an earlier time slot or opting for a flex pass.
Running until October 31st, Pumpkins After Dark is an excellent event for all age groups. However, it may not be everyone's cup of tea. If you enjoy Halloween activities or seek a festive outing with your family and friends, this event is definitely worth considering. Just remember to take your time, savour the experience, and take photos along the way!