"Now since I am living in Alberta, I thought, how could I make this recipe but with a little Prairies twist! And then it dawned on me. We have a LOT of Saskatoon berries in Alberta! The tart berries, would pair perfectly with the creamy lemon curd and crunchy meringues.
Continuing with my "twist", how about breaking up the meringues, then layering them together in parfait form! Serve them in little egg cups or mismatched china teacups and saucers!
And then, because we've already come this far, for a final twist, how about a berry brittle as a topping choice? Cook the berries into a brittle that gets broken into pieces for that final touch. *you can use any berry for this twist…
Whether you serve sunny side up pavlovas, or give them my Prairie twists, be sure to make your holidays fun, easy, and memorable. I hope you love my Prairie Berry Pavlova Parfaits!"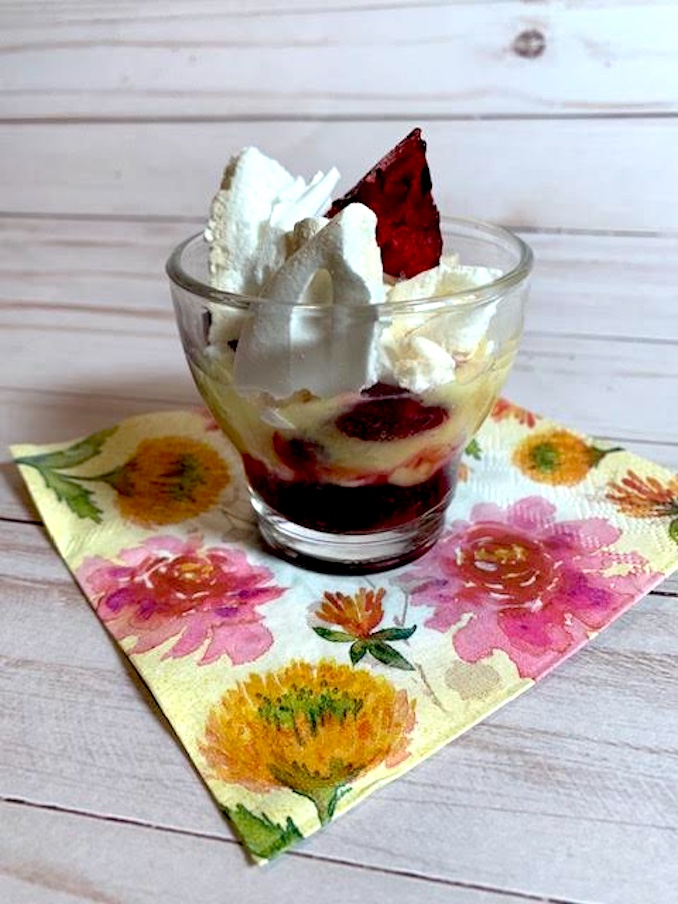 MERINGUE
– 1 1/2 cups (375 mL) granulated sugar
– 2 tbsp (30 mL) cornstarch
– 6 egg whites (3/4 cup/175 mL)
– 1/2 tsp (2.5 mL) cream of tartar
– 1/4 tsp (1.25 mL) salt
LEMON CURD
– 4 egg yolks
– 1 cup (250 mL) granulated sugar
– 1/2 cup (125 mL) fresh lemon juice
– 1 tsp (5 mL) finely grated lemon zest
– 1/4 tsp (1.25 mL) salt
– 6 tbsp (90 mL) cold butter, cubed
– 3 cups (750 mL) fresh berries, such as strawberries, raspberries and blackberries
Instructions
1. Preheat oven to 275°F (135°C). Position oven racks in top and bottom thirds of oven. Line two large baking sheets with parchment paper; set aside. Stir sugar and cornstarch together; set aside.
2. Place egg whites, cream of tartar and salt in mixing bowl. Beat, with an electric mixer, gradually increasing the speed to medium, for 5 minutes or until egg whites hold a soft peak.
3. Gradually increase speed to medium-high, while slowly adding sugar mixture. Increase speed to high and beat for 10 to 12 minutes or until meringue holds stiff, glossy peaks.
4. Divide meringue mixture into 10 equal portions between prepared baking sheets. Shape each portion into 5-inch (12 cm) rounds and create a deep well in the centre with peaks around the edge. Place trays in oven and reduce temperature to 250°F (121°C). Bake, rotating the pans once, for 60 minutes or until crisp around the edges and gooey in the centre. Turn off oven and let trays cool for 1 hour. Loosen pavlovas from parchment and return trays to oven for 1 hour longer or until completely cool. Store in airtight container for up to 1 week.
5. Lemon Curd: Whisk egg yolks with sugar, lemon juice, lemon zest and salt in medium saucepan. Cook over medium-low heat, stirring constantly, for 10 to 12 minutes or until mixture is thick enough to leave a track on the back of a coated spoon.
6. Remove from heat and pass through a fine mesh sieve into a heatproof bowl; whisk in butter. Cover surface with plastic wrap. Refrigerate for at least 4 hours or up to 1 week. Makes 1 3/4 cups (425 mL).
7. To Serve: Place each meringue on dessert plate. Spoon some lemon curd into well of each meringue and garnish with fresh berries.
MEG'S PRAIRIES TWIST: A crunchy Saskatoon berry brittle tops off this layered Pavlova parfait!
SASKATOON BERRY BRITTLE
– 1 ½ c white sugar
– ¼ c white corn syrup
– 2 tbps saskatoon berry preserves
– ¼ c water
SASKATOON BERRY BRITTLE DIRECTIONS:
1. In a heavy bottom small saucepan, combine sugar, corn syrup and water.
2. Bring to a boil over medium high heat and then reduce to medium once it begins to boil.
3. Using a candy thermometer, allow the sugar to boil on medium until it reads 305 degrees F. While this is happening, heat the preserves in a small bowl in the microwave for 1 minute.
4. USING EXTREME CARE, gently pour the preserves into the hot sugar and stir until combined. ***THIS IS NOT SOMETHING YOU DO WITH KIDS, be careful.
5. Carefully pour hot sugar berry liquid onto a silicone mat or parchment paper on a sheet pan.
6. Let cool and then break into pieces and top your Sunny Side Up Pavlovas or Prairie Berry Pavlova Parfaits!