Greek Canadian, Maria Koutsogiannis' journey with food began after enduring a cruel battle with an eating disorder. Her fierce honesty, and stripped back approach to sharing her journey to selflove and seeking a healthy relationship with food has amassed a global cult following of 169,000 Instagram followers and over 130,000 monthly visitors to her blog in just three short years. Maria has an unwavering ability to keep it real and genuine and seeks to educate readers, and inspire vegans and non-vegans alike to embrace vibrant, wholesome plantbased foods into their daily life. Her straightforward recipes are thoughtful, healthy and nourishing while satisfying all cravings for classic comfort food and sweet indulgences. Here is her recipe for Vegan Potatoes au Gratin.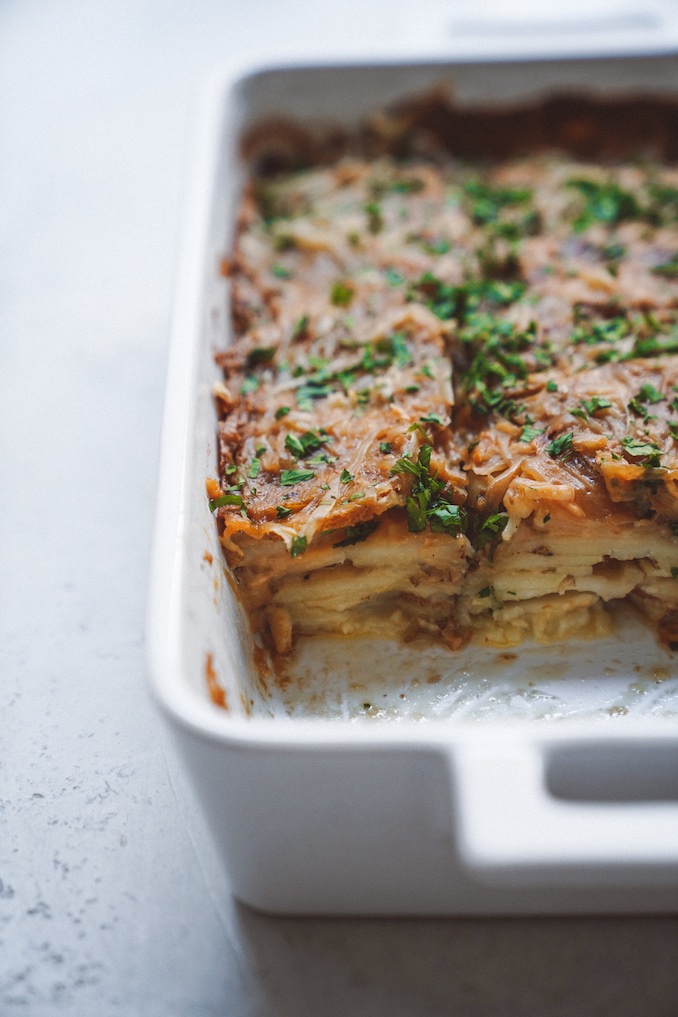 Vegan Potatoes Au Gratin Recipe
Author: Maria Koutsogiannis
Prep Time: 20 minutes
Cook Time: 1 hour
Total Time: 1 hour and 20 minutes
Yield: 9
INGREDIENTS
– 7 russet potatoes, washed and thinly sliced
– 1 tbsp. olive oil
– 1 medium-sized white sweet onions, finely chopped
– 2 cloves of garlic
– 1 tbsp. vegetable stock paste
– 1/2 cup Melt Butter
– 4 tbsp. all-purpose white flour
– 3 cups unsweetened almond milk
– 3 tbsp. lemon juice
– 1 tbsp. soya sauce or coconut amonios
– 1/3 cup vegan parmesan cheese
Directions:
1. Preheat oven to 400F and butter a 12 X 8 baking dish with. Set aside.
2. Cut russet potatoes in thin, round slices and layer with drizzles of olives oil and a dusting of salt and pepper. Repeat till your reach around 1/2 inch from the top of the dish.
3. In a pan, heat your olive oil for a few seconds and add your onions. Cook on medium heat for around 5-7 minutes, or until golden. Add your garlic and veggie stock. Cook for another minute or two, stirring to avoid burning and to ensure everything is well coated with the flavour from the stock paste.
4. Plop in your knobs of butter and reduce heat to low. Once your butter has melted add in your flour and stir till all the onions are coated with flour. Increase heat to medium.
5. Slowly begin adding your almond milk and stir consistently as you do so. Once all your milk has been added a thicker sauce has formed you can go ahead and add your lemon and soya sauce.
6. Stir again just before pouring over your potato layers. Top off with some vegan parmesan cheese and cover with tin foil. Cook covered for 45 minutes and under covered for around 10 minutes. To add that golden brown affect you can broil just before serving!
Find more of her recipes on her website.