This week's recipe comes from Chef Terry Clavet of DoorChef, a private chef business that thrives on bringing new and fresh ideas to your table. Their new Foodbox service offers amazing recipes along with the fresh and locally sourced ingredients needed to make the recipe delivered right to your door! The oven spice Salmon is a dish with amazing flavors all created with spices. From garlic to lemon & pepper spice, those flavors come together along with the rice and garlic sautéed vegetables so well to complete each other, it will leave you wanting more.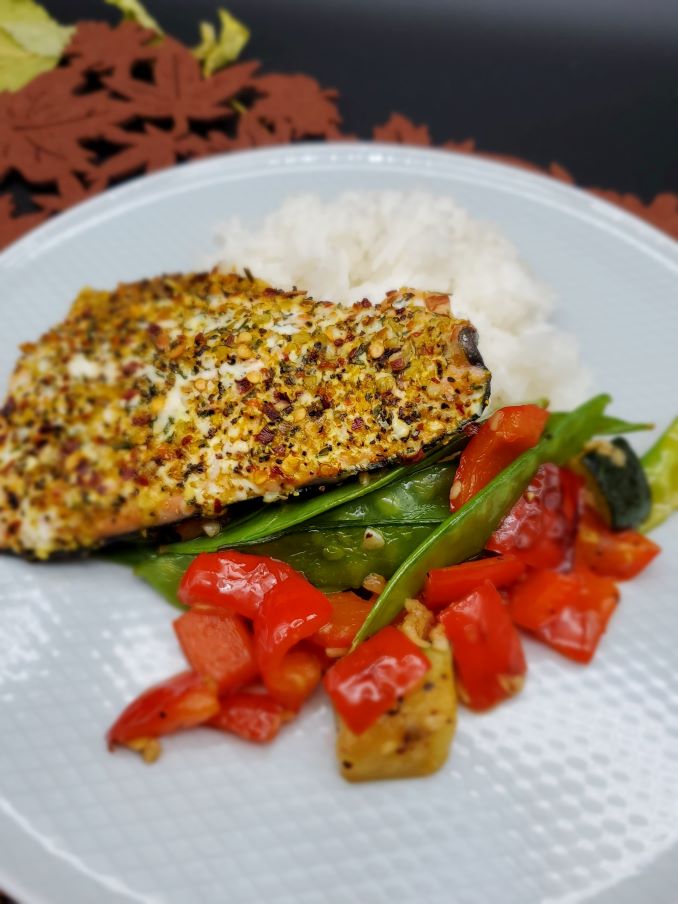 Oven Spice Salmon
Ingredients
-4 Salmon Pieces
– 2tbs lemon & pepper
– 2tbs Italian Spice
– 2tbs crushed red peppers
– 2tbs Garlic Powder
– 2tbs onion powder
– 1 1/3 cup of rice
– 1 1/2tsp butter
– 2 tsp salt
– 1 tsp Black Pepper
– 2 1/2 tbs Minced Garlic
– 1 whole zucchini
– 1 whole red pepper
– 25 to 30 snow peas
Directions
1. Preheat your oven to 375F, then grab your salmon and spread some olive oil over it. Take your lemon & pepper spice, as well as your Italian spice, crushed red peppers, garlic powder and onion powder evenly sprinkling it over the salmon.
2. Now using a sheet pan take your salmon putting your salmon on a piece of parchment paper covering the sheet pan, then straight into the oven for 12 minutes.
3. For this step you're going to need to grab a pot and add 1tsp of butter to that pot, with 1 1/3 cup of water and a pinch of salt, bringing it to boil.
4. Then when it has started boiling add the rice, mixing it well. Then covering it and turning of the heat. Should only take 5 to 6 minutes for the rice to be ready or to absorb all the water.
5. Now take your red pepper as well as your zucchini and cut them into bite size pieces make sure you wash them before cooking. Take a pan and add 1tbs of olive oil and let it come to a warm temperature.
6. Now add your zucchini and red pepper, cooking them for about 5 to 6 minutes with a lid on and stirring from time to time.
7. Now add to that same pan your snow peas and Garlic as well as the 1/2tsp of butter, a pinch of salt and black pepper. Cooking them for 4 to 5 minutes or until cooked.
8. For this last and final step you should take your salmon out of the oven. As well your rice and vegetables should be ready for you to grab a plate and enjoy.