This week's recipe is the perfect addition to your nightly dinner! This Mediterranean Pearl Couscous Salad comes from ATCO Blue Flame Kitchen's new cookbook Together at Our Table!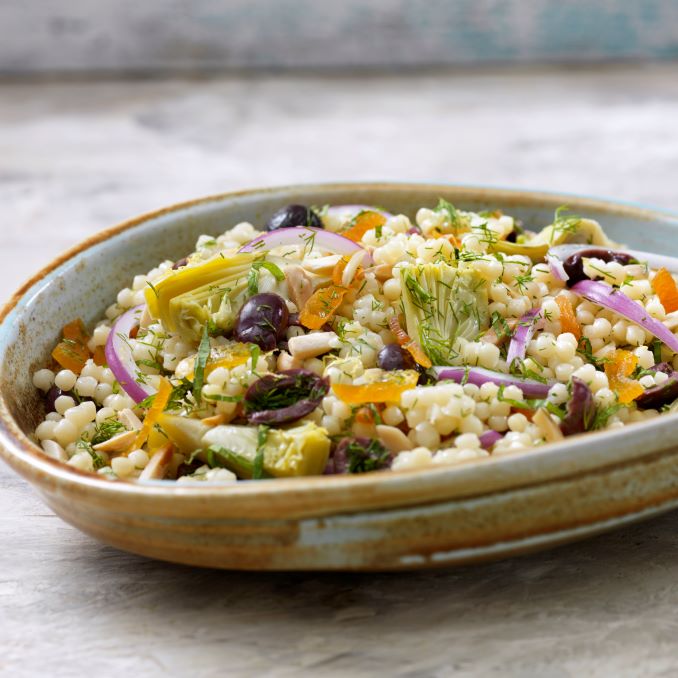 Mediterranean Pearl Couscous Salad
Yield: Serves 8
Ingredients
– 2 cups pearl couscous
– ½ cup + 1 tbsp olive oil, divided
– Zest and juice of 1 lemon
– 2 tsp liquid honey
– 1 can (14 oz/398mL) artichoke hearts, drained and quartered
– 1 cup thinly sliced red onions
– 1 cup Kalamata olives, pitted and halved
– 1 cup dried apricots, thinly sliced
– 1 cup slivered almonds, toasted
– Kosher salt to taste*
– Freshly ground pepper to taste*
– 1 cup chiffonade fresh mint leaves (To chiffonade the mint leaves, stack 4 – 5 leaves on top of one another, roll up into a tight cigar shape, then slice to create very thin strips.)
– 2 tbsp chopped fresh dill
Directions
1. Bring 3 cups of salted water to a boil in a medium pot. Add couscous, and 1 tbsp of the oil.
2. When water returns to a boil, reduce heat to low, cover and cook until couscous is al dente, about 7 – 9 minutes. Strain and rinse under cold running water; drain well.
3. Meanwhile, whisk together remaining 1/2 cup olive oil, lemon zest and juice, and honey in a large bowl.
4. Add artichokes, onions, olives, apricots, almonds, and couscous to the bowl and mix well to combine. Season to taste with salt, and pepper. Gently stir in mint, and dill before serving.
Cook's Note: Pearl couscous is a type of pasta also known as Israeli couscous. If unavailable at the supermarket, look for it in your bulk food store.